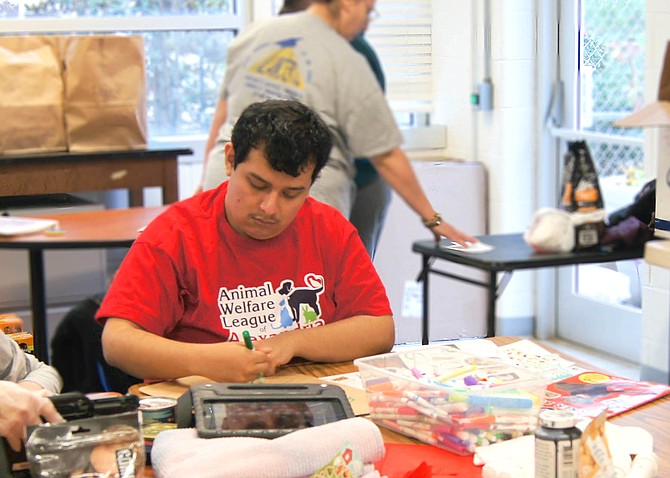 Most Monday and Tuesday mornings, a school bus rolls up in front of the Animal Welfare League of Alexandria carrying some important visitors — students from the Key Center School, ready to go to work. As many as eight students from the school, accompanied by several teachers and assistants, then gather in the shelter's community room for 45 minutes of work and learning new skills.
Key Center School is a public day school for students ages five to 22 that educates students with physical and intellectual disabilities. Many of the students are non-verbal and do much of their learning through visual cues and special technologies. When the students turn 18, the school's curriculum shifts its focus to vocational and functional skills for living.
"We visit several work sites in the community," said Key Center Vocational Coordinator Jeanie Glasser. "Our sites are developed to meet our students' interests, skills and strengths. The AWLA staff has gone out of its way to make our students feel like part of the team."
The visits to the shelter offer a variety of work opportunities. Some students cut up hot dogs for the shelter's dogs, and one student in a wheelchair with limited mobility operates an automated cutting machine by tilting his head.
"One student loves stuffing 'busy boxes' for dogs," said AWLA Volunteer Program Coordinator Brenda Maier. "They're cardboard boxes filled with crumpled newspaper, and she hides treats for the dogs to open and shred." Another young teen-aged student has discovered that he enjoys folding the shelter's laundry. "In his short stay at the shelter, he'll fold big mounds of it," Maier said. "His mom says he now does laundry at home sometimes."
Many of the students have a special interest in animals, Glasser said. One of the students who visited was especially dazzled by the shelter's guinea pigs. "When he saw them, his face just lit up," she recalled.
At a recent session, a 22-year-old student named Bradley pasted colorful stickers on brown paper bags to be used to deliver pet food as part of the AWLA's "Animeals" program. In response to a question, Bradley used a communication application on his iPad to state that dogs are his favorite animals. So it was no surprise that as the group of students moved into the shelter's dog kennel area to greet them, Bradley led the way in generously dispensing treats as the dogs leaped in excitement. On some visits, the students also stop by the cat room, just to say hello and wish the cats luck on their adoption journey.
The program provides vital volunteer benefits for the shelter. "We can help the students develop skills and create yummy items for the dogs, so it's a win-win," said Maier of the AWLA. "The students do such a great job, we're running out of things to give them to do. They're developing confidence, and we're knocking projects off our list left and right."
The Animal Welfare League of Alexandria is a local 501(c)(3) organization. Operating the Vola Lawson Animal Shelter, which is Alexandria's only open-access animal shelter, the AWLA touches the lives of more than 6,000 animals every year, including strays, lost pets, local wildlife, rescued animals and animals surrendered by their owners. The AWLA is committed to addressing animal homelessness, promoting animal welfare and serving as an educational resource for the community. More information can be found at AlexandriaAnimals.org.