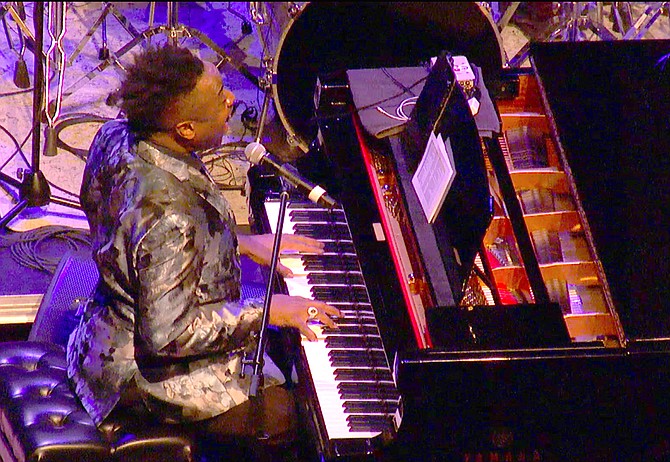 This year marks the 35th Anniversary of Martin Luther King Jr. Day, which was signed into law and made a federal holiday in 1983. The McLean Community Center will honor the life and legacy of the civil rights leader with Daniel Sneed and "We Shall Overcome." The acclaimed Howard University Gospel Choir will also be featured.
The performance of Damien Sneed and "We Shall Overcome" will be "something amazing." said Sarah Schallern Treff, Performing Arts Director, McLean Community Center. "'Come to 'We Shall Overcome' if you love music, of any genre. If you want to bond with your neighbors. You want to be uplifted. And to celebrate Dr. King."
Sneed is an award-winning multi-genre artist who will bring his own brand of classical music, jazz and sanctified soul to The Alden. "I look forward to honoring the life and legacy of the great civil rights leader, Dr. Martin Luther King Jr.," said Sneed. The performance will reflect on African American history.
The "We Shall Overcome" production ties together a lineage of music and culture that includes Aretha Franklin, to Wynton Marsalis; Duke Ellington to Stevie Wonder; Nina Simone to Donny Hathaway; and traditional spirituals and music from "the Wiz," among others. Sneed will connect and fluidly cover much musical ground in The Alden performance.
"The musicians and vocalists who make up the 'We Shall Overcome' ensemble are astounding," said Schlalern Treff. "This is not a concert. This isn't something you hear or see. Damien and his band invade your soul."
"We Shall Overcome" is a conduit to making friends of total strangers and breaking down barriers.
Audiences can "get ready for some stellar music. Damien Sneed will take you to church, to Broadway, to the jazz club, to the opera house," said Schallern Treff. "Get ready to be a part of the show. You don't have to get up on stage, but you will be singing in four part harmony by the end of the concert." With a smile Schallern Treff added, "Yes, even if your choir director told you just to mouth the words and not sing."
Inviting audiences to The Alden to take in "We Shall Overcome Featuring Daniel Sneed," Schallern Treff said, "This concert has the power to bring people together. Let the music and vocals, the words and the energy take your emotions higher and your connections stronger."
Where and When
The Alden Theatre inside the McLean Community Center presents "We Shall Overcome Featuring Daniel Sneed" at 1234 Ingleside Ave, McLean, on Thursday, Jan. 30, 2020 at 7 p.m. Tickets are $45 for the general public, $25 for seniors and students and $20 for MCC tax district residents. Visit www.mcleancenter.org or call 703-790-0123.