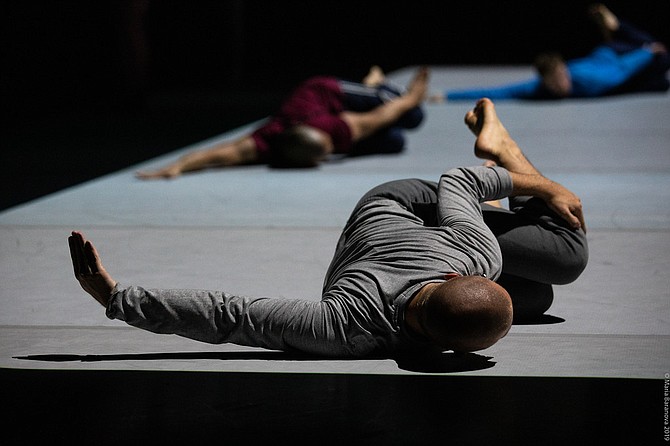 "Once-in-a-lifetime opportunity to see one of the most creative minds develop and work in a premiere right here in Northern Virginia awaits audiences," said Adrienne Bryant Godwin, Director of Programming, Center for the Arts. She was speaking about renowned choreographer Bill T. Jones, a major influencer in the performing arts for decades.
With the inaugural Mason Artists-in-Residence program, "we are trying something very new. With 'What Problem?' audiences will be able to see something no one has seen before, right on the Center for the Arts stage," added Bryant Godwin. It is the world premiere of Bill T. Jones/Arnie Zane Company's "What Problem?"
Jones has been and continues as a powerful innovator of expressive dance exploring social issues. As a groundbreaking leader in modern dance for decades, Bill T. Jones is the recipient of prestigious awards including the National Medal of Arts, MacArthur Genius Award, The Kennedy Center Honors Award, and multiple Tony Awards.

"What Problem?" will be "beyond modern dance," noted Bryant Godwin. It is set to spoken word and original live music by Nick Hallett and sung by the Mason University Singers. The dance performance aims to spotlight identity; what it means to belong to a community yet have feelings of isolation, especially during divisive times.
"What Problem?" has three sections: there is Jones in solo performance; Jones alongside members of the Bill T. Jones/Arnie Zane Company; and then in a unique concluding segment, Jones and the company onstage with 30 participants from the Northern Virginia community. The community members will represent the diversity that is the region. The content for the community members' section will be developed specifically for Northern Virginia.
Bill T. Jones described "What Problem?" as an "experimental work that is asking questions." It is a work of "healing; to find cultural unity…while seeking truth." The dance will also ask, "Is there a we?" in divisive times.
The performance is one of "a beautiful design; for the eyes, the heart and the mind," added Jones. During its development and rehearsal, "What Problem?" aims for the "community to discover who are they and what they might think while in a pleasurable experience."
The Company's weeklong residency goes beyond on-stage performance. There will be rehearsals with the community members and the Mason University Singers; as well as teaching masterclasses with the Mason School of Dance and with Fairfax County Public Schools' Fairfax Academy dance students.
Where and When
Center for the Arts at George Mason University presents the world premiere of Bill T. Jones/Arnie Zane Company's "What Problem?" at Concert Hall, 4111 University Drive, Fairfax. Performance on Feb. 1, 2020 at 8 p.m. Tickets: $29, $41 and $48. There are special discounts for youth tickets available through grade 12. Call 703-993-2787 or visit www.cfa.gmu.edu Note: A pre-performance discussion begins 45 minutes prior to the performance. "What Problem?" is co-commissioned by the Center for the Arts, George Mason University. Support for the creation of "What Problem?" provided by the Mason Artist-in-Residence program, which is funded, in part, by the George Mason University Office of Research, Innovation and Economic Impact and ARTSFAIRFAX.