At a time when the travel and vacation industry took a hit from the pandemic, the few campgrounds in Northern Virginia stayed busy as people looked around for something to do within the COVID-19 restrictions.
There are several parks in the Fairfax County Park Authority system and Nova Parks where campers can sit around the campfire, telling ghos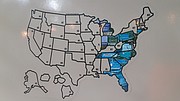 t stories and roasting marshmallows, but still be a few miles from home.
"It was one of the few things you could do," said Nova Parks CEO Paul Gilbert. "It is an amazing alternative," he added.
At FCPA, there are campgrounds at Burke Lake Park and Lake Fairfax, and in Nova Parks, formerly the Northern Virginia Regional Park Authority, there are cabins, cottages and camping at Bull Run, Pohick Bay and Algonkian Regional Parks in the area.
AT POHICK BAY, Vanessa Ryan was in from California to camp with her family members in a big recreational vehicle-type camper. The camper was hooked up to water and electricity, and the campfire was the central gathering spot. Although campers at Pohick can only stay up to two weeks, their "Welcome to the Nelson's" sign was up.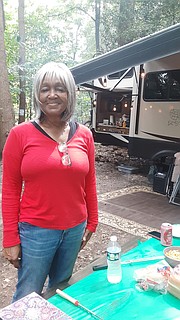 "It's like saying 'this is us,' in a welcoming way," said Ryan. They were right up the hill from Pohick Bay, and if there were any fisherman amongst the campers, they could just go down the trail and cast their line in. Pohick Bay has catfish, bass, crappie and other game fish.
Ryan's son is a resident of Woodbridge, right across the Occoquan River, but to them, the campsite was a vacation. "Truly a treat for me," said Ryan. She's not alone either. According to the numbers, the popularity of camping is soaring too at Nova Parks. In FY2020, there were 10,910 nights of camping vs 13,800 in FY2021, and a projected 15,000 in FY2022. "That is a huge uptick for one year," Gilbert said.
Pohick Bay Regional Park's family campground features 150 shaded sites -- 100 with electric 50/30-amp hookups and 50 tent sites. Pohick has three campgrounds: family campground, youth and non-electric which was for tent campers who are closer to "roughing it."
Burke Lake Campground is open daily beginning Friday, April 9. Last night to camp is Saturday, Oct. 30. Lake Fairfax camping is open March to November.
At Nova Parks, the variety of campsites available at Bull Run Campground are RV sites with electric only service, RV sites with full-service (which includes sewer, water and electric), rustic cabins and group camping areas. All campsites have a charcoal grill, fire ring and picnic table. There are two bathhouses in the campground that offer hot showers, sinks, toilets and laundry facilities. The camp store sells camping supplies, snacks, ice and firewood and is open daily from 8 a.m. to 8 p.m. Fees range from $31 a night to $55 a night.
At FCPS, the busiest season is fall, followed by spring. Summer sees regular RV visitation but the tent usage drops off due to the heat, they said.
Nearly eighty percent of FCPA campers are from the DMV area. The others are from just about anywhere in the country. The close proximity to the nation's capital makes Fairfax County a destination location for both RVs and tourists while they are in town.
Camp Culture and Nomadland
The camping culture may have gotten a boost from the recent movie hit "Nomadland." The plot is about a woman in her sixties embarking on a journey through the American West after losing everything in the recent recession, living as a van-dwelling modern-day nomad. Although the limit at Nova Parks campgrounds is two weeks, the folks in Nomadland find ways around stay-limits and other conventional rules. The movie, starring Frances McDormand, won three Oscars.
There is a two-week limit at FCPA too, but in the off season between Labor Day to Memorial Day, campers can stay the maximum of 28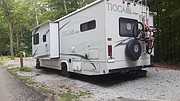 consecutive nights.
One way to get free camping is to work at the campground as a camp host, and in FCPA, there is a three-month contract, and the host "provides services for the benefit of the campground," said Brad Jackson, the assistant park manager at Pohick.
It's a year-round effort with each camp host putting in a 16-20 hour week cleaning cabins, bathrooms, campsites and even manning the check-in counter in the office but then the site fee is waived, Jackson said. In Nomadland, the camp host job was one way they got by, and the other was working for Amazon.
At Lake Fairfax, Campground Hosts serve as a "live-in" host for a four week period, the park website said.
On occasion some campers may become a little loud after quiet hours. Generally the campground host resolves these behavioral situations, park officials said. Fairfax County Police support the campground operation with routine patrols through the Fairfax County parks.