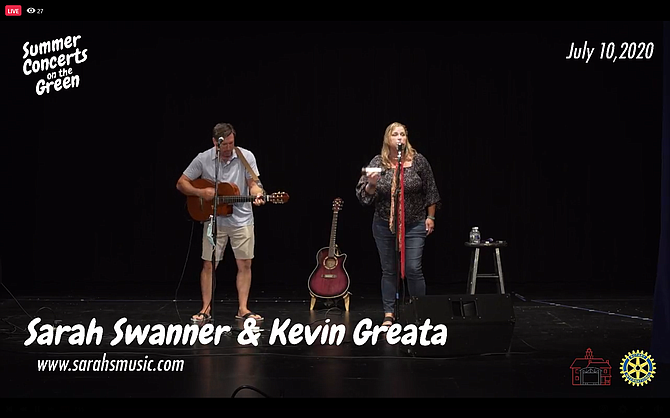 In the face of a recent COVID-19 pandemic, the town of Vienna did not skip a beat in transitioning to Facebook Live to hold the Summer Concerts on the Green. For a 130th birthday, Vienna has been offering many types of online entertainment which kicked off July 11 with a performance by Sarah Swanner & Kevin Greata whose stream was supported by Bards Alley and sponsored by the Rotary club. Along with the classic Summer on the Green concerts Vienna's official Facebook page will host Kids on the Green, Summer Stories & Sprinklers, and a Distance Matters 130k challenge.
This third annual Kids on the Green program will include live animal shows, a magic show with Lorenzo the Great as well as multiple other interactive activities for children every Tuesday at 10 a.m. Summer Stories & Sprinklers will prove to be a good evening pastime for the family with stories and songs; this event encourages participants to stay in the 4th of July spirit with backyard sprinklers showing every Wednesday at 1 p.m.
With a positive and interactive audience ranging from 30-45 viewers, Swanner and Greata played a variety of songs from 6:30-7:30. The duo performed popular songs like Anna Kendrick's "Cups" and "Billie Jean" by Michael Jackson. The event even allowed for fan requests and shoutouts. Throughout the concert a constant stream of supportive commenters gave praise to the duo.
Commenters were especially active during the intermission trivia hosted by Lily Widman. Three questions were asked to which commenters could respond for the chance to win a prize: pack of goodies. Widman also announced the winner of a gift card to Bards Alley for a lucky person who RSVP'd to the event.
The three questions asked were: what year Vienna was founded; what Vienna's oldest business is and what current business is housed in the former local movie theater. Respectively, the answers were 1890, Money and King Funeral Home, and Spokes.
To finish off their performance Swanner and Greata dedicated two Dolly Parton songs, "Jolene" and "Coat of Many Colors" to their family members.
Next Wednesday, Summer on the Green will host the Richard Walton Group, while continuing all other events through mid-August.
To find these live streams is as simple as going to Town of Vienna, VA on Facebook and any event can be watched afterward on the same page or YouTube.