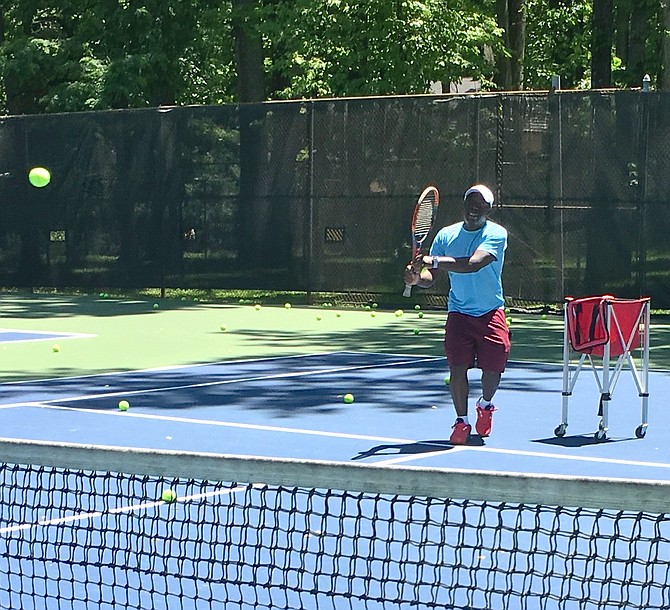 Memorial Day passed, June arrived, school is "out," it is time to open the pools.
While no one knows for sure when pools will be open to swimmers, most are ready for the summer's first dive, including the two pools at Potomac Swim and Tennis Club on Oaklyn Drive.
"I hoped we would be open yesterday," general manager Bruce Goldstein joked on Saturday. "Everything is dependent of [state and county] guidelines and we don't even know what the guidelines will be."
Goldstein is in the same limbo with other pool managers as the weather is beginning to shout summer and pool safety parameters slowly become clear.
County, community and club pools are all still closed as the area emerges from "stay and home" to Phase one opening schedules. But pools
Goldstein said that on a normal Saturday, the pools, decks and play area would be filled with club members enjoying the outdoors. The club has a large children's playground and basketball court for those on break from swimming.
Meanwhile, the club's tennis courts are open and in use. Maryland Governor Larry Hogan announced that golf, tennis, boating, fishing and camping restrictions were lifted May 7.
"We have six courts, all newly resurfaced," Goldstein said.
Along with the renovated tennis courts, Potomac Swim and Tennis has employed 4 Star Tennis Academy to handle the club's tennis lessons.
4 Star is well known in the area for the quality of its programs, according to Goldstein. He also noted that you do not need to be a member of the club to take lessons there.
Also new at the club this summer is the expanded snack bar menu.
"Before, we had ice cream and soda and snacks," Goldstein said. "Now we are going to have food, burgers, dogs, nachos, salads, pizza probably."
The snack bar will be run by Vignola Gourmet from Rockville.
Everything is ready for a summer of fun and sport at Potomac Tennis and Swim Club. Hopefully, the coronavirus COVID-19 will abate, and members will be able to enjoy community time together.
Although a specific date has not been set, swimming pools will reopen with limitations during Phase 2 of the County's COVID-19 Recovery Plan, according to the county. When outdoor pools open there will be restrictions on the maximum number of patrons allowed, which will be determined by the size of the pool. Other restrictions will include:
Swimmers must maintain a minimum, six-foot physical distance while in the pool and on the grounds;

Staff and patrons will be required to wear face coverings when outside of the water whenever possible;

Pools must maintain a supply of soap and hand sanitizer for use;

Pool operators will be required to disinfect frequently touched surfaces at least twice daily and clean floors, toilets and sinks with soap and water daily.

Wading pools, hot tubs, spray or splash pads and lazy river pools will remain closed.
For membership information for Potomac Swim and Tennis Club on Oaklyn Drive or to inquire about tennis lessons, call Goldstein at 301-983-0390 or visit http://www.potomacswimandtennis.com/