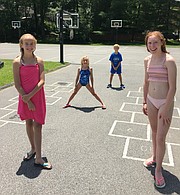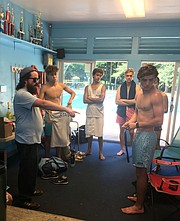 The good news came just hours before the actual beginning of summer. Public swimming pools in Montgomery County could open.
County Executive Marc Elrich announced June 18 that the county would enter Phase 2 of its reopening plan to take effect at 5 p.m. Friday, June 19.
One local pool opened at 5 p.m. that day, but most others needed a few days to understand the new operating regulations and get up to speed. There were signs to create and display, pool capacity to figure out, furniture to reconfigure and staff to bring up to speed.
Country Glen Swim and Tennis Club on Glen Road opened Monday. Michael Abbott, a pool manager at Country Glen met with his guard staff Sunday to go over the reservation system they would use to limit the number of people in the pool at any one time.
County guidelines required limited use: "Pools may open after determining the maximum number of people who may be permitted in the pool fenced enclosure (this includes pool deck and grounds). To determine this, divide the square footage surface area of the pool by 36. This ensures 6 feet of separation between pool patrons in the water."
Country Glen board member John Mackey did not say what the pool's new capacity was but said they do not plan to reach it right away.
"We're starting slow until we get used to this," he said.
At Potomac Swim and Tennis Club on Oaklyn Drive, Bruce Goldstein, general manager, said that with the guidelines the pool could handle 60 swimmers per hour.
Time slots were for an hour but, Goldstein said, members could sign up more than one hour at a time.
He said he does not think the reservations system will be a problem.
River Falls Swim and Tennis Club on Horseshoe Lane was ahead of the rest, opening on Sunday. They, too, were using the reservation system up to a capacity of 75 people per session. Like the others, they did not start off with 75, planning to start slower to see how pool use in the time of COVID-19 worked out, according to a gate attendant.
A group of friends had just finished their swim time at River Falls Sunday and were visiting in the parking lot while socially distancing.
Chloe Murphy, 14, said she was the first in the group to get in the water.
"I was waiting and waiting to go in the pool," she said. "I reserved my spot and jumped in the water. I was so excited about being in the water."
Patrons of Montgomery County Recreation pools will have to wait awhile for their chance to jump into the water:
"In an effort to slow the spread of COVID-19, all Montgomery County Recreation aquatic, recreation and senior centers will remain closed until further notice," according to the website https://montgomerycountymd.gov/rec/.