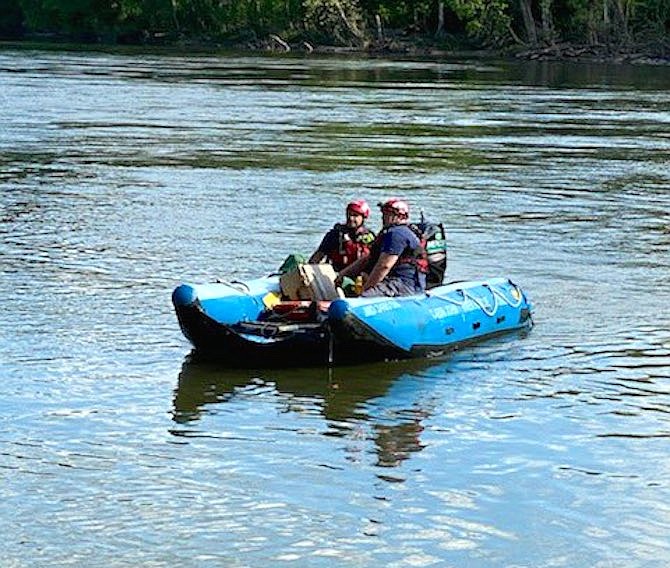 Montgomery County Fire and Rescue Swift Water Rescue boats and crews spent several hours on the Potomac this morning of June 2 searching for a missing swimmer, presumed drowning victim after an incident on Sunday, May 31. Relief crews planned to conduct a systematic search again Tuesday afternoon, according to Pete Piringer.
Around 5 p.m. on Sunday, on the Potomac River in the area of Billy Goat Trail A and Sandy Landing, South, downstream of Great Falls, a person entered water from the Virginia side and was still missing, as of deadline Tuesday.
He umped into the water south of Great Falls from the rocks on the Virginia side, Piringer said. He never resurfaced. His friends tried to help him but were not able to do so.
Then Sunday around 8 p.m. in the Potomac River, at Katie Island, Seneca area, a kayak boater in was in distress, separated from their boat, and stranded on island. Swift Water boats deployed from Pennyfield Lock and also Riley's Lock/Seneca. They located the boater of interest safe on an island, with no injuries, and that person was extracted via Montgomery County boat to back to land at Pennyfield Lock. The boat was still missing.
On Saturday, May 30, Swift Water Rescue crews were dispatched for an injured hiker on Billy Goat Trail, and then while still in the area another call was received for a medical emergency on another portion of Billy Goat Trail. Crews used boats, UTVs, fire engines, 4-wheel drive vehicles and US Park helicopter to locate the hikers.