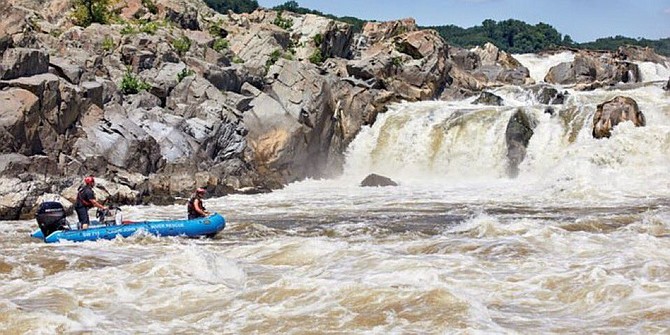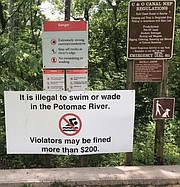 Swift Water Rescue Crews and National Park Service Rangers have observed many people putting themselves in danger in and around the Potomac River the last few weeks, while area rescue crews have already responded to several drownings this year.
Capt. Ed Russell of Cabin John Park Swift Water Rescue shared his observations regarding activity along the Potomac River, on June 13, rescuing one 'exhausted' swimmer from a rock near the Virginia shoreline. Dozens of others were seen swimming in the area despite large signs that warn swimming is prohibited, and of other dangers.
Montgomery County Fire and Rescue Swift Water Rescue boats and crews spent several hours on the Potomac this morning of June 2 searching for a missing swimmer, presumed drowning victim after an incident on Sunday, May 31. Relief crews recovered the body several days later.
Around 5 p.m. on May 31, on the Potomac River in the area of Billy Goat Trail A and Sandy Landing, south, downstream of Great Falls. The person jumped into the water south of Great Falls from the rocks on the Virginia side, Pete Piringer said. He never resurfaced. His friends tried to help him but were not able to do so.
The same day around 8 p.m. in the Potomac River, at Katie Island, Seneca area, a kayak boater was in distress, separated from their boat, and stranded on island. Swift Water boats deployed from Pennyfield Lock and also Riley's Lock/Seneca. They located the boater safe on an island, with no injuries, and that person was extracted via Montgomery County boat to back to land at Pennyfield Lock.
On a recent Saturday, Swift Water Rescue crews were dispatched for an injured hiker on the Billy Goat Trail, and then while still in the area another call was received for a medical emergency on another portion of Billy Goat Trail. Crews used boats, UTVs, fire engines, 4-wheel drive vehicles and US Park helicopter to locate the hikers.
The Billy Goat Trail, especially section A, is challenging and dangerous. A sign in early parts of the trail says: "Difficult Trail Ahead. Many hikers are injured every year on this section of the Billy Goat A trail. The terrain includes sharp drops, requires jumps across open areas, walking along the edges of rocks and a climb up a 50-foot-traverse. Beyond this point, the next available exit is at the midpoint, up to on hour hike over difficult terrain. If you are tired, low on water, or unprepared for a very strenuous hike, please turn back."
At least one set of Billy Goat Trail hikers were rescued recently after dark when they failed to leave enough time to complete their hike in daylight. All terrain vehicles and rescue boats were part of the complicated task of locating the hikers.