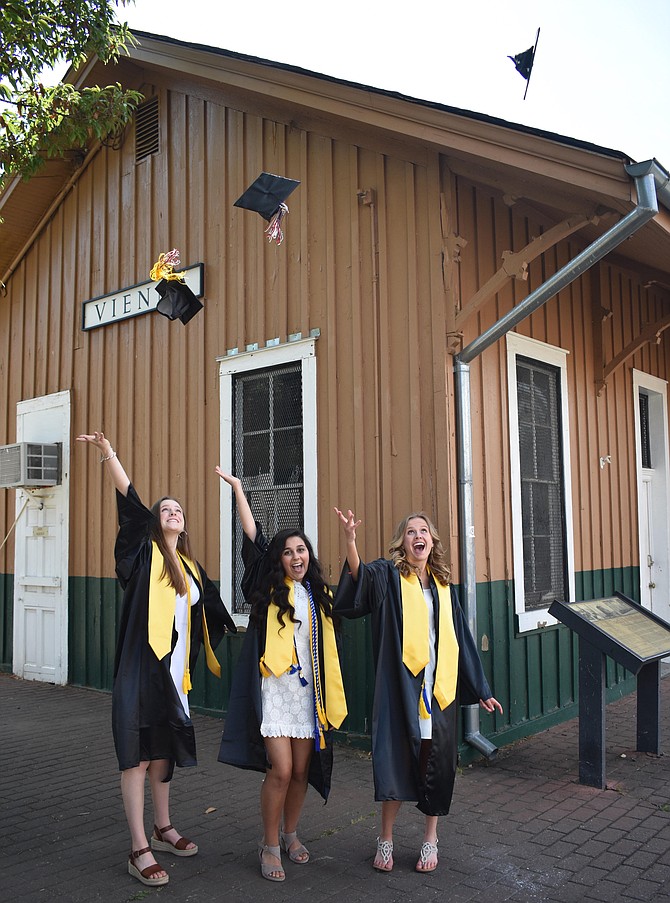 When COVID-19 interrupted the school year nationwide, and forced large gatherings to be cancelled, schools, families, and graduating seniors wondered how they'd still be able to celebrate the milestone without a traditional ceremony.
The initial impact of schools closing and the possibility of ceremonies and events getting cancelled shocked and upset many students.
"For the first week of quarantine I was under the impression that we would have a prom and graduation but after those got cancelled it hit me like a bus," said Jasmine Pardue of Falls Church, a graduating senior of McLean High School and rising freshman at Pace University.
"The thing that bummed me out the most was not being able to see my amazing school bus driver again and say goodbye," said Emilio Salgado of Herndon, graduating senior of Oakton High School going into the U.S. Navy.
Still, area high schools figured out ways to celebrate graduating seniors. James Madison High School held a drive through ceremony where seniors drove along the front of the school to receive their cap, gown, and diploma, and see their teachers for the last time. James Madison High School also created a virtual convocation and video messages from teachers to the class.
Oakton High School also held a drive through event for students to pick up their graduation regalia and diplomas. A virtual senior awards ceremony and staff messages to the class were also sent out to students.
McLean High School had a similar approach as well: holding a drive through graduation for students to say goodbye to teachers one last time, as well as a virtual ceremony.
"It was honestly a really exciting experience that I know I will remember much more than I would have a normal graduation ceremony," said Elizabeth O'Brien of Vienna, a graduating senior of James Madison High School attending the University of Virginia in the fall. "It was really nice of the school to put it all together."
Many students' families have also had their ways of celebrating through virtual parties with extended family, decorating the house, and taking lots of graduation photos.
"My parents are being super supportive – and even a little embarrassing at times – they've decorated the outside of the house with signs congratulating me," said Kyra Sanders of Vienna, a graduating senior of James Madison High School attending Virginia Tech in the fall. "All of this has helped me, knowing how much my family and friends want to make this special for me."
However, many students can't help being disappointed with the outcome of virtual and drive through celebrations. Many agree it just wasn't the same as a traditional ceremony with a cheering crowd and the throwing of grad caps.
"I was definitely frustrated because as an immigrant the thing that I have always looked forward to was walking through the stage and getting my diploma, so no ceremony definitely bummed me out," said Salgado, who's originally from Mexico and came to the U.S. with his mother when he was 9 years old, and is the first in his biological family to graduate high school in the U.S.
Salgado suggested that an open field ceremony – where social distancing could be practiced among both students and families – could have been a good alternative, still allowing students and families to have a usual graduation ceremony.
"[Virtual graduation] was disappointing because it didn't feel the same – it was good that they did it – but obviously I wanted to actually do it," said Pardue. "I wish I had an open field ceremony because I could congratulate all the other students and my friends, instead of saying 'congrats' on Instagram."
"I worked for 12 years to receive my diploma through my car's window, like I was just going to McDonald's," said Sanders. "The worst part is there wasn't anyone to blame; it wasn't the schools' fault, they were doing their best, it was just bad circumstances."
Graduation this year for seniors has been a mix of emotions, and many agree that the end this year just doesn't feel the same.
"I'm still bothered that I didn't get to say goodbye to my teachers and friends," said Sanders. "Everything feels unfinished."