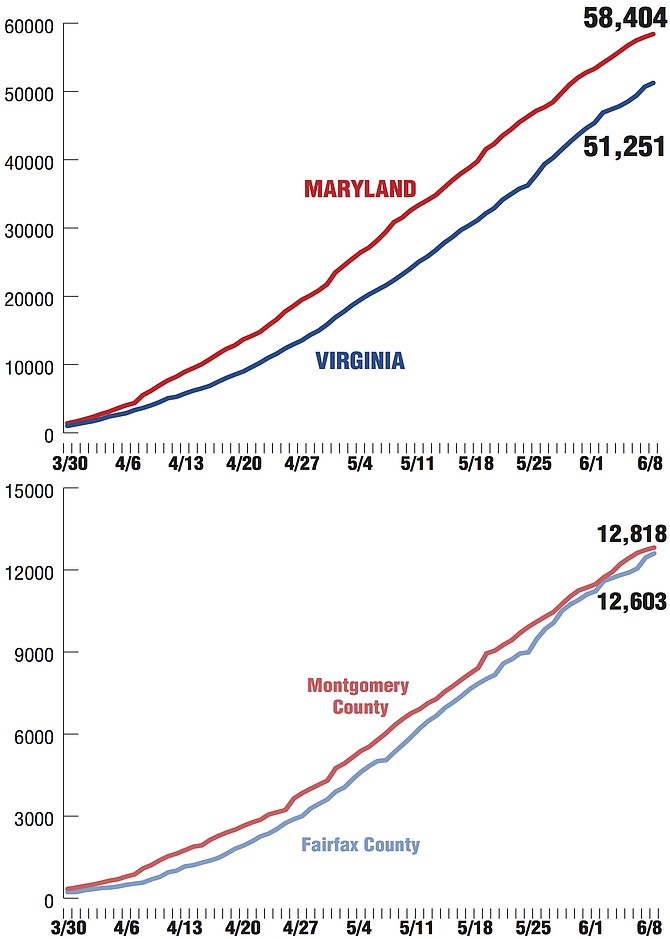 Potomac 20854 Cases: • June 8: 275 • June 1: 261
Montgomery County Cases: • June 8: 12,818 • June 1: 11,476
Maryland Cases: • June 8: 58,404 • June 1: 53,327
United States Cases: • June 8: 1,920,904 • June 1: 1,761,503
Montgomery County Deaths • June 8: 593 • June 1: 576
Maryland Deaths • June 8: 2,653 • June 1: 2,431
United States Deaths: • June 8: 109,901 • June 1: 103,700
Tuesday, June 9
PANDEMIC WITHIN PANDEMIC: Racism will be declared a public health crisis, according to a Montgomery County Council resolution spearheaded by Councilmember Will Jawando and sponsored by the full Council. The resolution will be introduced at the Council's Tuesday meeting, after the Almanac's presstime.
Racism causes persistent discrimination and inequitable outcomes in many areas of life, Jawando said. An emerging body of research, including the American Academy of Pediatrics, has found that racism itself is a social determinant of health.
"Disparities in health outcomes have been amplified during the Covid-19 pandemic, as African Americans have the highest number of recorded cases and deaths. This is true across the United States, in the state of Maryland and in Montgomery County, where African Americans account for 25 percent of the deaths, despite being 19 percent of the County's population," according to Council documents. "According to the national COVID Racial Data Tracker, African Americans have been nearly twice as likely to die of Covid-19 than would be expected based on their share of the population."
Monday, June 8
THE LATEST: See up-to-date changes in Montgomery County and reopenings on https://montgomerycountymd.gov/HHS/RightNav/Coronavirus-open.html
Sunday, June 7
GRADUATION: The Class of 2020 took part in a live virtual Universal Graduation Celebration on Sunday, June 7th, featuring Jose Andres, world-renowned chef and founder of World Central Kitchen as the commencement speaker. Replays of the ceremony will be available on the Montgomery County Public Schools website and YouTube channel. Individual school virtual graduations will be held June 8-12.
RIDE-ON: Ride On bus service expands Sunday, June 7. The Bethesda Circulator and Silver Spring Van Go bus services will resume on Monday, June 8, to help economic recovery in the Bethesda and Silver Spring urban districts. Service hours and bus frequency will continue to be provided on a reduced basis, and riders are encouraged to visit the Essential Plus webpage for detailed information at https://www.montgomerycountymd.gov/DOT-Transit/essential-plan.html
During the Essential Plus plan, all Ride On services will remain free to all passengers — a temporary change made during the health crisis.
Saturday, June 6
Maryland jurisdictions received $34,985,870 in COVID-19 relief through the U.S. Department of Housing and Urban Development Emergency Solutions Grants, according to U.S. Rep. Jamie Raskin and the Maryland delegation. These funds will be used to address the impact of COVID-19 among individuals and families who are homeless or at risk of homelessness. They may also be used to support additional homeless services, prevention, and eviction prevention assistance for the families and individuals who are newly experiencing homelessness as a result of the COVID-19 pandemic. Eviction prevention programs include rapid rehousing, housing counseling, and rental deposit assistance. The $2.96 billion allocated today nationwide is allocated based on a formula which accounts for local levels of sheltered and unsheltered homelessness, levels of homelessness risk, and economic and housing market conditions. Montgomery County will receive $4,847,976 and $10,739,230 is to be allocated among counties and qualified nonprofits by the Maryland Department of Housing and Community Development.
Friday, June 5
WHAT'S GOING ON?: Guidance to help business owners as they bring their organizations back can be found on the Montgomery County website. FAQs guide business owners to the proper documentation in areas such as outdoor dining, requirements for reopening, and information about looking ahead to Phases 2 and 3 of recovery, among other topics.
HELP FOR-PROFITS: Microenterprise Stabilization Program will help for-profit businesses with five or fewer employees. Applications will be accepted from 10 a.m. on Wednesday, June 10 to 5 p.m. on Tuesday, June 16. The program is open to businesses with no employees including sole proprietors and independent contractors. See https://www.montgomerycountymd.gov/biz-resources/msp/
REST OF THE STATE: The rest of the state moves into Stage Two of the 'Maryland Strong: Roadmap to Recovery,' at 5 p.m on June 5. This comes after the state's positivity rate dropped to single digits, and total current hospitalizations fell to their lowest level in more than seven weeks. Montgomery County's positivity rate was still at 12.4 percent, on June 3, and the governor allowed flexibility for Montgomery County to delay moving into Stage 2 reopenings. See https://governor.maryland.gov/recovery/
REOPENING GUIDANCE. As additional industries and activities begin to resume, the Maryland Department of Commerce continues to develop and issue guidance and best practices to help businesses reopen safely. These resources are available at https://open.maryland.gov/backtobusiness/
NEXT STEPS. State officials and the Maryland Coronavirus Recovery Team will continue to watch the data closely, and if encouraging trends continue, the next step, likely coinciding with the end of the school year, will be to consider opening additional amusement, fitness, sporting and other summertime activities.
GILCHRIST CENTER: The Gilchrist Immigrant Resource Center, 240-777-4940, is available Monday through Friday, 9 a.m. to 5 p.m., including: how to find health care; organizations that help with housing and eviction concerns; how to complete Census forms; free virtual English conversation classes; free online computer classes. They can help you in most languages. All staff are bilingual Spanish speakers, and have access to interpreters for any language.
CRITICAL HEALTH CARE: U.S. Senators Chris Van Hollen (D-MD), Debbie Stabenow (D-MI) and Roger Wicker (R-MS) and 38 senators urged Congress to support community health centers that provide Americans with critical health care, including testing and treatment of COVID-19.

"We write to express our support for additional emergency funding for community health centers in the next COVID-19 relief package. Community health centers are vital to our response to the coronavirus pandemic and need appropriate funding to continue their front-line health care work," wrote the Senators. "Community health centers provide affordable care to more than 29 million patients, including 385,000 veterans and 8.7 million children nationwide. These centers play a critical role in responding to the pandemic, offering coronavirus testing, primary care, dental care, behavioral health care, and other services to our nation's most vulnerable patients."
UNEMPLOYMENT INSURANCE: U.S. Rep. Jamie Raskin (MD-08) today wrote to Governor Larry Hogan to communicate concerns that have been persistently raised by his constituents attempting to access unemployment insurance during the coronavirus pandemic. "The most common complaints I hear are from Marylanders who have found it nearly impossible to get any sort of response from the Maryland Department of Labor (MDL) – via phone or email – when they have a problem with their unemployment claim.
"I know that you and your team are working hard to process the massive influx of unemployment claims generated by this crisis, but I believe more has to be done – and quickly – to help Marylanders survive this pandemic and mitigate the financial fallout from COVID-19.
Thursday, June 4
TELEHEALTH SERVICES: $618,628 will help to expand telehealth services for residents in Montgomery County and Prince George's County, U.S. Senators Chris Van Hollen and Ben Cardin and Congressman Steny H. Hoyer, John P. Sarbanes, Anthony G. Brown, Jamie B. Raskin and David Trone announced
Funding comes from the Coronavirus Aid, Relief, and Economic Security (CARES) Act. CCI Health and Wellness Services in Silver Spring will receive funding to ensure the continuation of high-quality primary, pediatric, and behavioral health care services to over 33,000 patients quarantined at home.

Funds will be used to acquire telemedicine carts, computers, tablets, sign language and language interpretation services, call center subscription services, telehealth and videoconferencing software licenses, and remote monitoring equipment.
CCI is one of the largest health care providers for underserved Marylanders in Montgomery County and northwestern Prince George's County. It serves more than 17,000 children and adults who are economically disadvantaged, homeless, disabled, insured through state medical assistance coverage or uninsured.
Wednesday, June 3
HAVES, HAVE NOTS: U.S. Senators Chris Van Hollen (D-MD) and Amy Klobuchar (D-MN) and Representative Anna G. Eshoo (D-CA) sent a bicameral letter to Majority Leader McConnell, Speaker Pelosi, Minority Leader Schumer, and Minority Leader McCarthy urging the leaders to include dedicated funding in future legislation to help ensure that college and university students with the greatest financial need can access high-speed internet during the coronavirus (COVID-19) pandemic.
"Even before the pandemic, only 66 percent of black households, 61 percent of Hispanic households, and 63 percent of rural households had access to broadband, and one survey found that about 20 percent of college students did not have consistent access to technology, such as laptops and tablets," the lawmakers wrote. "Another survey found that 30 percent of students experienced difficulty connecting to the internet when accessing course material online during the pandemic. Without action from Congress to address these disparities, students are at serious risk of falling behind and missing out on job and academic opportunities provided by the internet."
NIH TRACKING: U.S. Rep. Jamie Raskin (MD-08) today introduced legislation that would expand and coordinate National Institutes of Health (NIH) funding to address post-viral chronic neuroimmune diseases, including chronic fatigue syndrome, in the wake of the COVID-19 pandemic. ME/CFS is a chronic, complex, multi-system disease characterized by profound fatigue, cognitive impairment, sleep disorders, autonomic dysfunction, chronic pain, and other symptoms often exacerbated by exertion. A report found that between 836,000 and 2.5 million people in the United States suffer from ME/CFS, and up to 80 percent of cases of ME/CFS are initiated by a viral infection such as COVID-19.
Tuesday, June 2
EXTRAORDINARY PRIMARY ELECTION: "The primary election in Maryland on Tuesday, June 2, was conducted under extraordinary circumstances that required timing changes and significant adjustments to voting methods. Under this pressure, it is clear there have been a number of breakdowns in the process," wrote members of the Maryland Congressional Delegation, including Senators Chris Van Hollen and Ben Cardin, along with Congressmen Steny H. Hoyer, Dutch Ruppersberger, John Sarbanes, Kweisi Mfume, Anthony G. Brown, Jamie B. Raskin and David Trone (all D-Md.).
"With the full participation and cooperation of the Maryland State Board of Elections and the Board's staff, there must be an urgent, thorough and rigorous review of the Maryland primary election to identify problems that occurred, take steps to address them and ensure that as a state we are well-prepared to conduct a safe, free and fair election in November. Policymakers and election administrators at every level of government have a responsibility to join in this effort and do so in a way that bolsters the confidence of Maryland voters and makes sure that they are able to cast their vote and have that vote accurately counted."