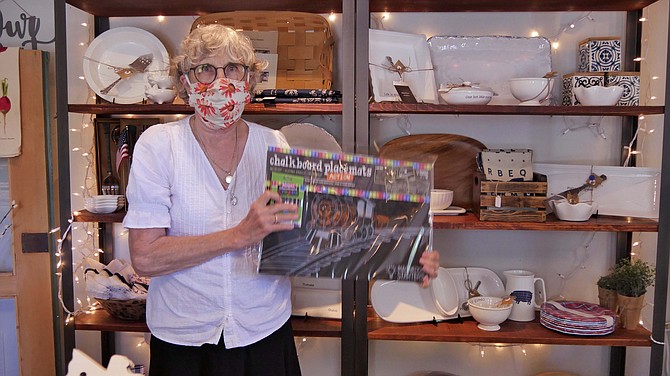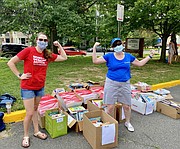 Moms Demand Action volunteers delivered hundreds of new and gently used books and games June 9 to children participating in the weekly Barcroft Elementary School food distribution program. Each week since school closures, around 100 families in need have been given a bag of fresh groceries as well as other essential items such as books and household/personal items.
The Moms Demand Action effort is part of a national focus each June called Wear Orange that supports communities and raises awareness of the toll gun violence takes on families and loved ones. This year, because of the pandemic, the group decided to focus on community members in need.
Celia Slater, Moms Demand Action Arlington Co-Lead says, "So far we've collected more than 1,000 books and games for the Plant Hope Drive to brighten the summer for kids participating in elementary school food drives and Doorways families. "The Barcroft principal and librarian were thrilled because so many students are lacking resources for the summer."
In order to add a boost for local participating businesses during the coronavirus pandemic, Moms Demand Action teamed up with small Arlington businesses to create customized bundles of books and games for donors to purchase. Partners included Busboys and Poets, One More Page Books, One Two Kangaroo and Urban Farmhouse.
"Supporting children who are facing uncertain summers due to the pandemic and partnering with small businesses that may also be struggling seemed like a win-win for the whole community," said Kaydee Myers, who leads the community outreach efforts for Arlington's Moms Demand Action group.
Jodi Rosenbaum, Barcroft Elementary School Site Coordinator, Communities in Schools of NOVA says, "The hundreds of books and activities donated by Plant Hope Drive are providing a summer full of learning and enjoyment for families in need who have been affected by the coronavirus closures." Contact president@barcroftpta.org to help with the critical need for monetary donations, food and grocery gift cards to keep the school grocery distribution program going through the summer.
Moms Demand Action volunteers are also delivering about 75 new activity books to Doorways for Women and Children for children in their programs. Anna MacNiven, Doorways Development Associate says, "These supplies will go a long way to keeping our kids entertained and happy during this stressful time." Doorways is a non-profit organization established in 1978 to give women and families a way out of violence and homelessness and empower them to create a brighter future through crisis intervention, counseling, employment, and housing.
Moms Demand Action for Gun Sense is a non-partisan grassroots movement of more than five million Americans demanding common sense solutions to the gun violence that endangers our children, families and communities. Arlington is one of more than 20 chapters in Virginia.