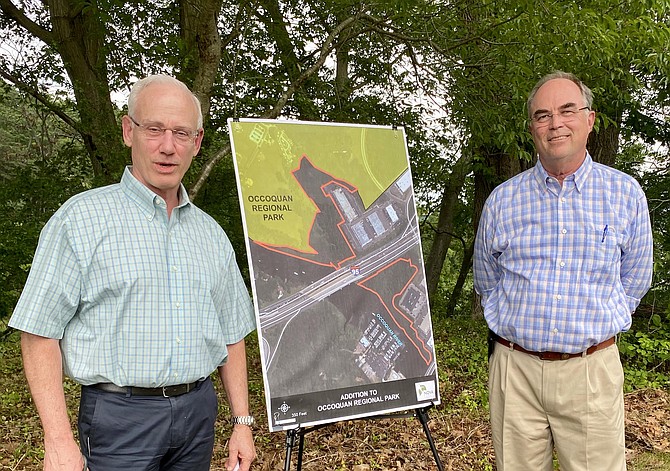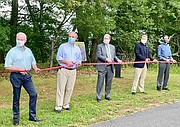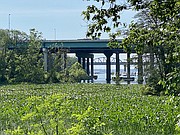 NOVA Parks and Fairfax County officials and staff celebrated, honoring the gift of an additional 32 acres to the Pohick Regional Park with a ribbon cutting ceremony at the Lorton park on June 11. The land donation by Lorton-based Colchester Land Company significantly extends the park's more than 400 acres, adding wetlands, woods, and a half mile of Occoquan river shoreline to the Park's holdings, primarily for conservation.
LOCAL BUSINESS PARTNERS Laing Hinson and Bill Lynch were on hand to cut the ribbon with Fairfax County Board of Supervisors Chairman Jeff McKay, and Mount Vernon District Supervisor Dan Storck, in a small ceremony, sized in consideration of the Covid-19 limits on public gatherings. As noted by Michael Nardolilli, Chairman, NOVA Parks Board, celebrating park space in time of trouble has historic precedent. Congress passed the act that established the Grand Canyon National Park in February 1919 in the midst of the Spanish Flu epidemic that lasted from Spring 1918 to Summer 1919; a flu likened to Covid-19 for its impact and deadliness. Praising the importance of the donation, Chairman McKay observed that in troubled times such as these, "parks are a great equalizer… [All being able to] come out to parks that are free, kids and adults alike, at a time when our mental health is being challenged every minute of every day, has been so valuable. People are looking at parks as an absolute necessity to our quality of life in Fairfax County. …They are looking at environmental stewardship in a whole different way."
Nardolilli further praised the donation as "remarkable" for its value as a riparian vegetative buffer; positively impacting water quality along the Occoquan River. Scientists consider a 35-foot buffer minimal for promoting healthy water, and 150 feet as optimal; this donation provides a superior 175 foot vegetative buffer.

Lauding Hinson and Lynch's "foresight and willingness" to donate to the community, Supervisor Storck expressed the hope that there will be many more like them who will add to this community. He said, "We are part of a long line of people… who will inhabit this planet. We've preserved another piece for future generations."
Hinson, speaking in acknowledgment of the County's thanks, shared that the donated property had been in Lynch's family since the Great Depression, about 1944, and was considered "family land."
IN 1995, Hinson became a partner in the development undertaking. Notably, he hit the last ball, a promiscuous one which shattered an earthmover's windshield, as the driving range previously located there was ripped up to make way for industrial development. From that year to now, leaning more toward 'con'-struction, Hinson described Colchester's successful economic stewardship of the land which provided over one million square feet of office space, employment in southeastern Fairfax County, and support of the Department of Defense and law enforcement agencies. Directing attention to the land immediately behind the podium, he said:
"This land is something else. We can't be that kind of [land] stewards, so we are grateful to the NOVA Park Authority for being willing to take over and become the stewards that Bill and I couldn't be. In doing that you are doing a great thing for our families, for the community. Now the Hinson family, the Lynch family can look and say our neighbors, our friends, the community can use the property in a way that benefits everyone."
Hinson is on the Board of Burke & Herbert Bank; Lynch and his family have a significant history of community volunteering and philanthropy. Lynch's parents, Edwin and Helen, donated land on Belmont Bay on Mason Neck to establish "Point of View," an international conference and retreat center under the auspices of George Mason University, dedicated to the study and practice of conflict resolution.

The Connection asked Lynch what his father, a recognized long-time peace activist who died in 2004, might make of today's realities. While we chuckled at the ironies of our times, perhaps Edwin Lynch gave his answer and advice years ago, which still resonates today: "We must seek to develop and use our minds, not to conquer one another, but to peacefully and constructively solve the conflicts that cause so much of the world's grief." (Edwin Lynch, 1995)