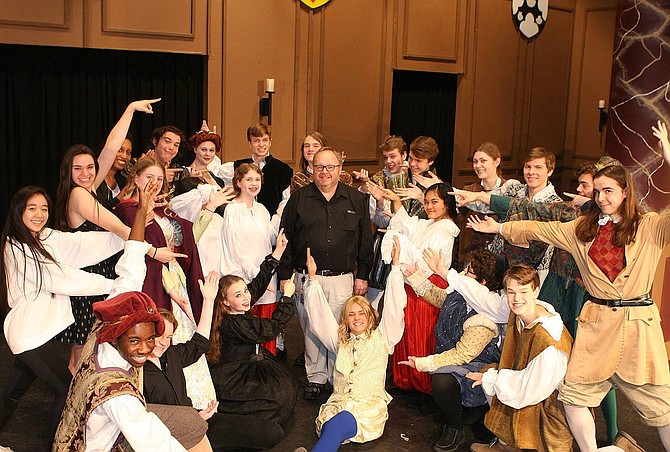 Mike Hudson's taught for 40 years – the last 30 as Centreville High's theater teacher/director. And he and his students have always had such a strong bond that they didn't call him "Mr. Hudson," but "Huddy," as a term of endearment.
He planned to retire July 1, but COVID-19 closed the curtain on the school year in March, robbing both him and his thespians of their last months together and Hudson's final production at Centreville. "We'd started rehearsals for 'Peter Pan," he said. "This wasn't the way I anticipated going out."
In fact, drama mama Toni Strauch had organized a surprise retirement party for him at her home in May, but the pandemic quashed it, too. So 2010 grad Krista Catalfamo gathered Hudson's students from across the years and held that party via Zoom. More than three dozen participated in the three-hour event from throughout the U.S., with Hudson thinking he'd been invited to a 10-year reunion of his Class of 2010 students.
"You made an impact on our lives, so we wanted to thank and congratulate you," said 2012 grad Anthony Ingargiola, as the others applauded. "Your office was a place where we could be ourselves. I remember the way my moments in theater made me feel. And, Huddy, you made it safe to be different in a sports-oriented school."
Classmate Emily Dwornik, now a Washington, D.C., theater teacher, told Hudson, "You're the reason I had the courage to follow my dream, and I modeled myself as a teacher after you." The students discussed their past shows, and Ingargiola shared photos of them.
Amita Rao told Hudson how much he meant to her life, and Zaida Schebish called him a "no-judgment zone" and "a blessing" to his students. "I owe a lot of where I am in life today to you and what you taught me," said 2004's Rick Mathews. "Centreville grads have won Tonys and Grammys, and that says a lot about the training you gave us."
2010's Andrew Myers showed his "Dracula" script, telling Hudson, "I was underappreciated in choir until I showed up on your doorstep, senior year. When I auditioned, you said I had to do the work and prove I was worthy of being in the theater program. You were the first one who gave me a chance; and even though I didn't know anyone, I still felt included.
"I was a lonely person back then, and you made it better," continued Myers. Then, proudly displaying his Best Male Understudy, Centreville Thespie Award, he told Hudson, "I hang this in my office to remember what you taught me – that every time you work hard, you get something out of it."
2004 grad Tim Bartlett wrote, directed and starred in a musical version of "Dracula," last year in New York's Greenwich Village. And 2005's Benjamin Myers said Hudson taught him how to do theater correctly. Now an actor, he said, "Whenever I'm doing a production, I measure it against your standards and ethics and think about them every day."
HUDSON was Centreville's technical director before becoming theater director in 2010. And in 2019, Mark Rogers – the man he replaced – was instrumental in Hudson's being named the first master theater teacher in Virginia.
Catalfamo, now in Chicago, told Hudson, "I was awkward in high school and had low self-esteem, and you wrote the best college recommendation for me, saying I had a 'contagious exuberance.' You saw something in me I didn't know I had, and that changed my life. You're an amazing human being, and I want you to know how much we all appreciate you."
Jamal James became an actor because of a compliment Hudson gave him on a monologue, the first time he performed. "You empower your students in a way you may not know," he said. "I have my career because of you."
With tears in his eyes, Hudson said he has every thank-you card, signed cast photo from his shows and wonderful memories of all his students. "I learned more from you than I learned in college or working professionally," he said. "I learned to appreciate loyalty, humility and support. I've taken a lot of risks, over the years [choosing the shows we did], and we've done some really wonderful theater."
Telling his students, "I've always been proud of everything you've done," he recalled them performing "The Mask of Hiroshima" at the Virginia Theatre Assn. competition. "We didn't win," said Hudson. "But we had a great time and put on a really good show."
He also loved Centreville's "Phantom of the Opera" and "Alice in Wonderland." And, he added, "I was so proud and pleased with both productions of 'The Laramie Project.' It was the most powerful high-school show I've ever seen." After the first production ended, then-Principal Mike Campbell showed Hudson a stack of printed emails from the community, praising the show. He also offered Hudson the director's job for the following year.
Other favorite shows included "Beauty and the Beast," "Cabaret" and "Working." But, said the typically humble Hudson, "The success of the shows we did was because of the people in them. I always cast them according to the talent we had."
2020 grad Steve Choi loved working on sets and being an extra. "You helped me break out of my quiet shell, and I'll always remember and treasure those times," he told Hudson. "You'll always have a place in my heart. On behalf of the Senior Class, thank you."
From New York, Paige Williams told Hudson she'll never forget the sets he created. "The commitment you put into all the pieces made us feel like we weren't just students – we were actors. And because of the talent, passion and caliber of the work you put into it, we knew we had to step up."
Likewise, 2013's Binta Barry told him, "Seeing this community of people that came together tonight has been an incredible reminder that you instilled so much in us that helped us in our careers. We're all lucky and grateful to have had you as our theater director."
FROM CALIFORNIA, Ally Nasta, working in TV development, said, "My theater background still lives in me. You were always a joy to work with and made me feel empowered as an actor." And Nick Dell 'Omo thanked Hudson for the learning opportunities and creativity that molded him into the person he is today. Similarly, Annemarie Scerra, a sound engineer in New York, appreciated how Hudson encouraged and believed in her.
Millie Prescott, 2005, didn't like school, but said Hudson gave her "a reason to show up. You made me feel important; I could just be myself, and that got me through high school." And Cameron Daly, 2015, said no words can describe how impactful he's been on her life.
At the end, Hudson said, "I was disappointed, the way the school year ended, because I'd planned to do so many more things and to say goodbye to the kids. So this has meant so much to me; thank you."