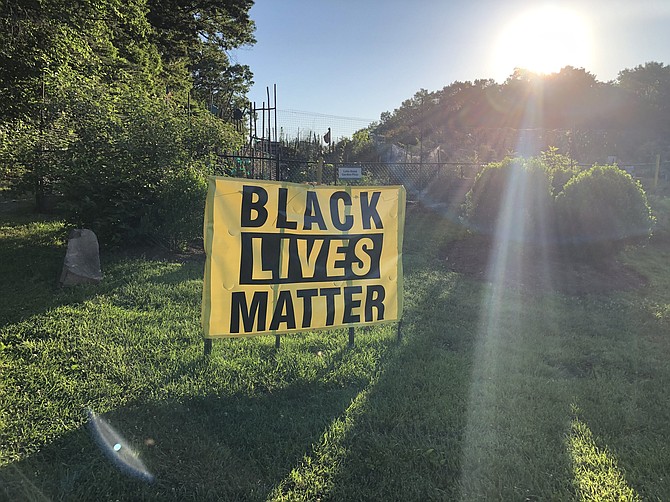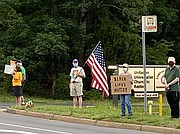 A large banner reading Black Lives Matter was reported stolen along with its supporting posts on Juneteenth 2020 from church grounds of the Unitarian Universalist Church Reston. "We will not be deterred by this hate crime. We have ordered a new flag, and we will continue to hang a Black Lives Matter banner on our property," said Rev. Dr. Debra W. Haffner, who is the church's minister. Less than a week before, the congregation held a silent protest vigil along Wiehle Avenue in front of the church to support Black Lives Matter.
According to Haffner, Church Board members approved and installed the Black Lives Matter banner on posts sunk deep in the ground "in response to the murder of George Floyd in Minneapolis." She said that putting the banner up demonstrated the congregation's support of those who protested the murders of black people by police and as a visible symbol of the congregation's commitment to ending racism and white supremacy.
Steve Ewart is a member of the church. "We're happy people have taken notice as they drive by the church. We have received positive affirmation from local African-American churches, and obviously, detractors have taken notice. We, as a community, will support the re-establishment of the affirmation that Black Lives Matter," he said.
"Our congregation's vision is to work for justice and equity for all people, especially those who have been marginalized and oppressed," Haffner said. "We hope that other churches, synagogues and mosques will put a Black Lives Matter banner on their property as well so that our Black neighbors know that we stand with them in their quest for freedom and justice," she said.
According to Second Lieutenant John M. Lieb, Fairfax County Police Department, he understands no arrests have been made, but officers will investigate any available leads.