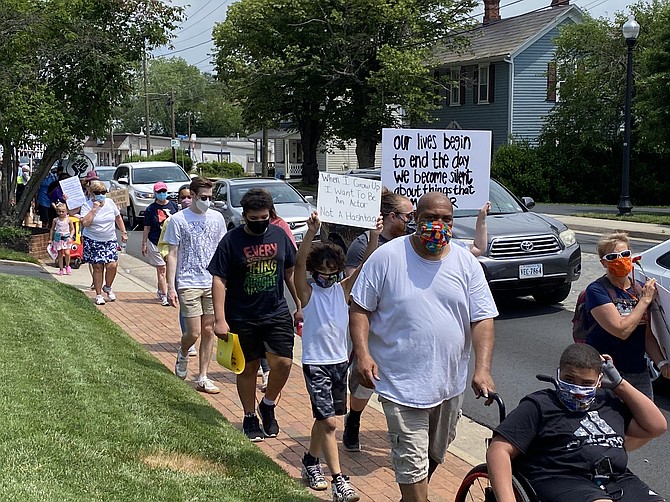 "We need to take this moment and make it our moment. We need to use our breath for those who have no breath," said Rev. Dr. Debra W. Haffner of Unitarian Universalist Church in Reston. In the wake of the recent death of George Floyd in police custody, a surge of protests and rallies against racism and police brutality continued into its second week across the nation and throughout Fairfax County. Organized by faith-based and civic groups as well as individuals, people of all ages and races poured onto sidewalks and streets. They supported Black Lives Matter. They mourned the lives of Floyd, Ahmaud Arbery, Breonna Taylor and others lost due to systemic racism and police brutality. And they are planning action.
Thursday, June 4, 6 p.m., Town of Herndon: Three residents, Sierra Moore, Jacob Dean Reeves and Nikki Pugh, organized a peaceful, mobile demonstration. According to a police spokesperson, an estimated 350-400 vehicles took part. The demonstration traveled down Elden Street through the downtown area with the Herndon Police Department providing security and traffic control. Moore, Reeves and Pugh texted: "We organized... 'Justice for Black Lives,' to be disruptive in the place where we live ...the Town of Herndon and because we recognize the inequalities black people face everywhere. We are committed to not being complicit to racism and to bring change to where we live."
"The actions that took the life of George Floyd showed a complete lack of humanity, one not previously witnessed in my 34-year career," said Herndon Police Chief Maggie DeBoard in a Statement from The Chief, dated May 31."Please know that all of us at HPD care deeply about our entire community, as well as the effect this incident has had on your relationship with us. We pray that the trust you have instilled in us over the past 8 years that I have been blessed to serve as your Chief remains strong. It is only through honest and open dialogue, clear minds, and peaceful protest can we continue to make positive steps forward to ensure an incident of this nature never happens again. Our hearts and prayers go out to George Floyd's family and to all of those first responders working the front lines trying desperately to protect their communities and its citizens from further harm," she said.
Friday, June 5, 5 p.m., Reston: Unitarian Universalist Church in Reston, Martin Luther King Jr. Christian Church, and Northern Virginia Hebrew Congregation held a silent vigil, an opportunity for a personal witness, not civil disobedience. Standing beside Wiehle Avenue with approximately 55 other witnesses, Rev. Dr. Debra W. Haffner, said in a live video: "I hope you are doing whatever you can do in your community to show your support that police brutality and killings of Black people simply must end. Did you know that every other day, a Black person in America is killed by police?"
Betty Collins of Reston participated in the witness. "I'm tired of new lynchings. I'm here to try to make a change with what little I can do. I'm tired of talking; it's time to act," she said.
Saturday, June 6, 2 p.m., Town of Herndon: For those who could not join the thousands of protesters who would march through Washington, D.C. that day against police brutality and racism, a peaceful, child-friendly walk took place on the sidewalks of Elden Street and the downtown areas. A Facebook post read: "This event is meant to unite us and demonstrate how our town will stand against unfair police brutality. This is a PEACEFUL event where families are encouraged to come and spend a sunny afternoon supporting and remembering all lives lost."