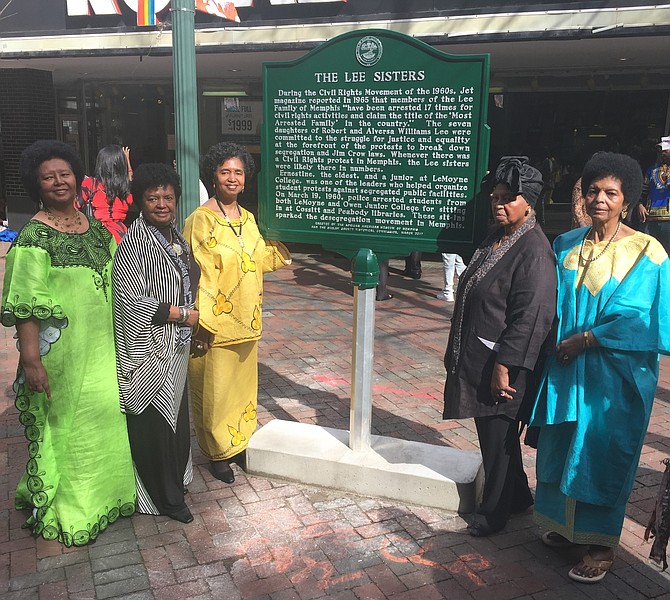 Long before there was a Black Lives Matter movement and smart phones that captured police brutality on video, and long before throngs of people filled streets around the world to protest racial injustice, there were smaller crowds of pioneers fighting to tear down barriers imposed by Jim Crow laws. Now in their 70s and 80s, the activists of the 1960s are proud that a new generation has picked up and is now carrying their torch. A few locals share their reaction to the current protests and their recollections of the past.
"These protests are necessary," said Annie Lou Copeland Johnson, 80, who now lives with her daughter in Arlington. "We've been fighting for freedom for 400 years and we still don't have it."
Johnson was inspired to get involved in the Civil Rights Movement in the 60s after an incident involving a city bus ride. "My family and I boarded the bus, but we were told to get to the back of the bus, that was everyone except my uncle who had light skin and green eyes," she said. "He was often mistaken for being white." When he told the driver that he was Black, the driver told them all to go to the back of the bus.
One of the most poignant memories of her activism, says, Johnson was attending The Great March on Washington in 1963. "It was hot, people fainted and we couldn't use the bathroom, but we stayed," she said. "We knew that we had to agitate and agitate until our voices were heard."
Audrey Nell Edwards Hamilton, now 74, was arrested in 1963 for sitting at a lunch counter and ordering a hamburger. Today she's awestruck by the worldwide protests she's seeing on television.
"I never thought that in my lifetime, I would see people of different shades and colors from all over the world saying, 'Enough is enough,'" said Hamilton, a civil rights leader who marched with Martin Luther King Jr. and who was part of the St. Augustine Four. "I'm proud of the young people who are marching today. It's wonderful and it's long overdue."
"Protesters have to be consistent and constant. You have to take to the streets and stay there until you get a change."
— Audrey Nell Hamilton, civil rights leader
In 1963, Hamilton and three other teens sat at the lunch counter inside a Florida Woolworth's, a discount department store chain, and ordered hamburgers. At the time, laws that enforced racial segregation in the South, made it illegal for African Americans to do such a thing.
"My mother used to go to Woolworth's to buy my school supplies, but she couldn't go to the lunch counter and get a glass of water," said Hamilton. "We were tired of being treated that way. We were told to leave and stop protesting, but we didn't."
As a result, the four teens were sent to jail for six months. "It was mentally draining," said Hamilton. "They tried to break us down. We had to scrub floors on our knees until our knees were bloody."
The attempt to chip away at their resolve was in vain. "We were determined not to accept being treated like second-class citizens," said Hamilton. "We were attacked with dogs and fire hoses, but we were still in the streets picketing every day."
Hamilton, who shared her experience in a video interview that is now part of the collection at the Smithsonian National Museum of African American History and Culture, says that she was contacted by a woman in Black Lives Matter who was looking for advice.
"I believe that protesters have to be consistent and constant," she said. "You have to take to the streets and stay there until you get a change."
For Elaine Lee Turner, civil rights activism was a family affair. So important was the movement to the Lee family that they were also ready to go to jail for the cause. "My entire family was involved," said Turner. "There were 7 girls and 7 boys. We were arrested for protesting. In fact, we were called the most arrested family in the movement, but we did affect change by being consistent."
The current protests, says Lee, are a continuation of the work from the Civil Rights Movement of the 60s. "The protests now are much needed," said Turner "In the 60s we made changes, but we didn't correct all of the changes that were needed in this country. There's still so much systemic racism."
Turner says that she became involved in civil rights activism after being inspired by her older sister who was in college at the time. "There were sit-ins and marches throughout the 1960s until the laws began to change," said Lee. "When Dr. King called everyone to come from around the country to Montgomery, Alabama, to march, I came."
Lee has several nieces and nephews taking part in the current protest and her daughter, who's an attorney, is offering pro bono services to protesters who've been arrested.
The size of the crowds demanding change today, says Lee, offers an opportunity for making monumental changes.
"We were smaller in number in the 1960s and we did make changes, but there are so many things that we could not change," she said. "This is another generation, we have more people involved who are diverse and who finally understand what we were fighting for which is justice for Black people."
Modern technology is one of the major differences between the two movements. "There is still racism, but today people have a better understanding because of the camera phone video tapings of things like police brutality," she said. "We didn't have videos back then."
Those advancements have offered a view of the reality that Black Americans face, says Lee. "People all over the world are seeing what America is all about," she said. "America pretends to be the home of the free, but it's not the home of the free for Black people. Even when slaves were emancipated we weren't free. After the Civil Rights Movement we still weren't free, and as long as people are still being beaten and killed on the street by police and vigilantes, we won't be free."