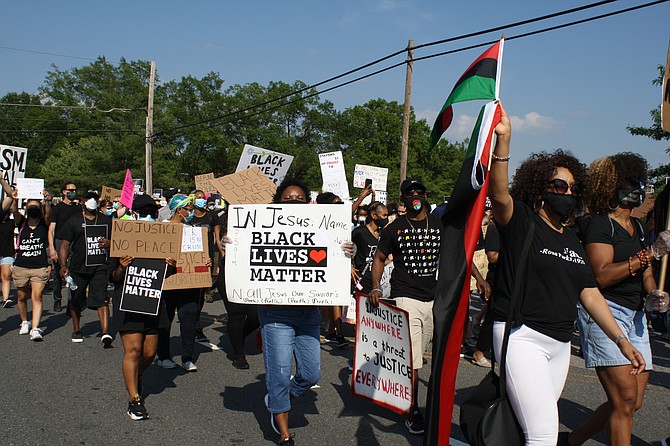 Hundreds of peaceful protesters gathered at the Walt Whitman Middle School in Mount Vernon on Tuesday afternoon for the local Beyond the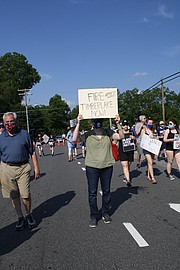 Walls March For Justice, led by Reverend Dr. Keary Kincannon and Pastor Brian Brown, giving the national movement against police brutality a local voice.
Organizers described it as a nonviolent protest for every Black brother and sister who has lost their life to police brutality and to promote a change for our future. "We are looking for more accountability from the police department," Kincannon said.
A few weeks ago, police brutality lead to the death of George Floyd in Minneapolis, which sparked protests across the country.
But Friday afternoon there was a taser incident in Gum Springs that had captured the marchers attention. "The community is upset," Kincannon said, who called it an "unprovoked overreaction."
Mount Vernon resident Dan Moon saw the Gum Springs incident on the news, so he was there with that on his mind. "Keep the pressure on to take action," he said.
There were a few signs addressing that incident as well, including one that said "Fire and Arrest Timberlake Now," referring to Police Officer First Class (PFC) Tyler Timberlake who arrested for assault.
The rally started on the stage with Greg Wright singing "Hallelujah To Our God," before one of the march organizers, Pastor Brown, took the microphone. "It's time to pool our resources and use our leverage. It is time," he told the crowd. "Thank you for being here, the time is now."
One of the speakers was Shirley Ginwright who said she marched with Martin Luther King Jr. and noted the similarities to now, but nothing has changed in a way, she said. This included education of African Americans, and noted the racial makeup of Thomas Jefferson School of Science and Technology. TJ didn't admit any black students for next year's class. "We need to change that now," she said.
When it came to Col. Edwin C. Roessler Jr., the Fairfax County Chief of Police, he got right to the point with the atmosphere at the police force. "It needs to change," he said.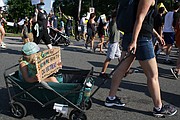 Virginia Lieutenant Governor Justin Fairfax (D) got a round of applause when he talked about the collaborative effort with Governor Ralph Northam (D) to take down some Civil War statues in Richmond. "We will no longer tolerate what that statue stands for," he said.
The crowd reflected the diversity of the community. Nearly everyone wore masks as protection from the coronavirus. Alice West came from Fauquier County with her church, and her Bishop Sharma Lewis. "I felt I needed to come out to support that," she said.
There were local families, and mother and daughter pairs in the crowd, including Cara and Catherine Stankewick from Mount Vernon. Catherine Stankewick will be a sophomore in the fall.
"It is very important, I saw the video of excessive force and started crying," she said. "It's very important to have our voices heard and lead to change, there's been too many that don't lead to change," she said.
Lianne and Grace Lafleur were there. Grace will be a senior at West Potomac High School in the fall. "I'm excited to have her take part in it," Lianne Lafleur said. Lianne Lafleur is a teacher at Stratford Landing Elementary School.
When the speeches were done, the marchers were ready, with a drum beating and signs in hand. They were led by a few vehicles out to Richmond Highway, and headed north to Mount Vernon Square. Midway, they stopped for another set of speakers including Supervisor Dan Storck (D-Mount Vernon). Storck saw the video of the Gum Springs violence, and issued a response on his e-news. "I have watched the video and I am shocked, saddened and deeply troubled by this officer's actions," he wrote. "The actions of this officer do not reflect these values, our policies, or the law," said Lee District Supervisor Rodney Lusk, who spoke after Storck.
The officer, Tyler Timberlake, was charged with three counts of misdemeanor assault and battery. Timberlake has been an officer for eight years and assigned to the Mount Vernon District Station, police said.
Once at their destination, Mount Vernon Square, speakers included Queenie Cox, an activist with roots in Gum Springs. She was joined by school officials and church officials.
Protest Signs Speak Volumes The following messages could be seen on the various signs at the protest march:
· My Black Sons Matter
· Less Talking, More Action
· Always Challenge Racism
· Justice For All
· Black Lives Matter
· How Many Weren't Filmed?
· Respect Existence
· VOTE
· Love Thy Neighbor
· Say Their Names
· Justice Demands Action Now
· Fire + Arrest Timberlake Now