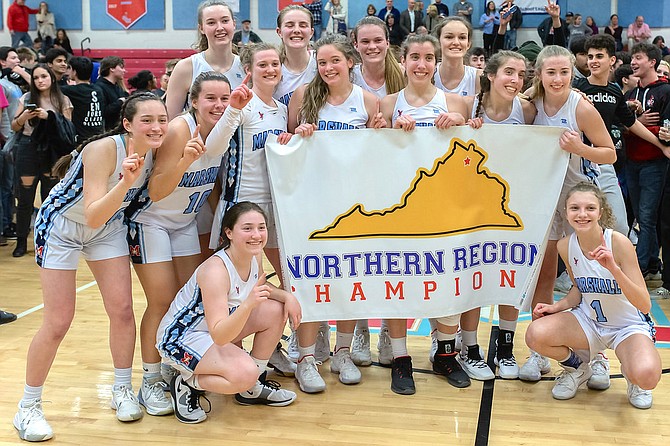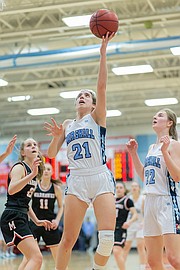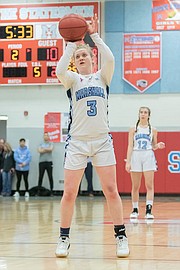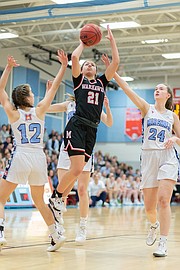 The Madison Warhawks girls took their undefeated record on to take on the Marshall Statesmen on Feb. 28. The Warhawks defeated the Statesmen on Dec. 18, 64-43.
The 1st quarter started much of the way the first game went, with Madison taking an early 10-0 advantage before Marshall would score on a 3 pointer by Caroline Catterton in the closing seconds of the quarter. The quarter ended with Madison up 10-3.
In the 2nd quarter Marshall would slice the lead down to 3 points by quarter's end 18-15, Marshall was led by Zoe Soule who totalled 5 points in the quarter.
The 3rd quarter saw Madison's Tedi Makrigiorgos score 8 of her team's 11 points including two 3 point baskets points, increasing Madison's lead to 29-25 with a quarter to play.
In the 4th quarter Marshall would score 12 points including 5 points from the charity stripe. Soule's two free throws would give the Statesmen the lead for good 37-35 and a desperation shot by Amalia Makrigiorgos was off and the Statesmen were Regional 6D Champions. Soule would finish the game with a game high 17 points.
Marshall was led by Soule with 17 points, and Christina Trvisonno's 6 points. Madison was led by Tedi Makrigiorgos with 12 points. and Grace Arnolie's 11. Both teams will compete in the VHSL State Tournament . Madison will take on West Springfield on Friday, March 6, at 6 p.m. at Robinson HS. Edison will take on Marshall at 6 p.m. at Westfield.