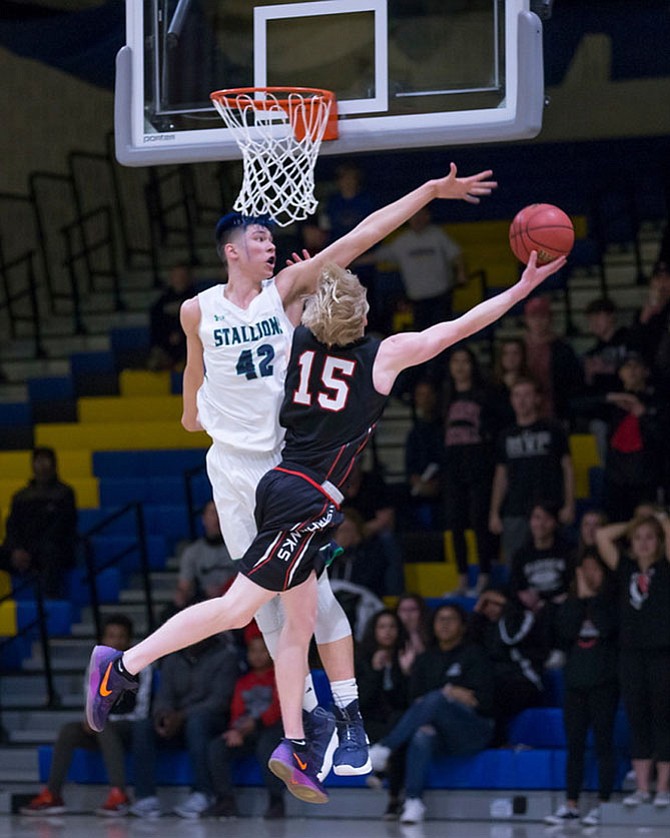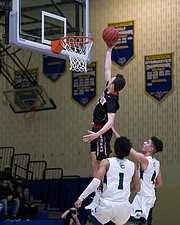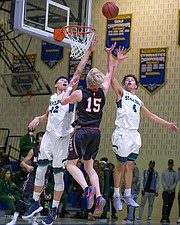 The Madison Warhawks (16-8) took on the South County Stallions (24-3) on March 3 in the 1st round of the VHSL Class 6 State Championship at Robinson Secondary. With the 41-40 win, South County (25-3) advances to the quarterfinals to take on Battlefield, who were winners over Hayfield 68-61. The game will be played on March 6 at Patriot HS at 6 p.m., with the winner going to the State Final on March 8 which is held at the Siegel Center on the Campus of Virginia Commonwealth University. Madison finishes their season at 16-9.
In the first eight minutes both teams were able to score 13 points. South County was led by Branden Powe with 5 points and Quentin Millora-Brown with 4. Madison was led by Nick Hugie with 5 points and Johnny Hecht with 4.
In the 2nd quarter South County narrowly edged Madison, scoring 7 while holding the Warhawks to just 5. Quentin Millora-Brown would pace South County with 3 points. Madison's Aaron Darab converted on a long range 3 pointer, led the Warhawks with 3.
With Madison trailing at half 20-18, Aaron Darab had his best quarter, scoring 7 points. however, Millora-Brown would add another 7 points. South County scored 11 points and Madison added 10, giving the Stallions a 3 point advantage, 31-28 with a quarter to play.
Both teams continued to battle it out with both teams scoring 11 in the 4th quarter. Millora-Brown's 6 points for South County was enough for a game high 20 points. Branden Powe added 9 more for the Stallions. Madison was led by Aaron Darab's 12 points and John Finney's 11.
Madison Loses Regional Championship
The Madison Warhawks traveled to Haymarket, Va to take on the Battlefield Bobcats for the 6D Regional final on Feb. 24.
Madison arrived after defeating Herndon, Patriot, and Westfield. Battlefield advanced to final by beating Washington-Lee, Oakton and Marshall.
After both teams scored 13 first quarter points, Madison took a 25-22 lead to half time.
In the 3rd quarter both teams added 15 points to their totals.
In the 4th quarter Battlefield would score 19 points and Madison was held to 14 and Battlefield would hoist the Regional Championship trophy after a 59-51 victory.

Battlefield was led by Brayden Gault with 19 Will Bounds added 14 and Austin Estridge added 11. Madison was led by John Finney with 11 points. Johnny Hecht and Nick Hugie each had 10 points.
Both teams advanced to the Virginia State Championships.