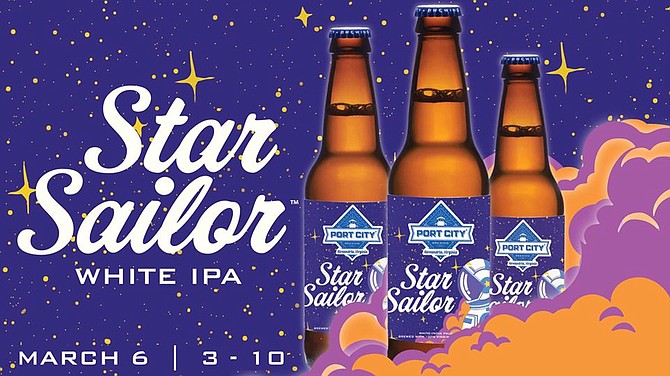 From toasting St. Patrick to celebrating – or agonizing – over your basketball team's tournament performance, there's a lot to do around Alexandria in March. Here are some of the month's top picks.
Star Sailor White IPA Release at Port City Brewing, March 6
Alexandria's own Port City Brewing is coming out with a brand-new beer this weekend, its Star Sailor White IPA. The hazy beer is brewed with 100% Virginia-grown wheat and has a fruity subtext that is sure to yield a very drinkable beer for springtime. The Star Sailor joins Port City's limited-release lineup and will be available on draft or in six-packs. 3950 Wheeler Ave. 3-10 p.m.
March Madness Festivities at Joe Theismann's, beginning March 15
For college basketball fans, the best part of the season is approaching in short order – the NCAA Tournament. And Joe Theismann's has you covered for both a place to view the games as well as some special menu items that span the country – and the bracket. Nosh on fried green tomatoes, North Carolina pulled-pork sliders, Impossible chorizo tacos and mini Chicago hot dogs – and fill out a bracket for yourself in the hopes of winning a prize. 1800 Diagonal Road.
Irish Whiskey Tasting at Live Oak Restaurant, March 17
Naturally, with the celebration of St. Patrick's Day comes a certain amount of whiskey-drinking, and Live Oak is getting into the spirit with a tasting. Sample some of the hard stuff straight from Ireland and munch on some snacks from the kitchen to get you into the Irish spirit. Slainte! 1603 Commonwealth Ave. 7-10 p.m. $35.
East Coast vs. West Coast IPA Tasting at Evening Star, March 22
New England-style and West Coast-style IPAs may come from the same family of beers, but their end results are incredibly different. Which style will garner the most fans? An IPA tasting event at Evening Star pits the two coasts against each other for tasters to try. Your ticket nets you unlimited beer samples from the likes of Bissell Brothers and The Veil, plus some snacks to keep you energized. 2000 Mount Vernon Ave. 3-5 p.m. $35.
Hope Nelson is the author of "Classic Restaurants of Alexandria" and owns the Kitchen Recessionista blog, located at www.kitchenrecessionista.com. Email her any time at hope@kitchenrecessionista.com.