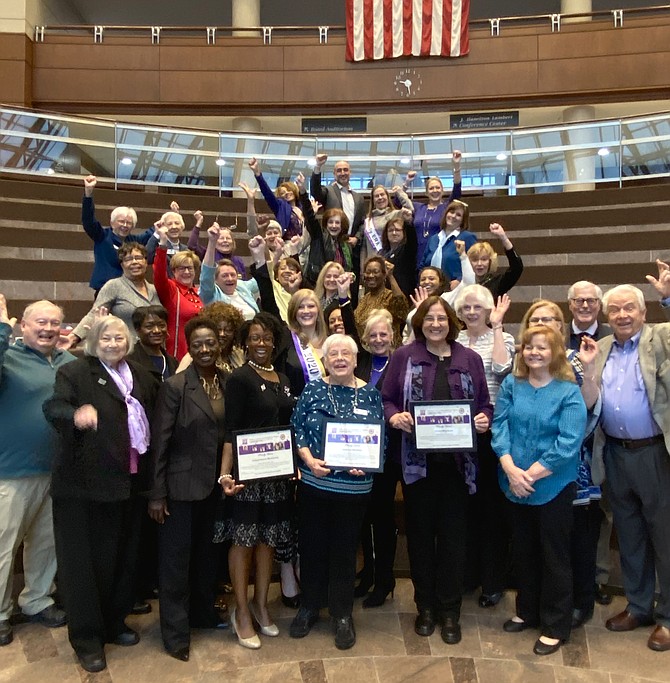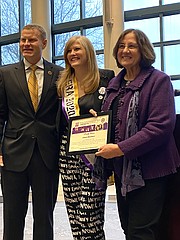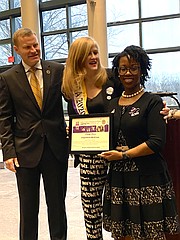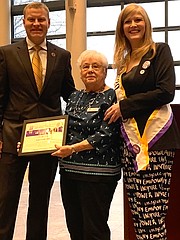 In concert with their Women's History Month 2020 Celebration, the Fairfax County Commission for Women honored three "Valiant Women of the Vote," Jane Barker of Clifton, Cypriana McCray of Reston and Laura McKie formerly of West Springfield at a presentation and reception held in the forum of the Fairfax County Government Building on March 10 immediately preceding the Fairfax County Board of Supervisors meeting. Chairman of the Fairfax County Board of Supervisors Jeff McKay (D), Vice Chairman Penny Gross (D-Mason), Supervisor John Foust (D-Dranesville), Supervisor Walter Alcorn (D-Hunter Mill), Supervisor Rodney Lusk (D-Lee) and Supervisor Dan Storck (D-Mount Vernon) attended the celebration.
"2020 will not only go down in history as the 100-year Anniversary for the constitutional guarantee of women's right to vote but also as...ratification of the Equal Rights Amendment," said Lisa Sales, Chair of the Fairfax County Commission for Women to the crowd of approximately 75 viewers seated in the forum rotunda and gazing down from upper walkways. "We (Virginians) are the final in 38 states. And we have a lot to celebrate...The Commission has chosen to recognize three women who have strong ties to winning the right to vote and who have personally dedicated themselves over many years to preserve and tell the suffrage story," she said.
Chairman of the Fairfax County Board of Supervisors, Jeff McKay, stepped to the podium. In his remarks, McKay referenced a recent conversation he had with his daughter as they viewed the Lisa Burns Museum to, as he said, "See it with her own two eyes and not take for granted, any of the rights we have and the fight we put in to get to this point." McKay said that he wanted his daughter "...to feel empowered by that, to use what others have done for them to make the world a better place and step up and demand equality...As I always tell her, Virginia is finally embracing Fairfax County's values." McKay committed to making the Suffragist Memorial happen. "I will step up and ensure that happens," he said.
IN RECOGNIZING the three 2020 award honorees, McKay said, "What a year to be recognized...Looking back on history, to be able to...say this was the year that so many great things happened, and the year we got awarded for all the efforts that we've done to get us to this point."
McKay described the first honoree of the Fairfax County Commission for Women Jane Barker, as a "valiant woman of the vote." He said that through her leadership, Barker led the creation of the National Turning Point Suffragist Memorial to honor those suffragists, who worked for over 72 years to win the legal right to vote for women.
Honoree Barker said, "As we learned the story, it became apparent that the little wall that we had planned at Occoquan Regional Park would not be enough...We needed to do it right...We have broken ground. We are building a memorial to these brave suffrages." Later, she added:" The entire story of woman's suffrage is one of the greatest secrets of American history...First, we must teach."
McKay described the second honoree, Cypriana McCray, as a "valiant woman of the vote." McKay said that as President of the Reston-Dulles Section of the National Council of Negro Women, McCray led the Council that had as one of its members (Mary McLeod Bethune, who served as president) of the National Association of Colored Women, a leading suffragist organization.
Honoree McCray said she wanted to be sure to leave a legacy of doing something right, "right now." "I think we are in a time where we as women are empowered to make a difference in all our communities. One difference is to change societies' view of the power of women."
McKay introduced Fairfax Commission for Women's third awardee, Laura McKie. McKay described McKie as a "valiant woman of the vote." According to McKay, McKie was the central leader in the development of the Lucy Burns Suffragist Museum in Lorton that opened Jan. 25, 2020. The museum engages visitors in an exploration of the 91 years of prison history at the Lorton Correctional facilities from 1910-2001. It displays artifacts and pivotal moments in women's history, critically important to understanding what women endured for the right to vote and led to a turning point in the Women's Suffrage Movement.
According to honoree McKie, after she retired, she looked around for something to do. "And what did I discover, there was a museum to build," she said. One with an enormously important story to tell, of the women willing to give their lives for the vote.
GUEST JOHN HOUSER, retired Park Manager at Occoquan and current Board Member of Turning Point Suffrage Memorial Association Commission for Women, said, "You can drive into D.C. and see monuments and memorials to men who did nothing more than lead the charge up a hill, yet there is no memorial to the women who were arrested, tortured and force-fed to obtain the right to vote for 27 million Americans."