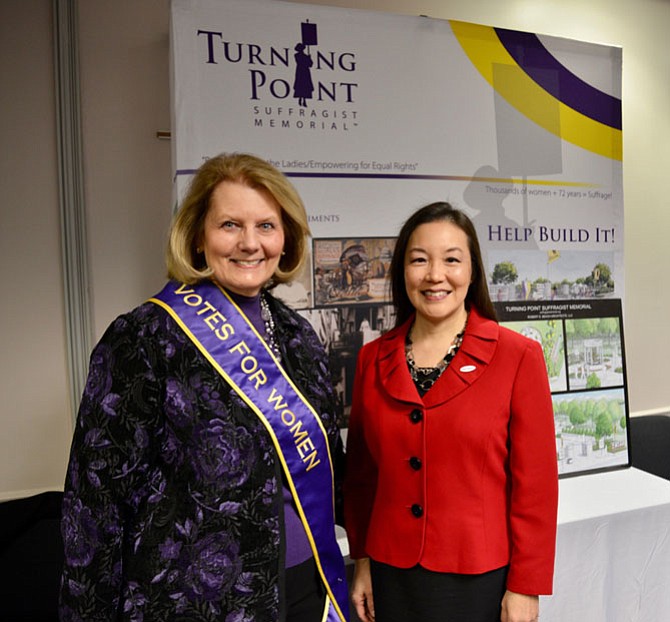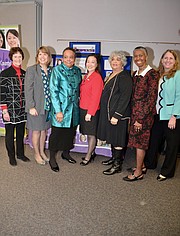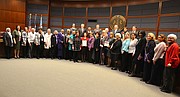 March is Women's History Month, and the theme for this year's celebrations is "Nevertheless, She Persisted," referring to the now-famous phrase that was part of Republican Senate Majority Leader Mitch McConnell's rebuke of Democratic Sen. Elizabeth Warren of Massachusetts in February of 2017 after a party-line vote to stop Warren's speech against the appointment of Sen. Jeff Sessions as the U.S. attorney general.
"Sen. Warren was giving a lengthy speech," said McConnell at the time. "She had appeared to violate the rule[s]. She was warned … nevertheless, she persisted."
Since then, that phrase has become a rallying cry for women's rights advocates and others around the world, and is a fitting description for the women chosen by the Fairfax County Commission for Women as their 2018 honorees, according to Michelle Mueller, the county's liaison to the commission, who led the program at the commission's reception on March 6 at the Government Center.
The women selected as this year's recipients for recognition by the county "have exemplified that persistence," said Mueller in her remarks, especially in their work to "fight all forms of discrimination against women."
Sheila Coates, a sixth generation Virginian, Coates has been "persisting" for over four decades. The founder and president of Black Women United for Action since its inception in 1985, Coates has served on the board of the National Council of Women's Organizations and as a delegate to the National Summit on Africa. She successfully lobbied for a minority-at-large position to the Fairfax County Commission for Women, as well as for the appointment of an African American woman to the board at George Mason University — a first for the institution which she attended and where she studied public administration and political science. Coates continues her work, serving on a number of boards, panels and committees, and advising and educating on women's rights issues.

Grace Wolf Cunningham is serving her fourth term on the Herndon Town Council and is the first Korean American elected official in the Commonwealth of Virginia. Cunningham is an adviser to the Washington Coalition for Comfort Women's Issues (WCCW). The group's name comes from the euphemism given to the more than 200,000 women trafficked as sex slaves during World War II by the Japanese military as "comfort" for the fighting troops and was started to call for acknowledgement of, and reparation to these victims. In addition to their founding mission, today, WCCW continues to advocate for the rights of wartime victims and is dedicated to the "eradication and prevention of sex crimes." Cunningham was the driving force behind the installation of the "Peace Garden," unveiled at the Government Center in 2014, as a memorial to those "Comfort Women" and as a reminder of the need to remain vigilant and continue to fight human trafficking.

Laura Harris is another veteran in the fight against discrimination and as a champion for victims of domestic violence. Harris has worked for Fairfax County Juvenile and Domestic Relations Court Services Unit for over 30 years and led the charge to bring county services and resources together in a coordinated response to domestic violence, instrumental in establishing the county Domestic Violence Prevention, Policy and Coordinating Council, as well as the Domestic Action Center. Among her achievements, Harris also helped to start the volunteer "Attorney for the Day Program" which provides pro bono legal services to clients seeking protective orders in domestic violence situations, but who cannot afford attorneys or who face challenges understanding their rights and the legal system.

Lidia Soto-Harmon, the CEO of the Girl Scout Council of the Nation's Capital, believes in developing and supporting future leaders, assuring that all young women have the opportunity to succeed. To that aim, Soto-Harmon works to make sure that no girl or volunteer is excluded from full participation in Girl Scouts because of financial difficulties. Adding to her resume of years of activism, Soto-Harmon currently serves as the governance chair for the Meyer Foundation, an organization that "works on pursuing and investing in solutions that build an equitable Greater Washington community in which women of color and economically vulnerable thrive."
Assisting Michelle Mueller in presenting certificates to the honorees were Fairfax County Board of Supervisors Chairman Sharon Bulova, and Hunter Mill District Supervisor Cathy Hudgins. At the regular Board of Supervisors' Meeting which followed the reception, Bulova presented a proclamation, accepted on behalf of the Commission for Women by Cunningham, declaring March 2018 as "Women's History Month, and a time to honor all women who continue to fight and succeed in bringing positive change to the lives of diverse American Women."
ACKNOWLEDGING THE WOMEN who sacrificed in the past to gain the opportunity for women of today to succeed, the reception also included a display of the planned Turning Point Suffragist Memorial, a garden-based memorial to be located within the Occoquan Regional Park in Lorton — once part of the prison grounds where women suffragists were incarcerated.
Executive Director of Turning Point Patricia Wirth was on hand to showcase the drawings of the memorial and remind attendees of the contributions of the women "who came before us." Wirth says they still haven't raised all the funds needed to build the national memorial, but declared that regardless of what phase of achievement has been reached by that time, "there's going to be an unveiling event on Aug. 26, 2020."
Cunningham vowed to "put pressure on my colleagues to donate to the fundraising efforts for the memorial. We are so fortunate to live in amazing Fairfax County," said Cunningham, "where we have a woman as our Board of Supervisors chair, a woman chair for the public school board, mayors like Lisa Merkel of Herndon, women serving our area in the state legislature and so many more, unlike many other jurisdictions across our region and the country — and we wouldn't have this opportunity without these women who sacrificed to get women the right to vote."
For more about Women's History Month and the Commission for Women, see www.fairfaxcounty.gov/cfw. The Turning Point Suffragist Memorial Association has a Facebook page and information on www.suffragistmemorial.org. A public Women's History Month Celebration is scheduled for Saturday, March 17 from 1:30 – 4:40 p.m. at Thomas Jefferson High School for Science and Technology in Alexandria. Those interested in attending can RSVP and purchase the $7 tickets at www.womens-history-month-2018.eventbrite.com.