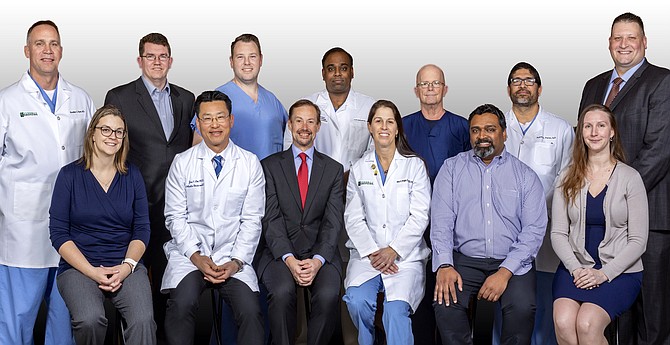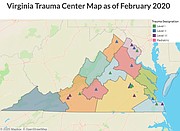 Reston Hospital Center, owned by Nashville, Tennessee-based HCA Holdings Inc. (NYSE: HCA) once again secured a Level II trauma designation, a rigorous process that must be approved by the Commonwealth of Virginia. "All licensed hospitals are required by the Code of Virginia to submit data on their trauma cases to the Virginia Statewide Trauma Registry. Of those 94 licensed hospitals, 17 have been designated as a trauma center," according to the Virginia Department of Health.
There are only three designated trauma centers in the region: Reston Hospital Center, a Level II trauma center, Inova Loudoun Hospital, a Level III trauma center, and Inova Fairfax Medical Campus, a Level I trauma center. Trauma patients from the "Northern Virginia area...Fairfax County, Loudoun County (and) West Virginia," arrive at Reston Hospital Center, according to Mary Boggs, M.D., one of Reston Hospital Center's trauma team leaders. She brings eight years of experience to the position. While Virginia Hospital Center began operating as a trauma surgery service on Jan. 8, 2020 and is staffed as a Level II, it is working this year to achieve the designation.
BOGGS is part of the Reston Hospital Center trauma team. According to Virginia Health Information, the team consists of a "Surgeon/Team Leader, Emergency Physician, Critical Care Nurse, Hospital Administrator and OEMS (Office of Emergency Medical Services) Trauma Coordinator. Boggs said Trauma Medical Director, Dr. Ranjit Pullarkat and Trauma Program Director, Dallas Taylor, lead the Reston Hospital Trauma team. "We also have a support staff within the trauma service department that consists of a Trauma Process Improvement (PI) Manager, Trauma PI Coordinator, Trauma Educator, and Trauma Registrars," she said.
Boggs said she wanted to be in a field where she was challenged and could utilize her critical thinking skills. "Further, as a trauma surgeon, I can intervene in a patient's care and make an immediate impact in a patient's life, hopefully allowing a better outcome and successful recovery," she said.
The number of trauma cases is trending upwards, "increasing" at Reston Hospital Center as the population in the area is increasing according to Boggs. When the Metro Silver Line is completed and local stations open beyond Reston, populated skylines, particularly around the Metro stops, are expected to have higher density and increased populations. Having short transport times to the Level II Reston Hospital Center will benefit patients in need of care and reduce transportation time for emergency medical services.
Virginia Trauma Triage Guidelines and EMS Agency protocols guide EMS providers as to where a patient should go based on patient vital signs and mechanism of injury Boggs said. Trauma, she said, "Is any traumatic injury that a patient sustains. Mechanism of injury can be from falls, auto crashes, assaults, gunshot wounds, etc." The golden hour, which is an old term, references that a patient who is severely injured needs to seek "definitive treatment" for their injuries within an hour or the patient's probability for mortality would increase, according to Boggs. "The quickest you can get a patient to a trauma center, the better off the patient is," she said.
According to Boggs, Level I and II trauma centers would be considered tertiary care centers as they can provide specialized "definitive care" to patients with a multitude of injuries. These would be, Boggs said, "injuries that would require a neurosurgeon, plastic surgeons, orthopedic traumatologists, maxillofacial surgeons, etc."

AS FOR BEST PRACTICES, Boggs highlighted that many of Reston Hospital Center's trauma protocols are a direct result of published best practices. "Isolated hip fractures repaired in the operating room within 24 hours. Midshaft femur fracture repair within 24 hours; TBI (traumatic brain injury) treatment guidelines."

Afterward, as trauma patients rebuild their lives, Boggs said that it "takes time," support from others and the belief that life will continue. "There are support groups such as trauma survivor groups as well," she said.
May is National Trauma Center Month. Reston Hospital Center's comprehensive Trauma Care List cites education. Boggs said that the hospital has numerous "Stop the Bleed" education events at schools, industries and such. She added: "We are also partnering up with Rebuilding Together for a pilot program assisting citizens with construction needs-steps, handles, etc. within their homes." The pilot program is scheduled for June 2020.
For more information about Reston Hospital Center, visit Restonhospital.com.