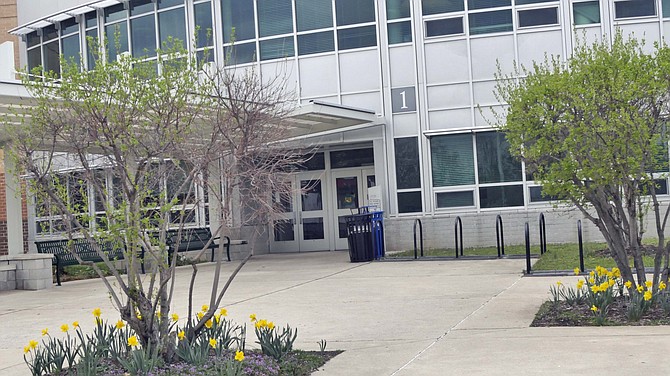 Information on the coronavirus pandemic is updated frequently. The information below reflects information available as of March 15.
Arlington's response to COVID-19, now proclaimed a pandemic, has been swift and encompassing in the last week. Arlington County announced its first presumptive case of coronavirus on Monday, March 9 and its second on Thursday, March 12. Both patients are reported to be doing well. Since then Arlington County Public Health Division (ACPHD) has issued a situation report, guidance for public meetings, what you need to know and tips for prevention. Their website is continuously updated.
The website includes advice on getting tested. "If you think you have symptoms of COVID-19 contact your doctor or health care provider and they can order a test. Health care providers are using their medical judgment to order tests for COVID-19. ...
"Arlington County Public Health, along with other public health agencies in the region, is not testing for COVID-19. You must contact your doctor to be evaluated."
On March 13 Arlington County Board Manager Mark Schwartz signed a Declaration of Local Emergency for Arlington County effective at 7 p.m. March 13. In County Board Chair Libby Garvey's video explaining the declaration, she says Arlington County has been preparing for a pandemic since 2005 and for the coronavirus for the last six weeks.
This declaration allows the County to request additional resources from the state and Federal governments. This includes such programs as SBA's Economic Disaster Injury Loans and their low-interest federal disaster loans to small businesses.
On March 13 Arlington County Public Schools (APS) issued the decision to close public schools beginning March 16 with the current plan for students to return April 14. "We will continue to evaluate and monitor the situation on a daily basis and will provide an update on plans as new information is available." During the school closure teachers will provide instructional activities that both review previously taught information and introduce new topics and concepts. They will grade assignments prior to Friday, March 13 and will issue third quarter report cards at the end of April.
Beginning March 16, APS will provide free grab and go breakfast and lunch available free to all children regardless of race, color, national origin, sex, age or disability. They will be available at tables outside Kenmore Middle School and Dr. Charles R. Drew Elementary from 11 a.m.-1 p.m. Monday-Friday. A child must be accompanied by a parent.
A neighborhood email list circulated a "giant list of ideas" for being home with kids. This includes: bake something every day and make a phone video of the child's cooking class, learn to sew stuff you have on hand, have the kids help with yard work and getting the garden ready, pick your favorite 20-second song perfect for hand washing, build a tent in the house with blankets and chairs, lots of art projects and new card games, sidewalk chalk art, write a short story and illustrate it and, of course, Legos.
Community non-profits have issued guidelines for protecting their volunteers while continuing to serve their vulnerable populations.
Arlington Food Assistance Center (AFAC) has seen a sharp decrease in food donations, which supplied 2,885 families last week with supplemental groceries. They ask "as you are stocking up on yourselves at the grocery that you think about helping families in need as well. Donations may be dropped off at the warehouse on S. Nelson Street during regular working hours. They anticipate that if this continues many of those in the service industries may be affected and may result in a significant increase in demand for their services.
Charles Meng, CEO and Executive Director of AFAC, says it is an ever-changing situation. They may have to eliminate the choice model, buy more prepackaged foods and end chicken packaging. "We need to be flexible, creative and positive."
Arlington Street People's Assistance Network (A-SPAN) which supports the homeless and veterans' community, has put plans in place to maintain a safe work environment while still continuing to serve their clients. This emergency plan temporarily suspends all volunteer activities at the Homeless Services Center or offsite at the Homeless Bagged Meals Program. In addition, they have temporarily suspended the donation of all prepared outside food that has not been prepackaged.

Arlington Free Clinic is NOT offering COVID-19 testing at this time. If you are a current Arlington Free Clinic patient and think you have symptoms of COVID-19, please DO NOT go in – call first. If you are not a patient of Arlington Free Clinic, please contact your healthcare provider if you have mild symptoms or 911 if it's an emergency. For any general COVID-19 questions, you can contact the Virginia Department of Health public information line at 1-877-ASK-VDH3.
Culpepper Garden, the largest low-income senior living facility in Arlington issued a letter explaining that they are suspending volunteer and partner programs and activities until further notice. "Out of an abundance of caution, we request that family and friends do not visit Culpepper Garden unless absolutely necessary. All essential and approved family and visitors in independent living will be screened and asked to sanitize before visiting and family members of residents in Assisted Living are asked to phone, email, text or video chat and not visit to reduce any potential exposure from outside Culpepper Garden."
Early in the week the Arlington Department of Parks and Recreation (DPR) facilities increased cleaning of high touch areas such as doorknobs and front desk counters with a new highly recommended cleaning agent and frequently sanitized shared sports equipment. By Friday Arlington had announced due to the decision to close schools, all Department of Parks and Recreation activities and programs would be cancelled effective immediately until April 20. This includes, but is not limited to the following: preschool and coop programs, personal training, 55+ centers, after school teen programs, community arts programs, private swim lessons, scheduled birthday parties. Parks and trails will remain open.
Churches sent out notices to parishioners as they made individual decisions on church services and activities. Reverend Dorota Wright-Pruski, rector of St Andrew's Episcopal Church on Lorcom Lane, shared the decision announced by Bishop Brooke-Davidson who met with 185 clergy that "we will not physically gather for worship in our church buildings for the next two weeks, between now and March 25." She stressed that churches may remain open unless told otherwise by local health officials."
The Catholic diocese of Arlington released an announcement of postponements of current diocesan events for the weekend and the parish response. This includes suspension of the use of a common chalice during Holy Communion, omission of the sign of Peace, emptying of Holy Water fonts and cleaning liturgical vessels with soap and water. On Monday, March 16, 2020, Bishop Michael F. Burbidge, Diocese of Arlington, announced that the public celebration of all Masses in the Diocese is suspended until further notice.
Rock Spring UCC suspended in person worship with an online streaming service for the next three weeks with a reevaluation for April 5. Their pastor, Rev. Kathy Dwyer, wrote to her congregation, "The staff is working hard to create a worship experience that will be meaningful and memorable, if somewhat different. It's connecting with one another that we're trying to get more creative about during this time of social distancing."
For more information visit the Arlington County COVID-19 webpage or call the Virginia Department of Health at 877-275-8343.
Arlington County chef and small business owner, David Guas, of Bayou Bakery, Coffee Bar & Eatery, is partnering with Real Food for Kids to serve free lunches to needy Arlington County children and their families during the closure of the school district. Fruitful Planet – South Block's sister non-profit – will be participating in providing a variety of fruits for the meals to go.
Starting Tuesday, March 17, 2020, between 10 a.m. and 12 p.m., Guas and Real Food for Kids will be cooking up vegetarian meals for grab-and-go distribution at his Arlington restaurant, Bayou Bakery, located one block from the Courthouse Metro. The nourishing New Orleans favorite, Red Beans and Rice, will be served on Tuesday, and each subsequent meal in the initial week of the program will also be a plant-based dish rich in fiber, vitamins, and minerals. In order to be compatible with a broad range of dietary and religious restrictions, only vegetarian options will be served during this first week of school closure. After March 17, they will provide meals each weekday until schools reopen. See updates on our Facebook page at https://www.facebook.com/realfoodforkids
Bayou Bakery is located at 1515 N Courthouse Rd, Arlington, VA 22201, 703.243.2410