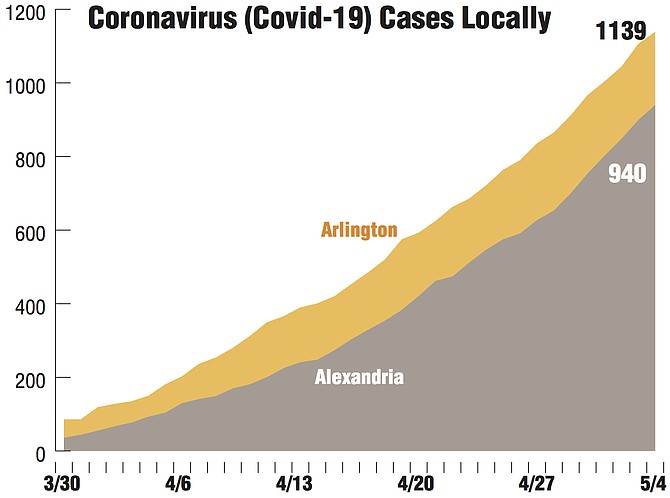 Tuesday, May 5
Arlington Cases: 1,169
Virginia Cases: 20,256
United States Cases: 1,152,372
Arlington Deaths: 49
Virginia Deaths: 713
United States Deaths: 67,456
WORKER RELIEF AND SECURITY: Rep. Don Beyer (D-VA) with Senators Jack Reed (D-RI) and Michael Bennet (D-CO) today released a draft framework for the Worker Relief and Security Act, legislation that would tie ongoing expanded unemployment benefits to the public health emergency and economic conditions. The bill would use automatic triggers to ensure that assistance continues to flow to workers for the duration of the pandemic and the resulting economic crisis even in the absence of action by Congress, according to Beyer. "In the face of an historic crisis, the federal government must take extraordinary steps to give the American people sustained help and prevent this economic downturn from becoming a depression," said Rep. Don Beyer (D-VA). "This pandemic and the resulting economic crisis may continue to inflict horrifying suffering on the country for many months to come. Passing emergency relief legislation that incorporates automatic triggers would have the enormous benefit of ensuring assistance continues to flow to workers even if Congress itself is unable or unwilling to act."
Beyer serves as Vice Chair of the Joint Economic Committee, which released a report last week arguing that "tying support to economic conditions is essential."
Monday, May 4
Arlington Cases: 1,139
Virginia Cases: 19,492
PHASE ONE EASE: Governor Ralph Northam outlined a three-phase plan to ease restrictions on businesses and gatherings, when health data supports doing so. Northam said he will extend key provisions of Executive Order 53, which places restrictions on businesses and gatherings of more than 10 people, at least through next Thursday, May 14, at midnight. Officials will continue to monitor health data to ensure trends cases are going down, that hospital capacity remains steady, that testing is increased, and that hospitals and medical facilities have necessary supplies of PPE.
Phase I of easing restrictions would continue social distancing, teleworking, recommendations that people wear face coverings in public, and the ban on social gatherings of more than 10 people. It would ease some limits on business and faith communities, and would transition the stay at home directive to a "safer at home" guideline, especially for those in vulnerable populations.
Phase I would likely last two to four weeks, as would the two subsequent phases, depending on health metrics.
GRAB-AND-GO MEALS: Arlington Public Schools has changed its grab-and-go meal schedule to three days a week – Monday, Wednesday and Friday – rather than five days per week in order to limit the exposure for families and staff. Monday pickup will include meals for Monday and Tuesday; Wednesday pickup will include meals for Wednesday and Thursday; and Friday pickup will include meals for Friday.
The grab-and-go meals, for all children aged 2-18 without restriction, can be picked up at the following locations on Monday, Wednesday and Friday from 11 a.m.-1 p.m. Families can pick up meals at the grab-and-go site closest to them.
Barrett Elementary School—4401 N Henderson Rd.
Campbell Elementary School—737 S Carlin Springs Rd.
Dr. Charles R. Drew Elementary School—3500 S. 23rd St.
Hoffman-Boston Elementary School — 1415 S. Queen St.
Key Elementary School — 2300 Key Blvd.
Kenmore Middle School—200 S. Carlin Springs Rd.
Randolph Elementary School—1306 S Quincy St.
For more information on APS grab-and-go meals and other resources, visit: https://www.apsva.us/coronavirus-covid-19-updates/free-lunch-breakfasts-and-other-resources/.
For a full list of Arlington County food assistance services, visit: https://health.arlingtonva.us/covid-19-coronavirus-updates/food-financial-and-medical-assistance/
NO MORE HATE: U.S. Sen. Mark R. Warner joined Sens. Mazie K. Hirono (D-HI), Cory Booker (D-NJ), and 13 Senate colleagues in urging the U.S. Department of Justice (DOJ) to address the surge in discrimination and hate crimes against Asian American and Pacific Islander (AAPI) individuals in the wake of the novel coronavirus (COVID-19) crisis. In a letter to Assistant Attorney General Eric S. Dreiband, the Senators requested that the Civil Rights Division of the DOJ address this spike in discrimination by taking a concrete steps similar to those DOJ has taken in the past to address jumps in discrimination and hate crimes against a particular community.
"There are more than 20 million Americans of Asian descent, and 2 million AAPI individuals are working on the front lines of the COVID-19 pandemic, as health care workers, law enforcement agents, first responders, and other essential service providers," they continued. "It is critical that the Civil Rights Division ensure that the civil and constitutional rights of all Americans are protected during this pandemic."
In the last month alone, Asian American organizations received nearly 1,500 incidents of anti-Asian harassment and discrimination against AAPI individuals across the country. This comes after the FBI assessed in March that hate crime incidents against Asian Americans were likely to surge across the country, endangering AAPI communities.
Sen. Warner has been outspoken about the need to prevent discrimination and harassment towards Asian Americans during the COVID-19 pandemic. Last month, he wrote to the President, urging him to avoid using rhetoric that could fuel racism towards Asian Americans, and to prevent confusion about COVID-19 from being exploited to target communities of color. He has also previously pressed the coronavirus taskforce only to distribute accurate information about the virus and dispel misinformation or discriminatory rhetoric to help prevent suspicion, panic and race-based assaults.

Sunday, May 3
Arlington Cases: 1,106
Virginia Cases: 18,671
Saturday, May 2
Arlington Cases: 1,044
Virginia Cases: 17,731
STERILIZING PPE: Virginia will receive three Battelle Critical Care Decontamination System machines that can collectively sterilize up to 240,000 units of personal protective equipment (PPE) per day for reuse. "This innovative new technology will extend the life of critical PPE like N95 masks, giving our medical facilities and first responders greater access to much-needed supplies and helping the Commonwealth manage our resources amid a nationwide shortage," Northam said.
Friday, May 1
Arlington Cases: 1,004
Virginia Cases: 16,901
HISTORIC BLACK UNIVERSITIES: U.S. Sens. Mark R. Warner and Tim Kaine (both D-VA), members of the Congressional Bipartisan Historically Black Colleges & Universities (HBCU) Caucus, applauded more than $36 million in federal funding from the U.S. Department of Education to support Virginia's five HBCUs: Virginia State University, Virginia Union University, Virginia University of Lynchburg, Hampton University and Norfolk State University. The federal funding was made possible through the Higher Education Emergency Relief Fund established under the Coronavirus Aid, Relief, and Economic Security (CARES) Act to support students, colleges, and universities as they cope with the immediate effects of the novel coronavirus (COVID-19).
U.S. Sens. Mark R. Warner (D-VA) joined Sherrod Brown (D-OH), Michael Bennet (D-CO), Dick Durbin (D-IL), Ron Wyden (D-OR) and a group of senators in a letter to Senate Leaders calling for a temporary expansion of the Earned Income Tax Credit (EITC) and the Child Tax Credit (CTC) in the next coronavirus relief package. As the economic effects of COVID-19 are expected to last into next year, this would put money back in the pockets of working Americans as they continue to weather the economic downturn.
Thursday, April 30
Arlington Cases: 967
Virginia Cases: 15,846
SPECIAL ELECTION: The Arlington County Board directed the County Attorney to petition the Virginia Supreme Court to seek an extension of the July 7, 2020 special election to fill the Board seat vacated by the April 16, 2020 death of Vice-Chair Erik Gutshall. The Board adopted a resolution saying the July 7, 2020 special election date ordered by the Circuit Court of Arlington to fill the vacancy "poses significant, unnecessary risks to public health, jeopardizing election officials, candidates, and the members of the public participating in the election process, and seriously undermining participation in it." The Board voted 4-0 to adopt the resolution.
MORNING JOE: On MSNBC's Morning Joe, U.S. Senator Tim Kaine called for Congress to pass more COVID-19 relief funding for state and local governments to prevent layoffs of critical personnel, including firefighters, police officers, and other first responders.
"Most states are doing their budgets right now. Most localities are doing their budgets right now. And get this – they are having them contemplate layoffs and furloughs of fire, police, EMT, first responders. There's never a good time to do that, but you definitely shouldn't do it in the middle of a national health emergency. That apparently is the GOP-McConnell plan and that's why we're fighting hard to get money to state and local governments so they don't have to lay off first responders," Kaine said.
"The worst thing we could do right now is to let state and local governments lay off a lot of first responders and to hurt a lot of retirees… The next step should be more for individuals and for state and local governments," Kaine said.
Wednesday, April 29
Arlington Cases: 912
Virginia Cases: 14,961
PARKS AND RECREATION: The Department of Parks and Recreation cancelled summer programs for 2020, including Enjoy Arlington classes, 55-plus programs, trips and classes, Explore Nature & History programs, summer basketball and adult pick-up soccer and soccer clinics and Summer Creative Playgroup. All Arlington County/Arlington Public Schools (APS) parks, playgrounds, fields, restrooms, tracks, dog parks and athletic courts remain closed until further notice. Parks & Recreation's new Recreate at Home, launched during the COVID-19 pandemic, offers a constantly updated list of fun and safe things to do at home and outside while practicing social distancing. parks.arlingtonva.us/2020/03/recreate-at-home/
COVID-19 ARCHIVES PROJECT: Arlington Public Library announces the COVID-19 Archives project, designed to create a comprehensive picture of Arlington during this pandemic. The Center for Local History (CLH) seeks donations of journals, photos and objects to help document this time of difficulty and struggle, but also of resilience and hope. "The experiences and the materials the Library collects will inform how our history is remembered and taught in the future," said Library Director Diane Kresh. The library system seeks donations from individuals, local businesses, government agencies, schools, health care agencies, civic associations and other community organizations. Donations may include anything that illustrates how Arlington life has been affected and altered by the pandemic. Examples include: photographs of your neighborhood, including signs or temporary artwork; personal papers such as diaries, journals, notes, lists or school lesson plans; meeting notes from civic associations, etc., on how to support neighbors; revised restaurant menus for pick-up, notification of special shopping hours.
U.S. Sen. Mark R. Warner (D-VA) joined Sens. Tammy Baldwin (D-WI) and Chris Murphy (D-CT), as well as Senate Democratic Leader Chuck Schumer, in legislation that lays out a framework for an effective COVID-19 response by federalizing and adding critical oversight and transparency to the supply chain for critical medical supplies and equipment. The Medical Supply Transparency and Delivery Act requires the president to utilize all available authorities under the Defense Production Act to mobilize a federal response to the pandemic through an equitable and transparent process.
U.S. Sens. Mark R. Warner and Tim Kaine (both D-VA) applauded $10,832,775 in federal funding through the U.S. Department of Justice (DOJ) to assist the Virginia Department of Criminal Justice Services in preventing, preparing for and responding to the novel coronavirus (COVID-19) crisis. The CESF funding was authorized by the Coronavirus Aid, Relief, and Economic Security (CARES) Act supported by Sens. Warner and Kaine.
CESF funding may be used to help purchase equipment – including law enforcement and medical personal protective equipment – or supplies, such as gloves, masks, and sanitizer. It can also be used to pay for overtime, hiring, training, or travel expenses – particularly those related to the distribution of resources to the most impacted areas. The funding can also be used to address the medical needs of inmates in state, local, and tribal prisons, jails, and detention centers.
SNAP: U.S. Senators Mark R. Warner and Tim Kaine joined their colleagues, led by Senators Jeff Merkley and Chris Murphy, in urging Senate leadership to support and strengthen SNAP — formerly known as food stamps— to help ensure that families across America can keep food on their tables despite the mounting economic consequences of the coronavirus pandemic.
"Given the unprecedented disruption to the economy, income and employment with more than 17 million Americans filing unemployment benefit claims, an expanded and strengthened SNAP can serve as a buffer for families who are now at risk of food insecurity and are struggling to make ends meet during this national health crisis," the Senators wrote.
Specifically, the Senators requested that the following provisions be included in upcoming coronavirus relief legislation: Increase the maximum SNAP benefit for all recipients by increasing the thrifty food plan by at least 15 percent to all households, which is equivalent to another $25 per person per month, or a little under $100 per month in food assistance for a family of four; increase the monthly minimum SNAP benefit from $16 to $30 to all households. Suspend the rules proposed by the U.S. Department of Agriculture that would weaken SNAP eligibility and benefits at time when Americans most need SNAP assistance.
Tuesday, April 28
Arlington Cases: 865
Virginia Cases: 14,339
HOMELESS OUTREACH COALITION: Arlington launched a homeless outreach coalition to help identify unsheltered individuals at high risk for COVID-19 and connect them with available resources and services. The Police Department, Department of Human Services, and Arlington Street People's Assistance Network (A-SPAN) are involved.
"During this public health emergency, individuals experiencing homelessness have unique needs and it is imperative for the health and well-being of our community that they are met," said M. Jay Farr, Chief of Police. "The coalition is streamlining this process by meeting individuals where they are in the community and acting as an immediate conduit to various social service, mental health and housing programs." "Effective street outreach is one of the strategies that has helped us reduce overall homelessness in Arlington by 60 percent over the past decade," said DHS Director Anita Friedman.
Once contact is made with a homeless individual, the coalition: distributes hygiene kits containing a reusable water bottle, gloves, cloth facial covering, hand sanitizer and basic hygiene items, provides hot meals and water, performs COVID-19 screening to determine infection risk and vulnerability, educates on ways to mitigate the possibility of exposure, discusses the availability of various services including temporary housing options. During the first week, the coalition connected with individuals in the areas of Rosslyn, Courthouse, Ballston and, in partnership with the Metropolitan Washington Airports Authority Police Department, Ronald Reagan National Airport.
EXECUTIVE ORDER 60: Governor Northam signed an order which reinforces certain existing statutory liability protections for Virginia healthcare workers. Due to COVID-19, public and private healthcare providers are operating with limited resources and may be forced to serve patients outside of conventional standards of care. Virginia's code offers protections for healthcare workers and first responders in cases of emergency. This order clarifies that these statues protect healthcare workers operating during the COVID-19 crisis. Nothing in this order prevents liability in the case of gross negligence or willful misconduct.
CHILDCARE BAILOUT: U.S. Sen. Mark R. Warner (D-Va.) joined Sens. Tina Smith (D-Minn.), Elizabeth Warren (D-Mass.) and 28 other Senators in calling on Senate leadership to include their plan for a $50 billion childcare bailout in the next coronavirus relief package, saying it is indispensable part of the nation's response to the pandemic. Earlier this month, Sens. Smith and Warren unveiled their plan to stabilize the childcare system, keep providers in business, and ensure parents are able to go back to work when it is safe to return.