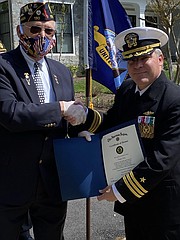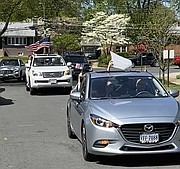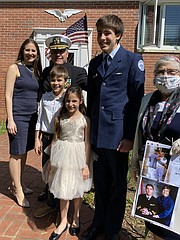 McLean resident Commander Franco Neto, United States Navy, officially retired May 1, 2020.
No one sent out formal invitations to a military Retirement Ceremony to honor him and mark the milestone event. No guest list featured high-ranking speakers to honor, toast and thank Neto for his dedication and achievements, as he ended his watch after a 28-year career. Instead, Neto received something different.
Due to the COVID-19 pandemic and the cancellation of all official retirement ceremonies, Neto's mother, Fatima had organized a small group of family and friends to participate in a surprise drive-by-parade and watch socially distanced as members of American Legion Post 130 Falls Church presented Neto with Certificate of Honor on Saturday, May 2, the day after he officially retired. "It's the love of a mother," she said.
A career Naval Intelligence Officer with more than 20 years of experience leading intelligence operations and analysis organizations, Neto was a problem solver with extensive managerial expertise in personnel and program management, including the supervision of a 50 person Naval Intelligence Center afloat, research analysis in support of Personnel Recovery Operations, and management of a multi-million dollar Navy space program, according to LinkedIn.
FOLLOWING A SMALL family retirement ceremony on Friday to mark the occasion, according to Neto, Saturday morning, he put on his Full Dress uniform, the one with full-size medals above the left breast pocket. He said he thought the attire would be for "some pictures out front." Little did Neto know that at the same time, two blocks away, a parade-caravan of friends, extended family and members of American Legion Post 130 Falls Church gathered in their vehicles. "Under normal conditions, the military has very appropriate ceremonies on behalf of the retiree," said Harry Shovlin Treasurer of American Legion Post 130 Falls Church. "Since no other ceremonies were going to be held because of COVID-19, Fatima Neto asked us to be involved with the plans. We feel any career officer or enlisted person deserves public recognition for their service to our country," said Shovlin.
Meanwhile, Neto and his family gathered on the front steps of their home for photos. He noticed men posting the colors at the end of his driveway. Each wore the distinctive American Legion cap. Neto heard the distant sound of beeping horns. Moving closer toward the curb, Neto looked down the street and saw a long line of vehicles turning the corner off Great Falls Street and coming his way. In vehicle after vehicle, masked friends and family members held up congratulatory posters. They waved flags and called out, "Thank you, congratulations." Neto gave a hand salute at the moment each flag passed his position.
Members of American Legion Post 130 Falls Church, 17th District Finance Officer and 1st Vice Commander and Past 17th District and Post Commander Tommy Powell, Commander Harvey Hines, Treasurer Harry Shovlin, and Sergeant at Arms and Past Post Commander John Johnson joined Neto at the end of his driveway. From the far curb, friends and extended family members stood socially distanced and watched.
"I definitely wasn't expecting this," Neto said.
Not at the traditional military Retirement Ceremony, not in a ballroom or Officers Club but at the end of an all-American suburban driveway Neto stood at attention between the posted colors and received recognition and thanks for his service.
POWELL READ: "The American Legion Certificate of Honor. This certificate is presented to Franco Neto in recognition and grateful appreciation for serving in the United States Armed Forces in the name of freedom and democracy, and for allegiance to God and country in courageously protecting our liberty and independence. Presented by the American Legion Post 130 Department of Virginia this second day of May 2020."
A Fitting Tribute
"Mike and I served as civilians for the U.S. Navy for over 50 years of combined service, so we were delighted to be invited to honor Fatima Neto's son's service to our country. A "drive-by" his home waving flags was a fitting tribute." – Joy Erdman
"For our three young children, this important occasion was not only a lesson on patriotism but also that the true spirit of community cannot be defeated. We were honored and inspired to be part of it." – Lisa Marinelli Woestman
"So proud of my brother Franco for his 28-year service in the Navy! Wishing him fair winds and following seas in his next endeavor." – Christiane (Neto) Lourenco
"Today's retirement celebration of Navy Commander Neto, who served his country for 28 years, is truly inspirational and a great source of pride for both his family and for America. It is the men and women who choose military service who give us the freedom to be free." – Gail and Larry Marinelli