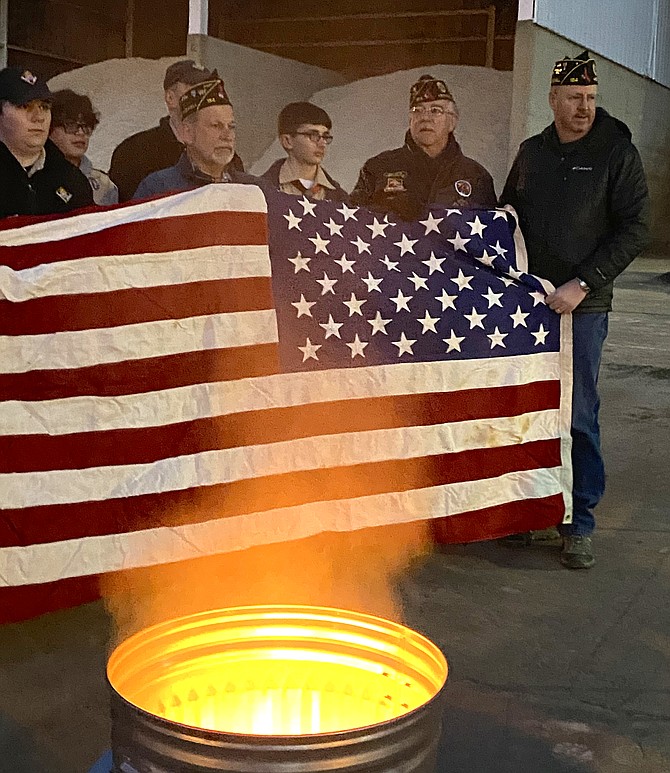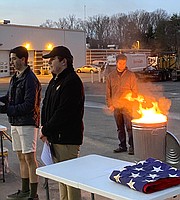 Behind every Eagle Scout service project, there's a story of work and perseverance, the impact of the project on the community, and those individuals – mentors, parents and others – who offered support and guidance to the candidate.
Scout David Mercado from Troop 1570 of the National Capital Area Council, Powhatan District, located in Herndon, did not need to look any farther than the right sleeve of his uniform for project inspiration as he sought to earn the coveted rank of Eagle Scout, the organization's highest honor. A United States flag emblem was sewn on his standard Scout uniform. Scouts learn that the United States flag is more than a banner of red, white and blue. It is the symbol of our nation.
On Thursday evening, Feb. 20, in coordination with The Wayne M. Kidwell American Legion Post 184 Herndon-Reston (Post 184), Mercado hosted a Flag Retirement Ceremony at the Herndon Public Works Complex on Sterling Road in Herndon.
MERCADO involved others in his project, among them fellow Scouts and veterans from Post 184, demonstrating leadership to benefit others. The Post collects used flags and performs a Flag Retirement Ceremony several times a year according to its website.
"These Scouts of Troop 1570 do it right," said Post 184 Commander David Womack. "Events like this honor our flag and help instruct the next generation on proper respect to the flag," he said. "It's great to have Scout involvement in a solemn and meaningful ceremony," said Rob Martin, Post 184 Sergeant-at-Arms. "It is indeed an honor to help Scouts to retire these great symbols of our great nation," said Michael Cutler, Post 184 Second Vice Commander.
U.S Code: Title 36, Chapter 10 Section 176 states: "...The flag represents a living country and is itself considered a living thing...The flag, when it is in such condition that it is no longer a fitting emblem for display, should be destroyed in a dignified way, preferably by burning."
According to Mercado, to date, he has donated 40 hours of service to produce the solemn ceremony that retired 100 unserviceable and or sufficiently worn American flags collected over several months by Post 184. Citizens dropped the flags into a labeled box in front of Herndon Moose Lodge # 2274 in downtown Herndon, 779 Center Street.
During the ceremony, Mercado recognized Post Commander David Womack and other members of the Post as well as Scouts of Troop 1570, for their help to him in preparing and conducting the ceremony. Scouts posted and retired the Colors and provided a brief history of the American flag during remarks.
According to Roger Claff, Troop 1570 Life-to-Eagle Advisor, Mercado planned the ceremony and the hospitality service. He drafted, edited and finalized the ceremony's script. Claff said, "He (Mercado) prepared the flags for retirement, arranged for the ceremony equipment to be in site, and rehearsed the ceremony with his volunteers in advance of the ceremony. He will also prepare a promotional brochure for Post 184, including information about flag retirement." Claff added that Mercado still has other items and paperwork to complete for his Eagle Scout project before the board of review can be conducted; however, Mercado expressed a personal goal to complete his review for Eagle Scout rank before Apr. 1.
CLAFF said that Mercado would become the 128th Eagle Scout in the history of Troop 1570. Mercado's mother, Cynthia, attended the ceremony. "I am so proud of David for his high school accomplishments and Eagle. He is a well-spoken, organized young man," she said.
According to scoutingmagazine.org, in 2018, 6.49 percent of eligible Scouts earned the Eagle rank.