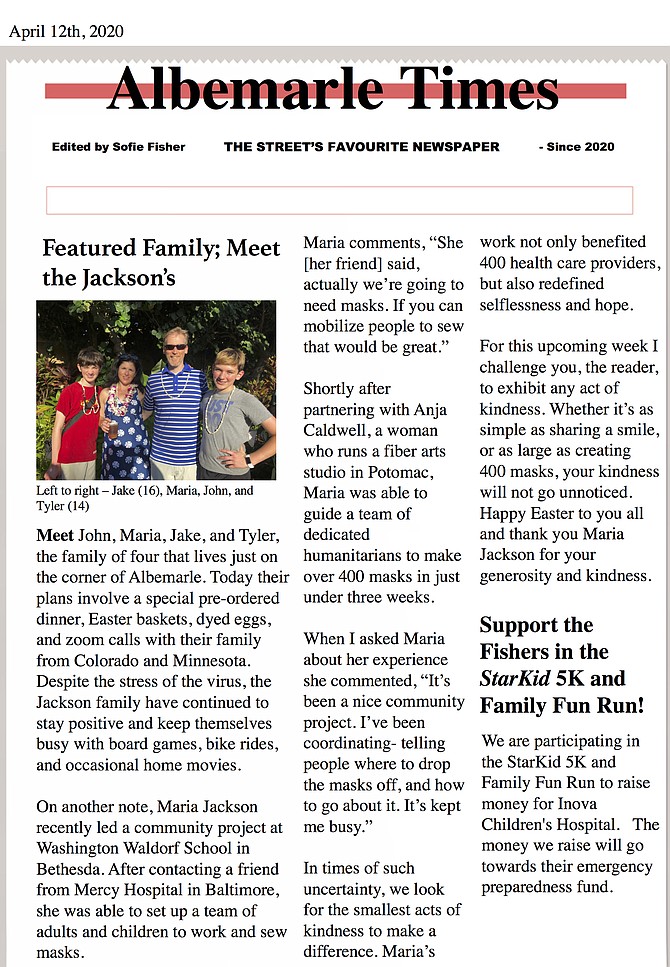 Sofie Fisher, 16, of Arlington, is a junior in high school who wants to be either a doctor or a writer. She did a stint doing hospital work a while ago to get exposure to what it would be like to be a doctor, but she hadn't had exposure to being a writer. She also didn't know that many people in her neighborhood, so she decided with her extended time at home she would start her own newspaper. Her paper, the "Albemarle Times," has had three editions so far — it's a weekly.
She loves to interview people and find out what is going on. The hard part is when she distributes her paper to the eight people on her street who read it. She always wonders if they will enjoy it. They do.

The "Albemarle Times," named after the street Fisher lives on, is a tidy, well put together paper, with something for everyone. Recipes, exercises, stories, and a "dogs of the week" feature.
This hyper-local journalism appeals to Fisher because she thinks it's a great way to keep people entertained and distracted from what the pandemic is doing to normal life. She enjoys finding out about things that people would want to know, like when she wrote about the history of Easter, or highlighting a local effort that should get some visibility. Her opinion pieces are important: one covered the issue of photoshop distorting what the way a "normal" body and face should look, creating body image issues for those who aren't "perfect." She spends about an hour writing her main piece, usually an opinion piece, and then a couple of hours putting together the paper, which sometimes includes articles by her mother, sister, and father.

"He's the funny one in the family so he does cartoons." Her favorite article so far was one she did on her neighbors, the Jacksons. Mrs. Jackson was working at the Waldorf School to make masks for people, and their two dogs were being trained – one to be a seeing eye dog and one to be a therapy dog. (One failed, but there is a happy ending.) She takes photos for the paper, but she has to manage her parents' concern about how much printer ink was going into the paper.
Fisher said she likes being able to give people some comfort in knowing that good things are happening around them, and she was particularly delighted when her article on the the StarKid 5K and Family Fun Run the Fishers are doing to raise money for Inova Children's Hospital ended up netting two participants for the virtual walk.

For those interested in helping, see: https://us-p2p.netdonor.net/3344/starkid/83548/fisher-family-starkid-page?ea.tracking.id=AMP_Email#_ts=3835485e921ccac136a