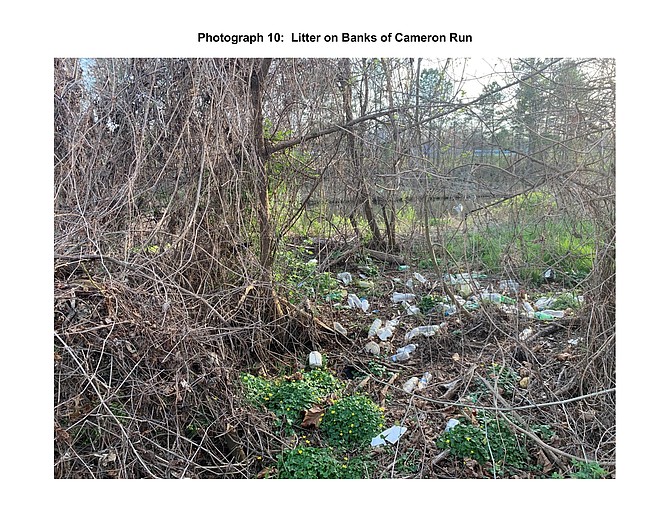 At the Alexandria Recycling Center, the trash all over the ground caught the eye of Ben Swanson and Caleb Merendino, a pair of environmentalists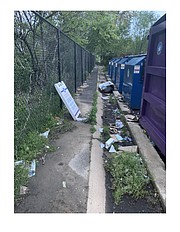 that make up the new organization "Advocates for Clean & Clear Waterways," supporting environmental conservation in the metropolitan area. Trash was all over the ground outside the dumpsters at the center on Eisenhower Avenue, and there were holes in the fence that allowed garbage to spew out, down the hill to Hunting Creek, into the Potomac River and eventually the Chesapeake Bay.
"They need to get the recycling center under control," Swanson said.
It's all part of the job for the two twenty-somethings at their newly formed organization that just became official in April. They ride their mountain bikes around, track litter back to the source, and bring it to the attention of authorities to get it cleaned up. At the Alexandria center, they went straight to the mayor in Alexandria, and said they initially got some response about the COVID-19 pandemic, but eventually the city did send out people to clean and fix the center. "We're not buying that," about the pandemic, Swanson said. "There's no way this could all be happening since the pandemic. We're just calling it negligence," he added. Upstream from the recycling center, the creek was cleaner, they noted.
They made a video about the recycling center, and on the video there are several shots of the trash outside the dumpsters, holes in the fence and trash falling down the stream bank. Lots of water bottles everywhere near the stream. They filled 110 trash bags in 6 days. "Pretty shocked at what we found," Swanson said on the video. "Alexandria, what the heck is going on?" he asked.
When they reached out to the Department of Environmental Quality, they got the feeling that trash on the ground at a recycling center is to be expected.
Next stop was Lake Cook where there were not enough trash cans around, but their suggestion that an additional trash can be placed by the dock was shot down. "They came back and rejected it," Swanson said.
Swanson is from New York and Merendino is from Arizona. The two came up with the idea for the Advocates after seeing the influx of trash around the area and registered their company in Washington, D.C. and got a 501C3 designation. They serve the whole metropolitan area, and have sights on another project in the Outer Banks of North Carolina. In addition to litter, they are focusing efforts on saving sea turtles too.
To see a video of their visit to the recycling center, click here
and for the Hunting Creek clean up, click here.