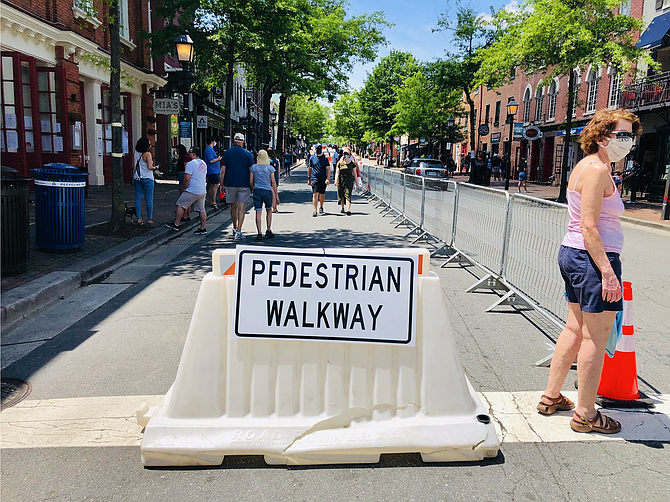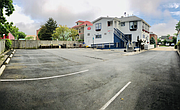 In normal times, the parking lot behind the Del Ray Cafe gives the restaurant a competitive advantage. Drivers can turn off East Howell Avenue and pull into one of the dozen spaces behind the 1925 house that's been repurposed into a thriving restaurant. These days, the parking lot is giving the restaurant a different competitive advantage, one that nobody saw coming a few months ago. It's about to become an alfresco dining spot, a place where the restaurant can set up eight or nine outdoor tables and meet all the requirements of Phase One reopening during a pandemic.
"Eating on a blacktop is not one of the most appetizing things to do. It's hot, and you smell tar," said Laurent Janowsky, owner of the Del Ray Cafe. "But people who own restaurants are resilient, and they try to figure out ways to survive. We're a breed that says we're not giving up."
Restaurants across Alexandria are eying parking spaces and nearby sidewalks as potential dining spots, places where they can serve outdoor meals in accordance with Phase One of reopening during a pandemic. Restaurant owners and managers say they're weighing the options, trying to figure out how many people will really want to eat in a parking space. Then there's the potential cost of buying new equipment for a short-term program that might only last a few weeks. And then, of course, there's the potential loss of parking.
"Eating on a blacktop is not one of the most appetizing things to do."
— Laurent Janowsky, owner of the Del Ray Cafe
"The landlord is very strict with parking," said Hugo Salazar at Savio's Italian Restaurant, which is located in a strip mall on the West End. "So I'm sure that's not going to be allowed."
THIS WEEK, members of the Alexandria City Council adopted emergency zoning regulations, relaxing the rules as part of a new experiment to get a sense of how people can avoid dining indoors while maintaining social distancing rules. One of the most noticeable changes will be on lower King Street, where city officials are planning to close the 100 block to traffic through the duration of Phase One. It's a stretch of road that's long been eyed as a potential pedestrian plaza, although a pilot program to try that as an experiment in 2006 ended in failure.
"We weren't able to give it the full monty," said Janet Barnett, who oversaw the ill-fated pilot project for the Department of Recreation, Parks and Cultural Activities. "It was a pilot, and we had limited resources."
Now everything has changed. Alexandria restaurants have been restricted to serving takeout and delivery since mid-March, and many owners have taken forgivable loans through the Paycheck Protection Act to help them stay open during the economic crisis. Starting on Friday, restaurants will be able to serve outdoor diners as long as they can maintain social distancing between tables. For some restaurants, it's too early to think about it.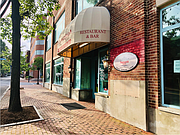 "I want to see what happens after two weeks and how many new cases come up," said Jay Chima, manager of Namaste Jalsa, an Indian restaurant on upper King Street. "We want to be cautious. I'm more interested in the safety of my staff and the guests."
AL FRESCO DINING has a long history in Alexandria, where the restaurant scene has been an attraction for people across the country. Back in 2004, the city launched a pilot program that allowed for outdoor dining along King Street. Some criticized the tables and chairs as elbowing out pedestrian traffic, but the City Council made it permanent in 2006. Now social distancing rules call for five feet of "continuous pedestrian access," a requirement that might be difficult along the tight sidewalks of lower King Street.
"Well that just doesn't exist," said Councilwoman Del Pepper. "You can barely find enough room for two people."
Closing the 100 block to traffic and making parking spaces available to restaurants might allow for some extra space, although the new outdoor dining rules are still an experiment in the new normal. Part of that new normal is reopening after an extended period of quarantine. Restaurants are trying to get their waiters and waitresses to return to the workplace, although some say they're having a hard time putting together a pandemic workforce.
"Most of my waiters have been with me 25 or 30 years, and they're all in their 70s now," said Wendy Albert, owner of Tempo Restaurant on Duke Street. "When I called them to tell them come back to work they said, 'No I'm retired.'"