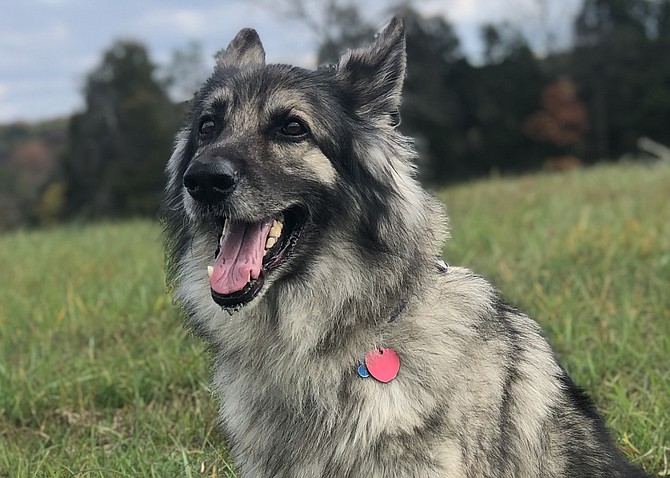 Local rescues are reporting that pet adoption is at an all-time high with more people working from home and looking for joy and companionship. According to a Korean study, even pet insects can help increase happiness. Yup, among folks over 65, "Caring for insects was associated with a small to medium positive effect on depression and cognitive function."
Now I'm not suggesting that we should all race out to cheer ourselves up by getting an orchestra of crickets – yep "orchestra" is the term for a group of crickets. But the truth is that having and caring for pets has long since been tied to the happiness of owners all over the world. And particularly at this crazy time.
Our fellow northern Virginians say that their pets give them a lot to be thankful for this Thanksgiving.
Jordan and Mason knew exactly what they were doing when they dragged their respective owners, Kate Dubrowski and Alex Picciano to the Riverhouse apartment complex dog park. That day, as the dogs played, the two chatted and four years later, on Nov. 15, they tied the knot!
The humans report that "[They] are so thankful [the dogs] brought them together." As for Jordan and Mason, they are enormously pleased with themselves for their matchmaking abilities and are considering putting out a shingle to help other local singles. The family has recently moved to the Del Ray neighborhood in Alexandria.
Interested in adding a pet to your family through adoption or fostering? There are quite a few rescues in the area offering a range of pets including dogs, cats and smaller animals. Here are just a few:
Animal Welfare League of Alexandria
Animal Welfare League of Arlington
Lost Dog and Cat Rescue Foundation
ArPets is a weekly feature for highlighting the well-loved pets of Arlington as well as animals who are available for adoption. If you or your dog, cat, iguana, bunny, rat or any other pet, has an interesting pet story to tell, send email to: joan@joanbradyphotography.com.
Joan is an award-winning Connection Newspapers columnist and local photographer specializing in pets, children and families and contemporary business portraits.