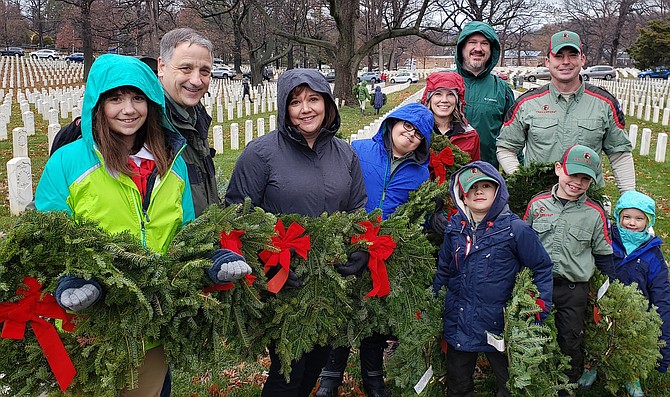 Despite the current pandemic, two local Scouting troops will remember the sacrifices of America's fallen soldiers by raising money to lay wreaths on their graves. Funds will go to national nonprofit Wreaths Across America, which coordinates wreath-laying ceremonies for veterans each December at Arlington National Cemetery and other locations across the country.
Participating troops include American Heritage Girls (AHG) and Trail Life Troop VA-0122, both chartered by New Life Christian Church in Chantilly. They and race-management company CompetitorME will together host the Honoring Heroes Virtual 5K Challenge.
It's open to anyone of any age and consists of either a virtual 5K run, walk or hike – whichever the participants prefer. They just need to register at https://l.ead.me/HonoringHeroesChallenge before Nov. 4, download a race app, create their own 3.1-mile course, and then compete individually between Oct. 12 and Veteran's Day, Nov. 11.
"Our goal is 150 participants in the challenge and more than 400 wreaths to honor our fallen soldiers," said Curt Klun, Trail Life Troop VA-0122 leader and event organizer. "We hope people will share this opportunity with friends and family everywhere."
Registration is $25 from now to Oct. 11, and $35 after Oct. 12. Fees include a commemorative bib and neck warmer mailed to participants, plus sponsorship of a fresh, balsam-fir wreath for a veteran's grave. The young men and women in the local AHG and Trail Life troops will then place these wreaths on the graves at Columbia Gardens Cemetery in Arlington.
If the Scouts reach their funding goal, said Klun, then more than half of the 750 known veterans' headstones will receive a wreath of honor and remembrance. But he said they'd really like to exceed their goal so that every service member at Columbia Gardens may receive a wreath.
Anyone interested in sponsoring a wreath only may go to https://l.ead.me/WreathSponsorship and click on the "Sponsor Wreaths" icon. Make $15 checks payable to "Wreaths Across America" and write on the memo line the Group ID#, VA0312P; Location ID#, VACOLU; and Troop #, VA0122.
Besides participating in the 5K Challenge, over the next several months, members of the two troops will also learn flag- and wreath-laying etiquette and will interact with living service members and Gold Star families – the immediate family members of a soldier who died while serving in conflict.
"We hope to teach the boys and girls the value of freedom, while we remember and honor those who serve and those who gave their lives," said Klun. "Each year, we've participated in laying wreaths on the soldiers' graves, but we wanted to create this challenge as a way for the kids, their families all over the world, their friends and neighbors to all join in and support this worthy cause that helps everyone.
"Who would have thought that a pandemic would supply a platform to create a virtual 5K challenge that allows people from all over our nation to help us reach our goal?" he asked. "Despite the restrictions of COVID, we're thankful for the opportunity to serve others, especially these veterans who gave their lives for our freedom."