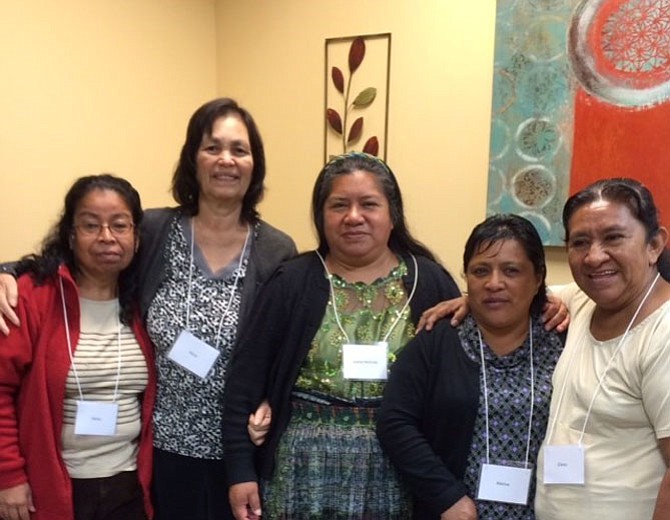 For the past 10 years, the women of Fairfax Presbyterian Church have made a mission trip/cultural exchange to Guatemala. And in mid-October, some of the Guatemalan women they met came here to visit.
One of their stops was at the Main Street Child Development Center in Fairfax. It mainly serves children from low-income, working families and provides an affordable, early childhood, educational program for them.
"We have 72 preschoolers, ages 2 through 5, and 76 percent are from low-income families," said Development Coordinator Jim Dempsey. "Plus we have 20 students who come here before and after school at Daniels Run Elementary. They get a healthy breakfast and homework assistance."
"It's an outstanding program and our church does activities for the children here," added Renna Jordan, a former Main Street board member and one of the Fairfax Presbyterian Women. "So we thought it would give our Guatemalan visitors an idea of a preschool here."
The women came from Quetzaltenango, the second-largest city in Guatemala. At Main Street, said Marina Monterroso, "We wanted to see the work they're doing because it's different than what we have in Guatemala. Here, they have all the supplies they need for the students – even little chairs and tables – and give them lots of attention."
"More students here are able to have access to preschool education," said Juana Herlinda. "In Guatemala, only rich people have access to preschool education, and there isn't any in the rural areas."
Martha Lidia Salanic was impressed with "the dedication the teachers have for the children and the way they treat them." And Monterroso noted how nicely the Fairfax children stand in line. In Guatemala, she said, each teacher has as many as 40 students to handle.
Since the guests also have a relationship with the Presbyterian Women in Winchester, they visited with them, too. They saw a senior center and toured Shenandoah National Park. "It's very big and beautiful, with the changing color of the leaves," said Magdalena Diaz. "We don't have that in Guatemala."
Alicia Moscoso also noted how the Presbyterian Church helps in its community. Accompanying the Guatemalans to Virginia was Jennifer Thalman Kepler of a theater company in Louisville, Ky. She grew up in Fairfax Presbyterian Church and lived in Guatemala from 2003-04 as a church volunteer supporting the work the women there were doing in their church.
"My company creates original plays based on women's experiences, and Marina asked me to come and help do that for them," said Kepler. "So we've been working with them for 10 years, and both the Winchester and Fairfax churches helped bring the women here."
The guests also planned to see Washington, D.C. and its sights and lead that Sunday's worship at the Fairfax church. "We'd like to come back," said Monterroso. "We appreciate the care and love we've received here."
"We've felt like princesses because of the way we've been treated here," added Moscoso.
"We're delighted to have them visit," said Main Street Director Carol Lieske. "We're so proud [of what we do here], and about 70 percent of our children speak Spanish at home."
It was also valuable to the Guatemalans. "Being able to learn how both religious and community organizations function helps us understand how we can educate the organizations we work with," explained Herlinda.
"It's a privilege and an honor for women of Christian faith to have these women here with us," said Carol Drago, a Fairfax Presbyterian Church elder. "I met them five years ago, and it's a dream come true for them because they've always wanted to come here and see us."
"Fairfax Presbyterian has been a huge supporter of ours for many years," said Lieske. "During the holidays, they prepare Christmas stockings and wrap gifts for the children. And for every child's birthday, the church provides cupcakes, so it's a lovely partnership. They also support us on a regular basis with donations. So we're thrilled when they bring guests and we can show off our children and our facility."