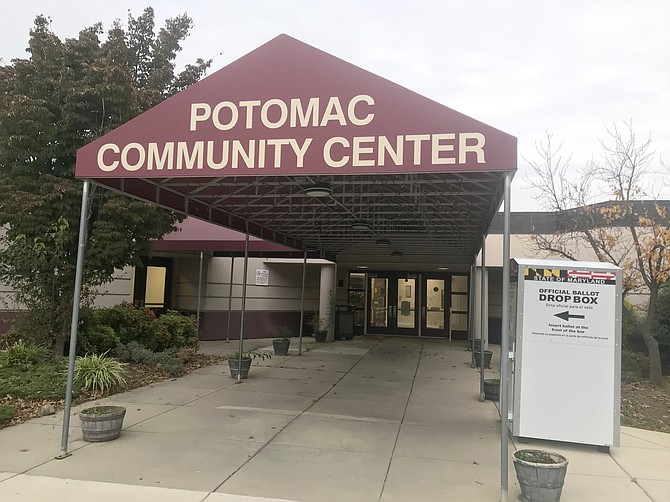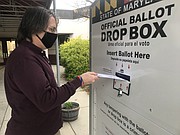 Early voting in Montgomery County for the 2020 Presidential General Election begins Monday, Oct. 26 and continues through Monday, Nov. 2. Hours at all early voting locations are 10 a.m. to 8 p.m.
Eleven Early Voting Centers will be open across the County including one at Potomac Community Center, 11315 Falls Road.
Potomac Community Center is also the site of a Ballot Drop Box, which is available now and will be through Election Day, Tuesday, Nov. 3. Ballots dropped on Election Day must be delivered by 8 p.m. that day.

Montgomery County is encouraging voters to vote early.
"Please help prevent long lines and reduce transmission of COVID-19 by requesting your ballot by mail and voting at home. However, if you must vote in person, you have the choice to mark your ballot by hand or using an electronic device. Masks are required [in polling places] and will be provided if needed," according to the Official Sample Ballot and Voting Information sent to voters by the Montgomery County Board of Elections.
Early voting centers in addition to the Potomac Community Center are: The Activity Center at Bohrer Park, Gaithersburg; Damascus Community Center; Montgomery County Executive Office Building, Rockville; Germantown Community Recreation Center; Jane E. Lawton Community Center, Chevy Chase; Marilyn Praisner Community Center, Burtonsville; Mid-County Community Center, Silver Spring; Sandy Spring Volunteer Fire Department (The Ballroom); Silver Spring Civic Building; and Wheaton Library & Community Center.
According to the Board of Elections website, voters may go to any early voting site in the County to cast a ballot. Early voting results are tallied on Election Night, just like votes cast on Election Day.
Early voting locations will also be open on Election Day from 7 a.m. to 8 p.m. on Election Day, Tuesday, Nov. 3.
Those not voting early may face long lines, since on Election Day there will only be 39 polling places open, compared to the usual 240.
"If you vote in person, expect to wait in line," the Board of Elections cautions.
There will be 39 centers open from 7 a.m. to 8 p.m. on Election Day. Many usual polling places will not open because of the pandemic, but voting is permitted at any of the 39 voting centers.
Same day registration is available with proof of residency, according to the Board of elections mailing.
​The County operates a 24-Hour Voter Information Line at 240-777-VOTE (8683) to answer questions about voting. To check on wait times on Election Day, visit 777vote.org or text EV plus your zip code.
It's a complicated local ballot, with Board of Education and Judges, plus state and local ballot questions, which could have significant impact. See the League of Women Voters guide at https://www.lwvmocomd.org/vote411-org.
Your political party or County councilmembers or other Elected Officials might offer guidance.
For sample ballots and more information, see https://www.montgomerycountymd.gov/Elections/VotingServices/SampleBallotVoterGuide.html
For all Election Day voting locations, see https://www.montgomerycountymd.gov/Elections/VotingServices/vote-centers-2020.html