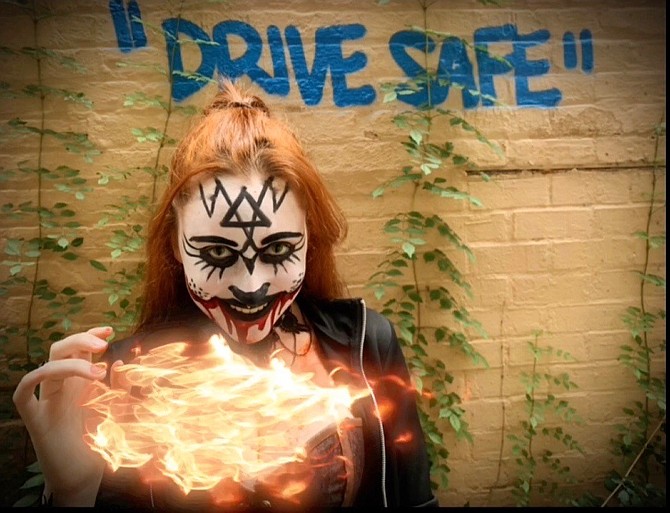 The ever-enterprising Workhouse Arts Center is bringing the upcoming Halloween season thrills with its "'Nightmare Alley' the first immersive, completely contactless drive-thru Halloween experience in the region," said Joseph Wallen, Director of Performing Arts at the Workhouse.
Based upon responses from patrons of the Workhouse's summer Drive-In movies and with necessary health and safety precautions because of the COVID-19 pandemic, Workhouse staff decided to update its long-standing haunted attraction for Halloween. "It serves not only as entertainment, but also as an extension of the Workhouse Performing Arts program, allowing local youth to practice their set production and theatrical skills," said Wallen.
"Nightmare Alley" will have zombies, swamp creatures, creepy clowns, and scary dolls among 13 different scary scenes taking up residence on the Workhouse campus. These special campus inhabitants are meant to entertain visitors experiencing the attraction from the safety of their cars.
"At a time when performing arts is on hold in the nation, the Workhouse is truly pleased to provide an artistic outlet for our young actors, set designers, stage managers, and volunteers alike to participate safely in creating this incredible production," said Wallen
Food trucks will be on the Workhouse campus to offer food and soft drinks for purchase. It is an alcohol-free event. Bringing snacks onto campus is permitted. Bringing alcohol violates ABC laws. Patrons may arrive up to 45 minutes early to visit food trucks. For the safety of all guests attending, masks covering nose and mouth must be worn when out of a vehicle. Workhouse buildings and restrooms will be closed during this event.
"Building on last year's Haunted Trail production of 'Breakout' and this year's Drive-In Movie series at the Workhouse, we found a way to create a hair-raising haunted attraction that is both terrifying and completely safe. The drive-thru design of 'Nightmare Alley' will allow visitors to enjoy the Halloween season despite COVID-19," added Caroline Blanco, Vice Chair of the Workhouse Board of Directors and Chair of the Workhouse Haunted Attraction Design Team.
Get ready for 13 nights of scary fun as The Workhouse Arts Center campus provides a unique and extra-eerie setting for Halloween 2020.
Where and When
Halloween season "Nightmare Alley" Drive-Thru, Workhouse Arts Center campus, 9518 Workhouse Way, Lorton. Event runs Oct. 2 through Saturday Oct. 31, 2020. Fridays and Saturdays, 7 to 11 p.m. each weekend. Sundays, Oct. 11, 18, and the 25 from 7-10 p.m. Tickets: Start at $60 per vehicle (not per person). All tickets sold in advance online. No tickets sold at the gate. Ticket prices increase after Oct. 15, 2020. Tickets are sold with timed-entry. Cars, SUV's and trucks (maximum clearance of 6.5' and width of no more than 8') permitted. Buses, RVs, limousines and over-sized vehicles not permitted. No bicycles, motorcycles, mopeds or open vehicles. Vehicle sunroofs must remain closed. Patrons are asked to bring a printed copy of your ticket, or have it available on a mobile device. For tickets, visit https://www.workhousearts.org/ or call 703-584-2900. Notes: The "Nightmare Alley" experience not recommended for youth under the age of 13. Patrons are asked to arrive at least 15 minutes prior to timed entry time to check-in and receive further instructions including that vehicles are dispatched one at a time. For inclement weather updates, check Workhouse Arts Center on Facebook.