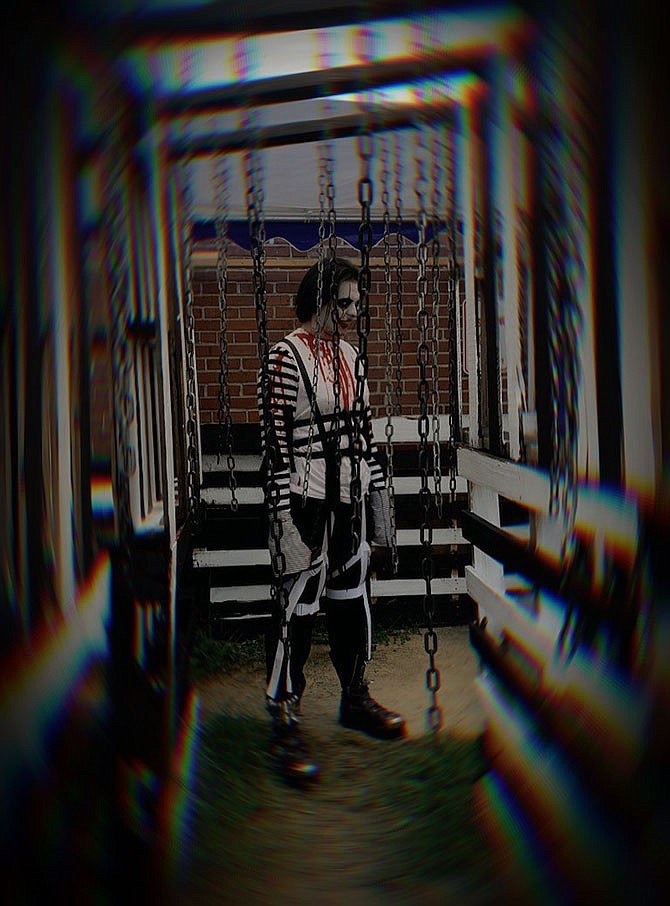 Fairfax County — Northern Virginia's outdoor, walk-thru haunting tradition returns at the Workhouse's annual "Haunt." This year's all new version is "The Collection."
This year's Haunt will immerse guests in a highly-themed walk-through experience with creepy characters delivering contactless scares in multiple scenes. Guests will travel about the Workhouse campus to rarely visited areas in small groups for a 30-minute experience of abandoned, historic buildings and into the night-time woods.
"It was important for us to create an experience that was both highly entertaining and safe for all attendees and participants." said Leon Scioscia, president/CEO, Workhouse Arts Center.
"All staff, actors, stage technicians, other contractors, and volunteers will be required to either be fully vaccinated against COVID-19 or provide a negative COVID-19 test prior to the start of each weekend's performances." Scioscia said. Guests are asked to wear a mask while on campus.
The Workhouse live, in-person, "Haunt: The Collection" is not only for patrons' entertainment, but as an extension of the Workhouse Performing Arts Program. The "Haunt" is providing opportunities for local youth to practice their acting skills, set production and overall theatrical skills.
"We are truly pleased to provide an artistic outlet for our young actors, set designers, stage technicians, and volunteers alike to participate safely in creating this incredible production," said Joseph Wallen, director, Workhouse Performing Arts.

Even with the many challenges presented by the pandemic, "the outdoor, walk-thru design of 'The Collection' will allow visitors to enjoy the Halloween season despite COVID-19," said Caroline Blanco, chair, Workhouse Board of Directors and co-chair of the Workhouse Haunt design team.

"People should definitely come check us out. I personally think we are one of the scariest haunted attractions in the state of Virginia." said Alex Hansohn, one of the volunteers involved in "The Collection."

For participant David Blanco, "the Workhouse enables my creativity by allowing me to bring out some ideas I have for how to design a haunted house. I am most excited to be back."
"This year's story is better than ever and you will get to see stuff you have never imagined before." added Morgan Prescott who helped design the event and plays one of the unscripted creative characters on the haunted trail.

Get ready to explore the Workhouse's annual October "fright" event for something fun, frightening and highly entertaining.
Note: Opening night on Oct. 3, the Workhouse will honor area's first responders, teachers, active military, veterans, and health care workers by offering free admission when they reserve a timed entry ticket online and present a valid ID upon arrival at the Ticket Booth on campus. There will be premium nights with additional live entertainment on Oct. 16, 23, 30 and 31.
This is an outdoor event. The route includes paved and unpaved surfaces. Guests are cautioned to wear appropriate footwear. Snacks and beverages will be available for purchase at the Haunt Bar, located near the check-in area in the campus quad.
Where and When:
Workhouse Arts Center presents
"Haunt: The Collection" at 9518 Workhouse Way, Lorton, VA 22079. 15 weekend nights Sunday, Oct. 3 to Saturday, Nov. 6, 2021. Fridays and Saturdays, 7-11 p.m. and Sundays, 7-10 p.m. Recommended for guests 13 years of age and older. Timed-entry tickets available and must be purchased online. Tickets priced from $25 per person on most nights and $30 per person on Premium RIP Nights. Tickets pricing varies upon the night. For details, tickets, and health and safety information go to www.workhousearts.org.