The north end of Reagan National Airport stretched a little closer to Roslyn with the recent partial completion of "Project Journey," a modernization project consisting of a new terminal to take the place of Gate 35X, 14 new gates that provide a spot for airlines like American Eagle
to call home, and expanded security checkpoints which will open in the summer-fall timeframe.
Where once the terminals 1-45 ended at Terminal C, it now goes on to terminals 46-59, allowing American Eagle to use bigger regional aircraft with 70 or 90 seats and a first-class section.
Before the new concourse was built, passengers had to get on a shuttle or go outside to get on airplanes at 35X, exposing them to the elements. During rain or cold weather, this was a challenge for passengers. Now they'll be able to board the airplane directly from the terminal like they do at other gates.
Another big element of Project Journey is the introduction of upgraded security gates that will allow more freedom for passengers who were already through security but would like to do more shopping or dining.
"This is all to improve customer service," said the Metropolitan Washington Airports Authority Vice President Paul Malandrino.
American Airlines is the dominant carrier at Reagan National Airport, and since they were merged with USAir a few years ago, they're even more so. Officials stopped short of calling it an "American hub," though.
The pandemic last year, and early this year has enabled construction crews to speed up the project timeline, added Malandrino, who called it "the only good thing out of the pandemic."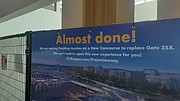 The first airplane used one of the new gates on April 20, and the new concourse will only see more action as time goes on. There are still signs the project is not completely finished though, and there is another big hurdle to clear this July, when additional concessions like a new coffee shop, pizza place and gift store will open in the new concourse. All 230,000 square feet of terminal space is enclosed in 82,477 square feet of glass similar to the rest of the airport.
Airport Grows
The facilities at Reagan National Airport were designed to handle 15 million passengers a year, but in 2019, pre-pandemic, the airport saw 23 million passengers, so this was a sign an addition was needed.
Previously the last major upgrade was in 1993 when the construction of terminals B and C started, and an area called National Hall. This terminal opened on July 27, 1997.