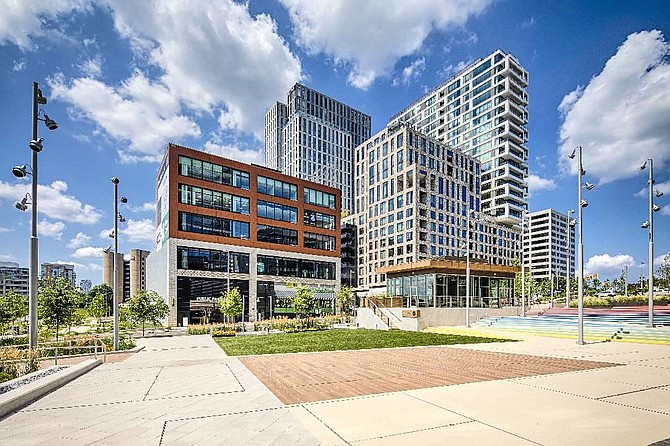 Since 2017, 1st Stage's annual Logan Festival of Solo Performance has been a singular presence in Northern Virginia.
The Logan Festival's mission is clear. "I really wanted to share with our audience how beautiful the work being done around the country is." said 1st Stage Artistic Director Alex Levy. This year's Logan Festival, curated by Levy, will be no exception. What's more, the outdoor 2021 Festival with its Boro location in Tysons is a collaboration between 1st Stage and The Boro at Tysons.
The Logan Festival began with the support from the Riva & David Logan Festival.
From Aug. 21 to Aug. 29, 1st Stage will present "Making Opera Soup," written by and starring award-winning singer Lori Brown Mirabal. The show is directed by Vincent Scott, with Steven Gross on piano. This production will be an engaging, interactive family programming aimed at all ages. Mirabal aims to bring an entertaining spotlight to the excitement, magic and fun of opera.
Mirabal will also have two performances of "Charmed Life" on Aug. 27 and 28 written and performed by Mirabal with direction by Vincent Scott and Steve Gross on piano. This is an autobiographical solo performance that weaves together Mirabal's own story, and pays homage to famous opera artists who have gone before, and specifically to the Black women opera singers of the past.
"Bo-Nita" takes the outdoor Boro stage from Sept. 16 to Sept. 26. "Bo-Nita" is written by Elizabeth Heffron, directed by Summer Wallace, and stars Terri Weagant. Weagant plays dozens of characters with humor, pathos, and a dash of Midwestern magical realism. "Bo-Nita" follows a mother and daughter's journey through a working-class America. They have dwindling resources and work together to stay together. All while keeping their beat alive.
From Oct. 7 to Oct.r 17, 1st Stage will present the heartwarming "The Book of Mamaw" written and performed by Eugene Wolf. Susanne Boulle directs. The one-actor-show is full of story-telling and music as it chronicles Wolf's life growing up with his devout Church of Christ grandmother who recognized his love of performing when Wolf was at a very early age. Wolf has turned many of his unorthodox Appalachian childhood stories into a celebration of family and how music can be the tie that binds.
Get ready to enjoy the expanded, reimagined, delightful outdoor 1st Stage "Logan Festival of Solo Performance" at The Boro in Tysons.
Where and When
1st Stage presents the 2021 "Logan Festival of Solo Performance." The Festival will be an outdoor event; a collaboration between 1st Stage and the new mixed-use development The Boro, 8350 Broad Street, Tysons, located just blocks from 1st Stage venue at 1524 Spring Hill Road, Tysons. The Festival runs Aug. 21 to Oct. 17, 2021. The outdoor festival at The Boro will feature lawn seating of up to 100 people per performance. Detailed information and tickets at https://1ststage.org/ or 1st Stage box office at 703-854-1856. Note: 1st Stage will be following CDC, State and Fairfax County health and safety requirements.
Performances for each show of "The Logan Festival of Solo Performances":
"Making Opera Soup": Aug 21-22, 28-29. Sat., Aug. 21, Sun.., Aug 22 and Sun, Aug 29 at 11 a.m. with Sat., Aug 28 at 3 p.m.

"Charmed Life": Sat., Aug. 27 & Sun., Aug 28 at 8 p.m.

"Bo-Nita": Sept. 16-19, 22-26 at 8 p.m.

"The Book of Mamaw": Oct. 7-10, 14-17. Thurs & Fri at 7:30 p.m., Sat at 2 p.m. and 7:30 p.m. and Sun at 2 p.m.