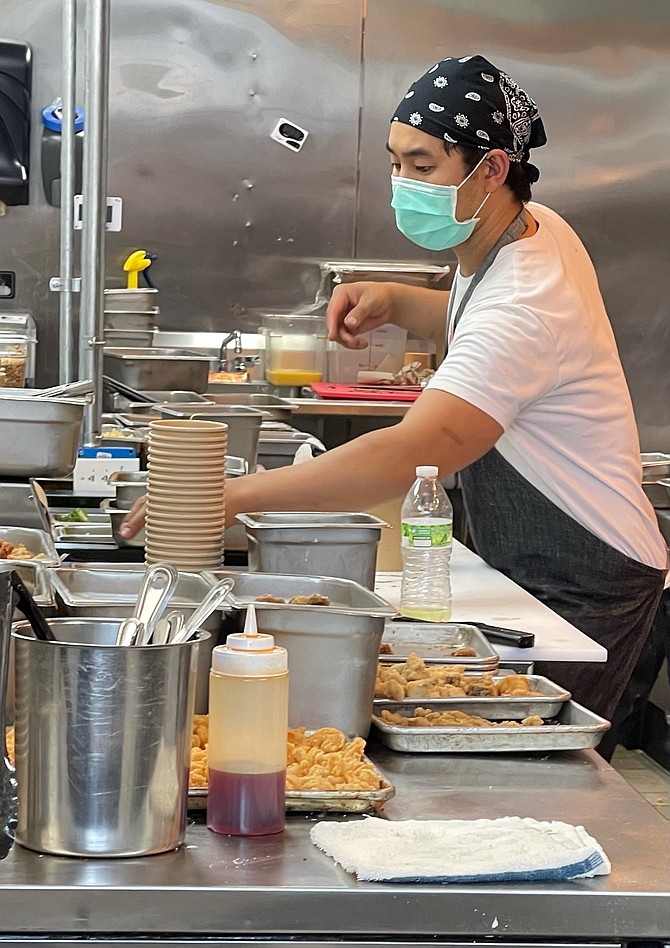 Lucky Danger opened with much anticipation July 21 at Arlington's Westport behind Pentagon City. It is an outgrowth of a pop-up in a small space in D.C.'s Mount Vernon Triangle which opened last November.
The New York Times and many other publications previewed the opening.
Lucky Danger only offers take out, which can be ordered at a kiosk inside the restaurant—so far no phone orders and a sketchy internet ordering process.
So far it is open for dinner Wednesday-Sunday from 5-10 p.m.
But on a Thursday night Lucky Danger is bustling with colorful carry out and delivery bags emblazoned with cartoons crowding the counter waiting for pickup. A line forms at the ordering kiosk.
Andrew Chiou, co-chef, tells the waiting customers the internet might be faster but the second person in line tells him it didn't work.
A customer waits for her order outside the restaurant on the sidewalk in the 90-degree afternoon. Another couple waits on a bench across the street. There is limited space inside Lucky Danger, with no-sit down service and little space for waiting. They take your cell phone number and tell you to check back inside in about 15 minutes or if they see you out their window, they'll let you know when your order is ready. The first few days it was closer to 30 minutes for the order to be complete.
But there is an effort to speed up the service, and tonight it is closer to the proposed 15 minutes. "We can't stop for a second. We have the system worked out and can't stop for anything."
Chef Tim Ma is back on the line with another worker cranking out the homemade scallion pancakes, a favorite appetizer. A comment is that the pancakes are very tasty but come out burned. No one seems to know if they are supposed to be that way.
The slogan for their food is "American Chinese by a Chinese American." Chiou says, "We were both born in America but my parents lived on Taiwan."
Both chefs have fine-dining training with Chiou studying at the American Culinary Institute before heading to Momo Yakitori. Ma previously worked at Kyirisan and American Son.
The menu is limited for a Chinese restaurant but there seems to be a willingness to give the new place a try. Some think the portions are too small, the crab rangoon appetizers amazing, the twist on the usual Americanized Chinese food interesting and the system for in-person ordering flabbergasting in today's technological world.

But then you break open the crunchy fortune cookie: "A bold and dashing adventure is soon in your future."
Lucky Danger
1101 South Joyce Street B27, Arlington VA 22202
On Instagram @_luckydanger
Walk-up kiosk ordering
See menu at https://www.luckydanger.co/
Open Wednesday through Sunday, 5 p.m.-10 p.m.
Mon - Tue: closed
The Menu Says: "No Mask - No Honor - No Service"