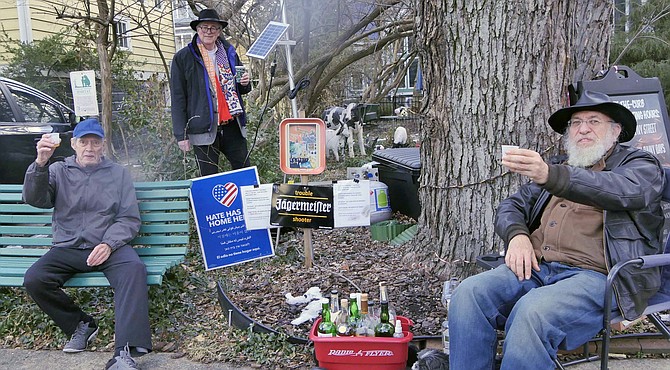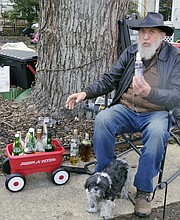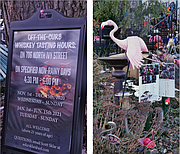 Scott Sklar, wearing his cowboy hat, sits on the curb amid the flamingos in his front yard. He is drinking a Blade & Bow bourbon out of a small plastic cup. Sklar points to George McGlue sitting on the bench six feet away. "We're finishing the bottle today." Sklar explains that McGlue is part of the morning Starbucks group at Lyons Village.
He adds, "Our Flamingo Club attracts a very different group—some are neighbors and some are young people walking by. I'm a professor at George Mason, so some come from there." And Sklar adds that his 16-year-old dog Elvis, sitting between his legs, doesn't drink, but some of the dogs do. "They really lap up the Jack Daniels apple bourbon."
Sklar has been hosting the Flamingo Club about five days a week since March "unless it's snowing, raining or windy."
He says, "I live alone, so when COVID hit I needed some social interaction." He has hand sanitizer and has placed the chairs six feet apart so he could meet people in a safe way. "I pour the drinks myself." He says they used to sit on plastic paint cans until the neighbor donated the chairs that he was giving away.
"Hey, here comes Jake from Kenmore Street who has been coming since day one. He brings his own wine." Jake McGuire comments he lives in an old house, drives an old car and drinks old wine. McGuire is sporting a kaleidoscope of modern art which he says comes from Les Halles in Paris like most of his other scarves. "I tell people I'm no longer a 22-year-old stud muffin so I need plumage."
McGuire pulls out his bottle of Frog's Leap Sauvignon Blanc and a copy of his latest book, "How My Heavenly Mother Saved Me From the Hellish Nuns!" (available on Amazon).
Joe Salee shows up, "I don't drink much. I just come for the company."
"Hey Beatrice." Beatrice heads toward Elvis. "Where's my baby?"
"Beatrice drinks plenty," Sklar explains, "but not until she has walked the dog."
Beatrice picks up the dog and walks down the street.
Patrick, in shorts and sandals, ambles by and accepts a cup of rye from the little red wagon filled with Basil Hayden's bourbon, Tin Cup Rye and single malt scotch. Sklar says he has a bigger red wagon in back for those who are "off the wagon." Skylar explains Patrick was a member of the original neighborhood Bourbon Club.
Lucy flies by in her red dress on her scooter "but she doesn't drink of course."
Sklar says the idea of the Flamingo Club grew out of a neighborhood bourbon tasting club. But then COVID came, and they had to stop meeting. His house came with a concrete flamingo in 1921, and things just took off from there. "Everyone started giving me flamingos from all around the United States."
Then he paid two neighbor girls to name the flamingos.
In his other life Sklar is President of the Alcova Heights Civic Association. He owns a 20-year-old global renewal energy business and teaches three courses at George Mason University. His house is powered by solar panels and a geothermal heat pump, and his two-story office in back is powered by solar, wind and hydrogen fuel cells.
A sign in the front yard announces the cocktail hours adjusted to 4:30-6:00 p.m. during short daylight hours. The chairs are filling up as the sun goes down. But not to worry, "I have solar lights on the trees if we need them."