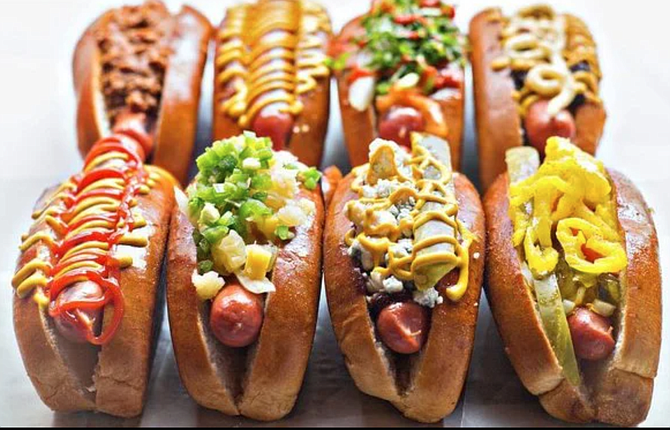 Let's get one thing out of the way up front: There are many, many more Black-owned restaurants, cafes and eateries in and around Alexandria than this humble column can contain. So consider this an appetizer – or perhaps a buffet – of options to support those Black-owned businesses that feed the community (and caffeinate us, too).
Haute Dogs and Fries, 610 Montgomery St.
Don't be fooled by Haute Dogs' casual ambiance – they're serving up plenty of upscale hot dogs, sausages, burgers and more. Choose between an all-beef, veggie or chicken dog and then find that the sky's the limit: From a classic "House" dog to a banh mi-inspired concoction, a buffalo dog, a "Three-Piece Suit" and more, Haute Dogs and Fries runs the gamut. Be sure to order the signature fries, yes, but don't sleep on the onion rings, which are also top-notch.
Magnolia's On King, 703 King St.
Maybe you were introduced to Magnolia's from its recent Restaurant Week menu, or maybe you've been a longtime fan. Or maybe you haven't heard of them at all – which would be a shame. Chef Leonard Holton's menu is a diverse feast of Southern-inspired cuisine. Deviled eggs. Po' boy shrimp sliders. Pulled pork sandwiches. And plant-based diners won't be left out, either; Holton has dedicated a slice of the menu to vegetarian fare, ranging from "sausage" and peppers to "bacon" carbonara.
Hawwi Ethiopian, 1125 Queen St.
Tucked away in an unassuming corner spot on Queen Street, Hawwi has consistently dished out fine Ethiopian fare to the community, even in the face of the Covid-19 pandemic. From flaky sambusas to start the meal to a plethora of meat and vegetarian main course options, Hawwi is certainly comfort food personified. Pro tip: The combo specials are the way to get the most options for your dinner table. With the likes of doro wat, beef alicha and vegetables for the carnivorous options and a vegan sampler for those plant-based customers, Hawwi's extensive menu makes it easy to make the right choice. (And when ordering takeout or delivery, don't be worried about how well the food will travel. Ethiopian fare is hardy.)
Abyssinia Market and Coffee House, 720 Jefferson St.
The little coffee shop just a half-block off of Washington Street has been a stalwart throughout the pandemic, offering up comfort in a cup (or bag of beans) to neighbors. From its vast array of Ethiopian coffee to a selection of beer and wine to daily pastries and other noshable items, Abyssinia Market has become a neighborhood staple, a constant in challenging times.
Hope Nelson is the author of "Classic Restaurants of Alexandria" and owns the Kitchen Recessionista blog, located at www.kitchenrecessionista.com. Email her any time at hope@kitchenrecessionista.com.