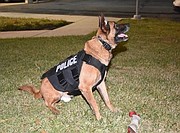 Retired Alexandria Police Department K-9 Czekaj has died. He was 10.5 years old and served the APD from 2012-2019.
K-9 Czekaj (pronounced Chek-eye) was partnered with Officer Robert Egan. He was certified in Patrol work and Narcotics Detection. In the course of his career, Czekaj's patrol work led to the arrests of over a dozen people suspected of committing crimes. His detection abilities led to the location and seizure of more than $250,000 in controlled substances, currency and property related to the distribution of narcotics.
In 2018, "Czek," as he was affectionately known, and Officer Egan placed second in the region in the United States Police Canine Association Narcotics Detector trials. They also placed second in the national trials.