On a cold winter's morning, there's nothing like coming downstairs to a bowl of hot oatmeal to warm the body and spirit. Burke resident Nahum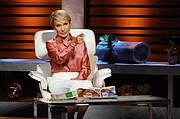 Jeannot took that idea to another level when he founded "GoOats," that specializes in a morning treat that earned him a spot on "Shark Tank," a reality show for entrepreneurs.
"GoOats are my version of their oatmeal, a childhood favorite without the bowl," said Jeannot, who calls himself the COO, chief oatmeal officer. "We created GoOats with these two loves in mind to give you the perfect foundation of nutritious oatmeal in a convenient easy-to-eat format," he said.
Jeannot starts with steel-cut oats, mixes in milk, adds fruit and rolls it all in a ball, and cooks it before it's frozen in the box like frozen waffles. Before school or work, just pop it in the toaster oven for a quick morning snack. The oats are steel-cut, and not rolled, so the nutrition in the oats is not squeezed out, Jeannot said. "With steel cut, they are less processed," he added. Steel-cut oats are also known as Irish or Pinhead oats.
He started making these in 2017, and gave samples to friends and family while tweaking the recipe, but knew if he got to the reality show "Shark Tank," it would be a hit. He even knew the shark he wanted was Barbara Corcoran, because she had worked with start-up foods before on the show. "I knew she had good taste," he said.
They flew Jeannot out to Las Vegas for the filming of the show, and he had to be in quarantine for a few days before anything could happen. He got on the show, presented his product, and went right for Corcoran. "She was an advocate for us," he said. The show aired on Oct. 23 of last year, and the impact was felt immediately. "We ran out of product in 48 hours after the show aired," he said.
Jeannot started his company in Lorton but had to expand, so now he is located in Alexandria He has worked with the Fairfax County Economic Development Authority along the way. "They've been huge," he said. It was a good move as a startup company. "Fairfax County and Northern Virginia have developed a great ecosystem for startups: many people like Nahum with an entrepreneurial spirit, amazing market opportunities in the private and public sectors, and a lot of organizations such as ours that provide resources to counsel and support entrepreneurs so they can see their dream come true here," said Victor Hoskins, president and CEO of the Fairfax County Economic Development Authority.
Jeannot keeps his business secrets to himself, but is looking ahead for new ideas. "I've got some items in the pipeline," he said.