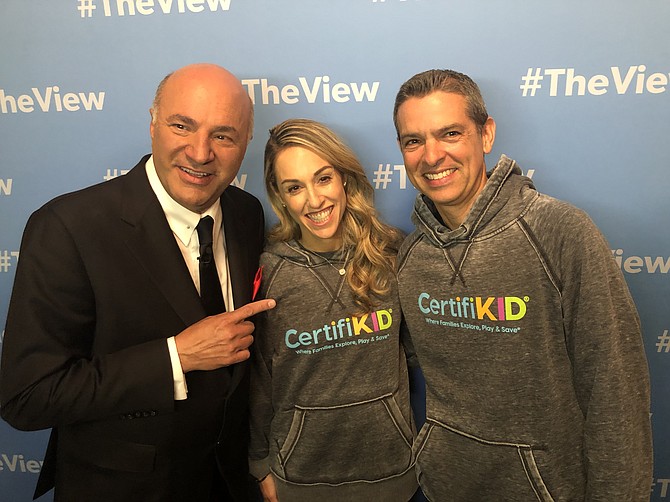 Potomac residents Jamie and Brian Ratner pitched their website CertifiKID on the ABC show Shark Tank April 7 and caught the interest of three of the Sharks.
After receiving the three offers, from Kevin O'Leary, Daymond John, and Barbara Corcoran, the Ratners accepted a $600,000 investment from O'Leary for a 19 percent stake in CertifiKID, a website focused on connecting viewers with kids' activities and family entertainment.
O'Leary's investment in CertifiKID is one of the five largest investments he has made in any company in ten seasons of Shark Tank, according to CertifiKID. It was also the first external investment for CertifiKID.
"We are ecstatic that Kevin O'Leary and his outstanding team have joined the CertifiKID family," CEO Jamie Ratner said. "We believe our partnership is going to open new doors and create so many opportunities for CertifiKID to be the go-to resource for parents all over the country."
CertifiKID was started by self-professed expert "Deal Finder," Jamie Ratner, in 2010. It is now a $5M+ per year business and a household name in its Washington, D.C. and Baltimore area home base, according to a press release. The company has also expanded to other major markets across the country, including Chicago, Los Angeles, and Atlanta.
Those looking for affordable activities and entertainment for their kids, no matter where they live, will now be able to use CertifiKID for information, Jamie Ratner said.
"We are already seeing this potential realized in a myriad of ways across all segments of our business," she said. "The sky is the limit and we are feeling 'wonderful!', referencing O'Leary's nickname on the show, "Mr. Wonderful."
"Jamie and Brian have the passion, vision and, most importantly, strategy to expand the CertifiKID footprint deeper and wider all across the U.S.," O'Leary said. "My team and I look forward to helping them accomplish this goal and making CertifiKID a true household name nationwide. We're off to a great start."
The Ratners joined O'Leary on ABC's The View on April 11 as his featured Shark Tank entrepreneurs.
"While we were open to an investment from any of the Sharks and saw the benefits that each of them could provide, Kevin O'Leary was clearly one that we were targeting," Brian Ratner said. "Kevin's listeners and audience are CertifiKID's. His mindset about teaching parents and kids how to save money, support for female-led businesses, and investments in our core market – the mom and family space – are in perfect alignment with our business vision and strategy. We believe he saw this synergy right away, as well as our passion for the CertifiKID community we have built and how and why we have been successful."