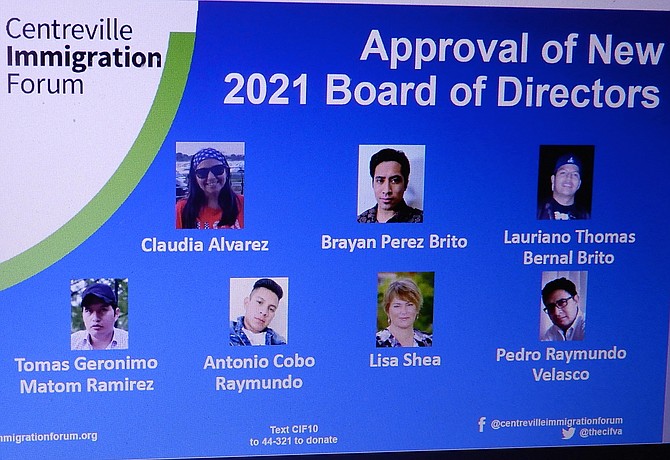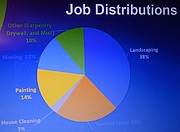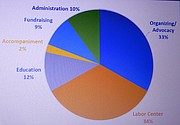 Despite the pandemic, the nonprofit Centreville Immigration Forum (CIF) and its Centreville Labor Resource Center (CLRC) are pressing on, as best they can. And during the CIF's recent annual meeting – held online – it highlighted the work it's done in 2020, plus its plans for 2021.
"This year has been one of change, challenge and COVID," said Interim Executive Director Carol Robinson. "But nevertheless, the CIF has continued meeting the needs of the community."
Its Board of Directors encourages, represents, organizes and advocates for the CLRC workers, most of whom are from Nebaj, Guatemala. And the CIF's new Board members for 2021 are Claudia Alvarez, Brayan Perez Brito, Lauriano Bernal Brito, Tomas Ramirez, Antonio Raymundo, Lisa Shea and Pedro Velasco.
Their efforts are sorely needed because, sometimes, unscrupulous employers take advantage of the day laborers and refuse to pay them for their long hours of work. And that's where Community Organizer John Cano comes in. "We had 21 cases of wage theft, amounting to $31,124 in unpaid wages," he said. "So we did workshops to train the workers about their rights."
He stressed, however, that wage-theft complaints stem from jobs the workers sometimes get on their own, instead of through the CLRC. That's not the case at the center, explained Cano, because "Our employers and workers sign a contract clearly explaining what work they're going to do, for how many hours and what they'll be paid."

Furthermore, he said, "Our community also has limited access to health information and education because of our Mayan language, So we've had our own training sessions to train 12 people to interpret for them. We've also identified particular problems women face, such as lack of transportation, access to classes and lack of wealth. We've had meetings to empower them in the community and told them about their rights as workers, too."
REGARDING ADVOCACY, Cano said the Drive Virginia Forward coalition helped pass a bill granting driver's licenses to Virginia's immigrants. "We also established forums to educate the community and the Virginia Legislature about wage theft and will continue combatting this problem."
CLRC Manager Colleen Dowling said most of the male workers were hired for landscaping jobs, this year, and the female workers, mainly housekeeping. It was difficult because COVID-19 forced the center's closure in March and April; but when they worked, employer satisfaction was high.
"I was originally an employer," said Linnea Ober, a CLRC lead volunteer. "And a few days after a worker did a job, I'd get a call from the center asking how they did. I was always pleased, and now I refer people looking for a handyman, or someone to do landscaping or housecleaning, to the CLRC."
Another lead volunteer, Murray Bradley, noted that "Linnea was so impressed with the center that she became a volunteer and is now our main data analyzer. Colleen came as a volunteer during college and now runs the CLRC. And as a GMU student, Katia Luna created a health and wellbeing workshop for us. She's now the office administrator for the volunteers and interns. We thank all the volunteers who've given so many hours of service to us and our programs."
Interim CIF Vice President Alice Foltz said 20 volunteers – comprising several groups and individuals – help the workers in a variety of ways. They accompany them to school registrations for their children and provide referrals and transportation to medical appointments and emergency food distributions.
They also help the workers obtain rental assistance, provide transportation to immigration check-ins and give them referrals to immigration attorneys. But, added Foltz, "With COVID-19, we've also needed people to help them fill out paperwork to qualify for aid from organizations such as WFCM [Western Fairfax Christian Ministries]. And we're very grateful for all of them." Foltz actually founded the CIF and, for many years, served as its president. Now, she teaches English classes to the volunteers at night.
Also critical to the CIF's success is Mary Supley, its development and communications director. She helps secure in-kind funding, organizes annual events and was instrumental in the launching of the organization's first, peer-to-peer, fundraising campaign, reaching out to new donors through existing supporters.
"I'm deeply moved by the commitment and dedication of our staff and volunteers, especially in these difficult times," she said. Supley also acknowledged several organizations – such as the International Mayan League, WFCM, Drive Virginia Forward, CASA, the Legal Aid Justice Center and Cornerstones – for all their help during the pandemic. She noted, as well, the Meyer Foundation, which gave CIF a grant to offset its pandemic-related revenue losses.
In addition, the nonprofit received the $100,000 Opportunity Challenge grant from the WES Mariam Assefa Fund and the Tarsadia Foundation. CIF was one of just 12 out of 470 applicants to be awarded this grant. It'll use the money to launch the Women's Empowerment Project – meeting regularly with low-income, immigrant women to identify their needs, provide mutual support, teach them about community resources available to them, and develop and advocate for opportunities such as jobs, education, childcare and improved physical and mental wellbeing.
OVER THE YEARS, the number of women using the CLRC has increased, with women now comprising about 15 percent of the people registering there to find work, attend ESOL classes or pursue wage-theft claims. Most of these women don't wait at the labor center for work; instead, they request housecleaning jobs and ask to be contacted by phone when work is available.
"So to improve employment opportunities for women, the system either needs to change or an alternative one developed," said Supley. "This decision must be made by the women in the CLRC community – who best understand their own needs and what it'll take for them to be successful."
To hire workers from the CLRC, call 703-543-6272 in advance or go to http://centrevilleimmigrationforum.org/centreville-labor-resource-center/hire-with-us/. To donate to CIF, text CIF10 to 44-321 or visit http://centrevilleimmigrationforum.org/our-impact/donate/.