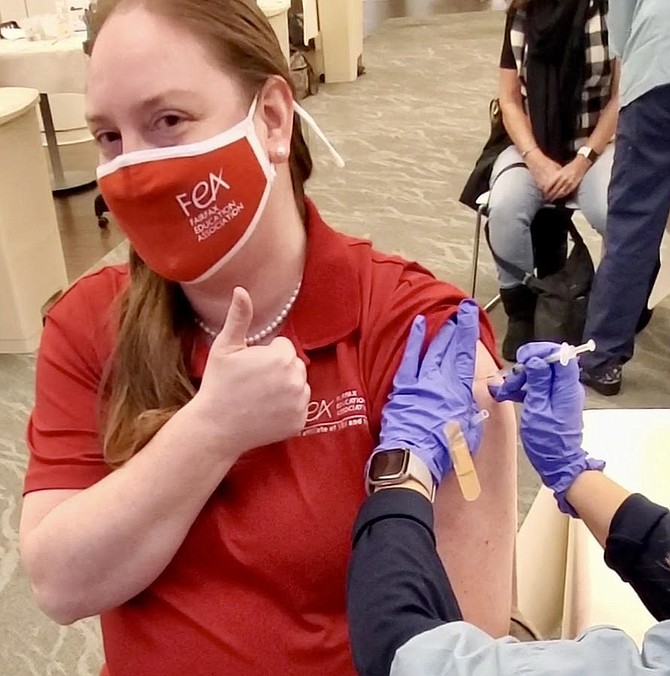 In accordance with State and local Health department groupings, teachers and school staff in Phase 1b began receiving vaccinations on Monday, Jan. 11. As essential front-line workers, along with police, fire and hazmat, corrections, and homeless shelter workers, teachers are among the first in Fairfax County to receive the vaccination in an effort to move toward reopening physical school attendance to all.
Some teachers were vaccinated over the weekend, leading to Monday's start of the full vaccination clinic, operated in a partnership between the Fairfax County Health Department and INOVA. The INOVA effort will provide vaccines for 40,000 Fairfax County Public Schools personnel. Appointments and pre-screen questionnaires are required for the closed clinics.
Other Phase 1b groups receiving vaccines in closed vaccine clinics include: adults age 75 and older, people living in correctional facilities and homeless shelters, first responders, childcare workers, grocery store workers, public transit workers, and mail carriers (US Postal Service and private). First priority Phase 1a vaccinations for healthcare personnel and long-term care facility residents began with the first receipt of vaccine.
The next group, Phase 1c, will include essential workers not listed in Phase 1b (including but not limited to utility, construction, and food service workers), people aged 65-74, and people aged 16-64 with high risk medical conditions or disabilities.
Vaccinations now require a pre-registration screening and appointment. Officials indicate that vaccine will later be available as flu shots normally have been received, from doctors offices, health care providers, hospitals, and pharmacies. More information can be found on the Fairfax County Health Department website.