Anyone cruising down the road, dialed into a classic rock station can almost count on Led Zeppelin's "Stairway to Heaven," coming on, and it's a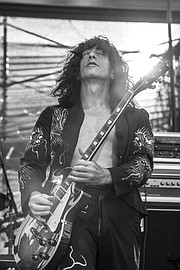 good cue to crank it up. The song has been around 50 years, and has been the butt of many rock jokes, yet it's still a staple on many hard rock lists. Many fans sing along too, although no one admits it.
The musical cliche was even highlighted at a fictitious music store in "Wayne's World," where the sign on the wall read, "No Stairway to Heaven," to customers who hammered out a jam on the floor-model guitars. When Mike Myers starts the intro and the clerk grabbed the floor model guitar, his next line became the butt of all Stairway jokes. "No Stairway, denied," Myers said, looking at the camera. His line has been repeated by many when it comes to Stairway to Heaven.
Mike Argel is a Zeppelin fan and a drummer in a post-grunge band called "Monday Mistress," and he grew up in Burke listening to Stairway to Heaven, even learning the intro on his rhythm guitar. "Everybody that picked up a guitar has played it, I'm a drummer and I know how to play it," Argel said. Between playing it and hearing it on the classic rock stations, the song has worn out its welcome with Argel though, and he reaches to change the station when it comes on. "I still appreciate the song but I can't listen to it anymore," he said.
The monotony put aside, the song does have a following. "I've always liked it because it's quirky…starting slow and building into crashing guitar solos," said Cerphe Colwell, a past DJ in the metro area at several stations including WHFS, WAVA, DC101, WJFK and ClassicRock 94.7. "Led
"Everybody that picked up a guitar has played it, I'm a drummer and I know how to play it."
--Mike Argel, a drummer who grew up in Burke
Zeppelin broke up 40 years ago but the love for their music (including Stairway) remains strong," he added. Cerphe admitted though, the redundancy on radio has killed it. "Since the 80s, classic rock stations overplayed Stairway because of their very narrow playlist of several hundred titles heard over and over."
IN 2000, VH1 voted "Stairway to Heaven" as number three of the 100 Greatest Rock Songs, and was placed at number 31 on Rolling Stone's 500 Greatest Songs of All Time. With that kind of reputation, the song can't be all bad, can it? On Jan. 23, 1991, Radio station KLSK-FM in Albuquerque, New Mexico, had such a thing for the song, they played the song constantly for 24 hours as a marketing stunt and it paid off, although the police showed up at the station that day on a rumor that the DJ had a heart attack and the song was playing over and over. In March 2011, two more radio stations did the 24-hour thing too to celebrate the 40th anniversary of the song's concert debut.
Others adopted the song to their playlist. "Heart's Ann and Nancy Wilson really did it justice," Colwell said of a 1970s musical pair that did an emotional rendition of the song at the Kennedy Center. Page and Plant were in the audience as well as President Barack Obama and his wife Michelle. All were enjoying their version.
The song is over eight minutes long, which is decades of air time for the up-and-coming rock fans. It tells the story of a drug deal, where a lady swore "all the good turns is gold, and she's buying a Stairway to Heaven," the song goes. It starts with Jimmy Page's acoustic guitar intro, over Robert Plant's lyrics. The song has three sections, each one progressively increasing in tempo and volume. The song begins in a slow tempo with acoustic instruments (guitar and recorders) before introducing electric instruments. The final section is an up-tempo hard rock jam highlighted by Page's guitar solo accompanying Plant's vocals that end with the plaintive a cappella line: "And she's buying a stairway to heaven." For air guitarists, that's the part where you yell "thank you and goodnight," before walking off the fictitious stage.
"It's much easier to play air guitar than trying to dance to it," added Colwell.
IN A 2014 interview with Jimmy Page, he talks about writing the song, balancing the ebbs and tides it goes through, including the intro on the acoustic guitar, where the "recorders provide a slightly medieval feel," Page said. Bringing in the recorder, a wind instrument, was bass player John Paul Jones' idea. The lyrics mention "the bustle in your hedgerow," which has a sexual meaning, in English slang. Towards the end, the "passion is unfolding," Page said, which could be musical passion or something else. "It's substantial as a milestone for Led Zeppelin," he said about the whole song.
With a song that long, and that well known, the conspiracy theorists took a whack at it too, suggesting that if you play it backwards you'll hear Satanic messages, like "Here's to my sweet Satan," though it takes a sharp ear and a colorful imagination to arrive at that conclusion. Nevertheless, it's a story that's been told about Stairway through the years.
There was also another musician named Robert Wolfe that claimed Led Zeppelin stole the opening riff, and tried to sue but in 2016, the courts ruled otherwise.