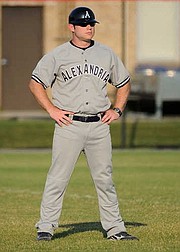 David DeSilva, head coach of the Alexandria Aces, will join coaches from across the city at the Alexandria Sportsman's Club's High School Baseball and Softball night Feb. 16 at the Old Dominion Boat Club.
DeSilva is in his fifth year with the Alexandria Aces and his fourth as head coach. In his first season as head coach in 2013, DeSilva led the Aces to a team-best 27-17 record in the regular season, earning the number two seed in the Cal Ripken Collegiate Baseball League playoffs. There the team earned its first playoff victory. In 2014, the Aces finished tied for fourth in the league with a 23-17 record, again making the playoffs but falling short of a championship title.

Last season, the Aces finished with a 19-21 record and just one game shy of the postseason. After three seasons, DeSilva holds the all-time wins record as well as highest winning percentage in Aces organizational history.
DeSilva is currently the co-owner and director of Player Development at PrimeTime Baseball, an indoor training facility based in Alexandria. He played collegiate baseball at Mars Hill College, in Mars Hill, N.C. where he was a three-year starter and two-time team captain and compiled a career batting average of .313. He graduated in 2008 with a degree in sports management and business then went on to earn an MBA from Gardner Webb University.
The ASC meeting, the last of the club's regular meetings prior to its annual banquet in May, will be held Feb. 16 at the Old Dominion Boat Club located at 1 King St. in Old Town. A complimentary reception will begin at 6:30 p.m. followed by the recognition of outstanding student sport performances at 7:15 p.m.
The Alexandria Sportsman's Club, founded in 1947, is a nonprofit and civic organization that awards scholarships to outstanding scholar-athletes.
"Our sole purpose is to support local high school athletics and to recognize the achievements of our young athletes on the field and in the classroom," said ASC president John Duke. "I hope people will join us in helping to recognize and support our community's youth athletes."
Remarks by DeSilva and other guest coaches will be followed by a light dinner courtesy of the ASC board. The meeting is free and open to the public. For more information, visit www.alexandriavasports.org.