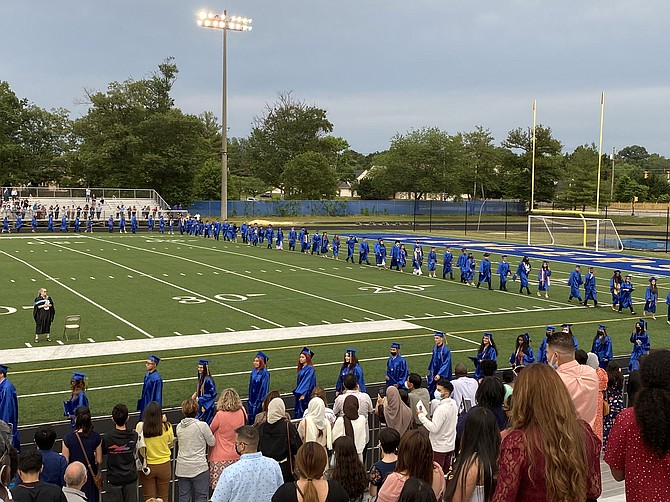 On the evening of June 1, the first class of the newly-renamed John R. Lewis High School graduated on their football field. The ceremony's speeches focused on the class' efforts, accomplishments and perseverance through 15 months of school in a pandemic. Masks were not required for vaccinated attendees during the outdoor ceremony.
The event opened with a performance of "Go the Distance" by the Lancer Singers.
Principal Alfonso Smith followed with his address, recognizing students for earning a total of $3.1 million in scholarship money and using their voices to enact change in their community.
"Head on, you embraced the many health and learning challenges that came with a global pandemic," he said. "You put the power of your voices on full display. You joined forces with friends, teachers, families, neighbors, to stand up for what you believe is right. What a social awakening you have both experienced and that you shared with us. I'm forever your proud principal."
Class of 2021 President Kimberly Boating took her turn at the podium to speak about the bold personalities and skills possessed by the graduates. She began with a moment for the graduates to clap for themselves.
"We're always clapping for someone else, always congratulating each other, but I really want this moment and this day to be about you and your achievement," she said. "We're loud, we're bold, we're unapologetic about who we are. We are unstoppable."
She spoke about how hope got them through the pandemic and closed with her high hopes for the graduating Lancers.
"Our perseverance is a testament to the words, 'this too shall pass,'" she said. "I think the biggest thing that has gotten our class to this day was hope."
Assistant Principal and Senior Class Administrator Kimberly Harrison opened her speech by noting that Sept. 2019 was the last time the entire class was together before COVID-19 closed the school.
"Tough times were ahead, but you stayed true, because tough times don't last, but tough people do," she said. "Never let anyone remind you of what you lost, or what you missed out on or what you had taken from you because of a world-changing event that none of us had any control over. You are not a victim of the pandemic, you are a victor in spite of it."
Harrison spoke about all the times she saw the class of 2021 stand up for each other and those in need.
"You saw something. You did something. You got into good trouble – necessary trouble," she said. "Class of 2021, you are simply the best. You are young adults who fight for causes greater than self, seek out opportunities to expand your thinking and work to ensure that people have a voice. And at John R. Lewis High School, all means all."
Social and cultural anthropology and law teacher Steven Hirsch was selected as the faculty speaker.
"As graduates, it's now your job to take up the challenges, to build bridges, to keep up the fight for respect of others, yourself and your culture," he said. "As graduates, you have control of your future, and you are the author of your story. You control your destiny."
After all students received their diplomas and turned their tassels, they took a victory lap around the football field and became the first official graduates of John R. Lewis High School.
Viewpoints
What will you miss about high school and what are your plans for the future?